*Note: This post may contain affiliate links, meaning I get a small percentage of the sale for my recommendation.
When making dinner for toddlers, there's really only ONE factor that matters:
What the food looks like.
You could be serving them a culinary masterpiece of chocolate-covered mac 'n cheese, but if they spot a speck of something green or ~spicy~, they won't touch it with a 10-foot pole.
Looks are everything when it comes to kid-friendly meals.
Well, looks and titles. I swear my kids would eat cauliflower dipped in purèed kale if I called it a "special snack."
(Disclaimer: I haven't actually tried that, but maybe I should?!)
Mini-Meatloaf: Adorable AND Tasty
Anyway, these Mini BBQ Bacon Turkey Meatloaves totally fit the "kid-friendly" bill, because they. are. ADORABLE.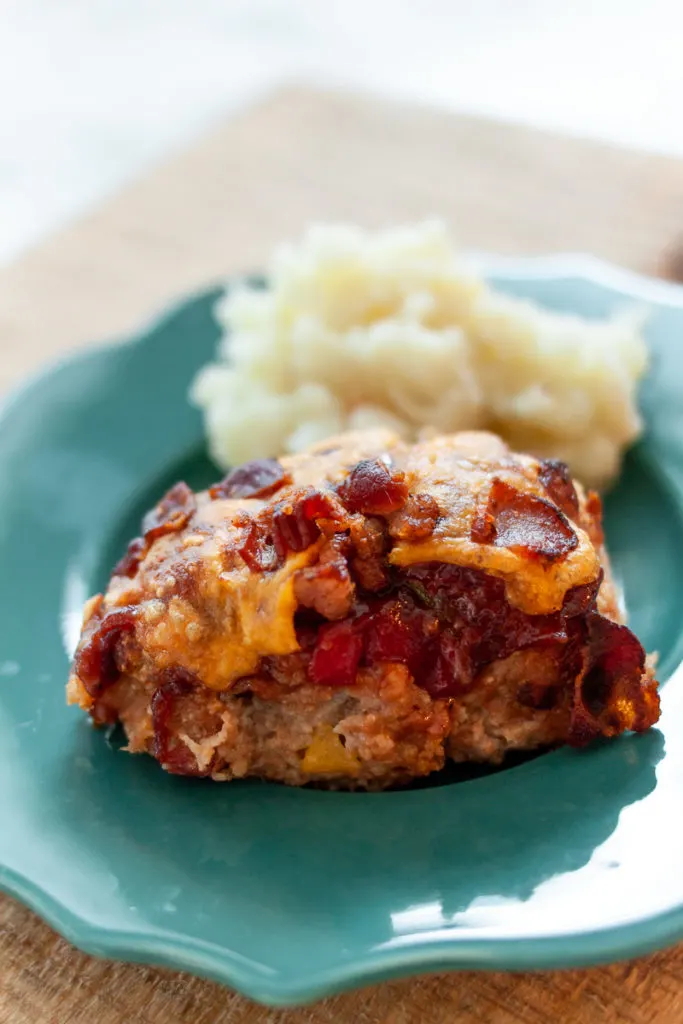 You can even sneak in a few veggies, and if you're lucky, you might get away with it.
Full disclosure here: I did not get away with my attempt to hide veggies from my 3.5-year-old. He spotted those bell peppers a mile away and refused to touch the entire meal.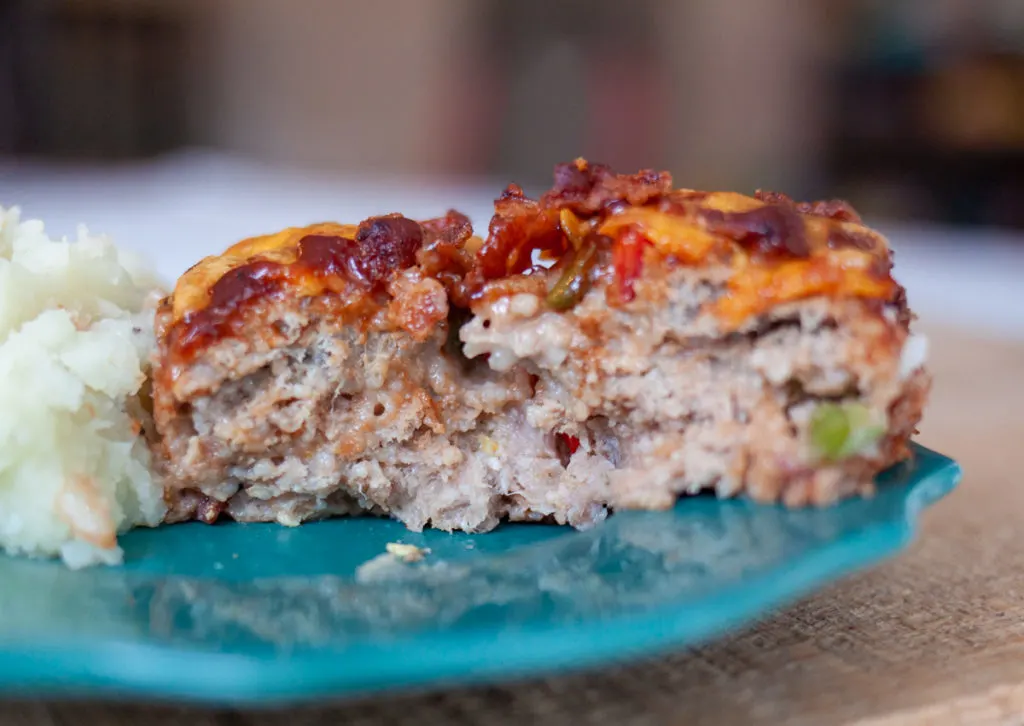 But, he also doesn't eat anything outside of his very regimented diet of Tyson Chicken Fries and sliced peaches WITHOUT THE RED PART. If his peaches have so much as a glimmer of pink at the center of the slice, so help you God. So his approval isn't really a great barometer for what is and isn't blog-worthy these days.
My 16-month-old, however, is a dream taste-tester. She gobbles up everything that hits her plate, and lets you know afterwards whether she liked it or not. (Which basically consists of either shouting "MO MO MO" and frantically signing for "more," or saying "down down down!" because she's all good.)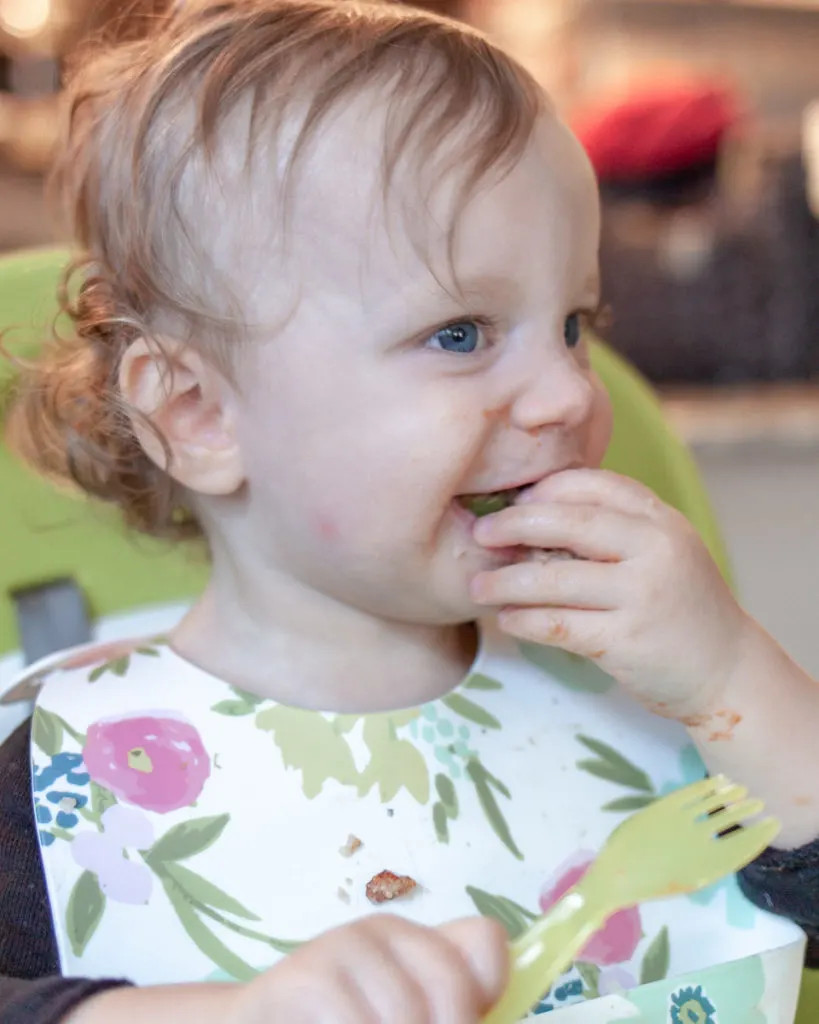 These got her seal of approval easily. She was practically giddy as shoveled little hunks of meat into her mouth, hand over fist.
Dairy-Free and Gluten-Free Options
And what's even more – these are easily adaptable to be made dairy-free and gluten-free, so she could eat as much as she wanted, even though she's dairy intolerant. I try as hard as I can to not have to make her a separate meal (I can barely get ONE homemade meal on the table these days, let alone TWO), so anytime we find a recipe that fits her dietary needs without sacrificing for the rest of us, I'm all in.
The only dairy ingredient in these mini Turkey Meatloafs is cheese, and with bacon, BBQ sauce, and garlic, these are flavorful enough that you can easily leave it out without hurting them.
Plus, the cheese just gets added to the top at the end. Since they're mini-loafs, you can easily leave it off of one or two for some family members, while including it for others.
To make them gluten-free, simply replace the panko bread crumbs with gluten-free bread crumbs. Easy peezy! Everyone wins. (But especially me, because I only have to make one meal.)
The Magic of eMeals
Now, I can't share this recipe without giving a shout out to the real MVP here: eMeals – which is where this recipe originated, before I made my adaptations.
If my one true love in the kitchen is the Instant Pot, then my mistress is eMeals.
(Yep, I know, weird metaphor, but let's just roll with it.)
eMeals is a meal-planning and recipe app that literally – LITERALLY! – changed my life.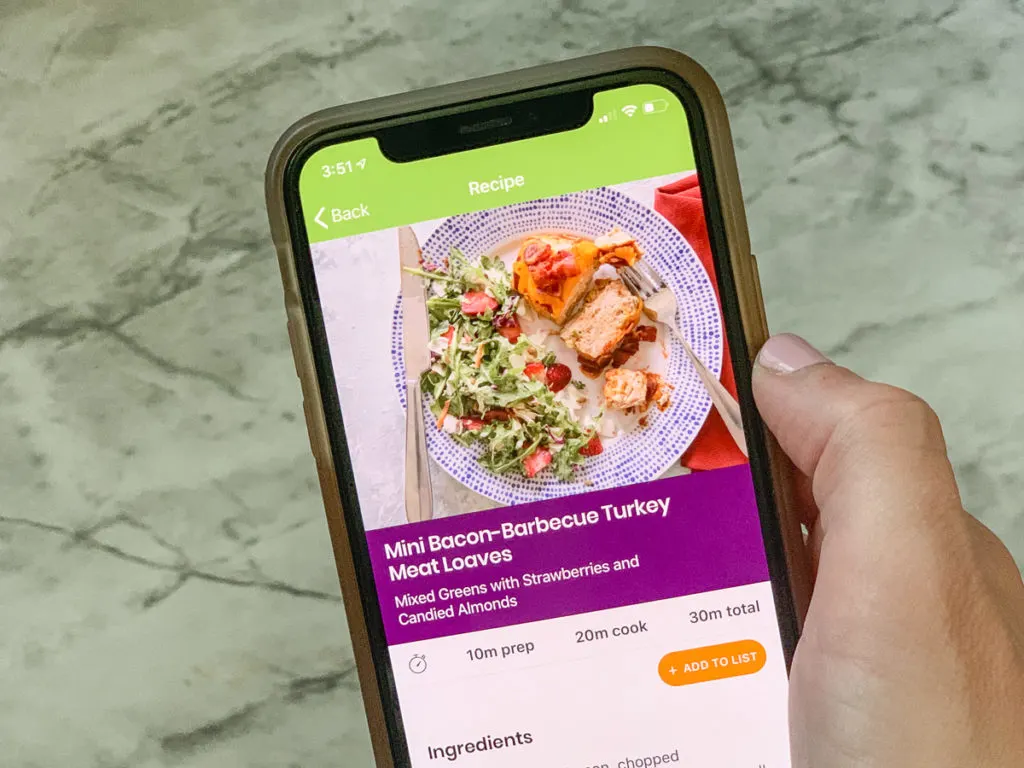 Back in the day, before I had two little lifeforms leeching all my time and energy, I'd spend hours on Sunday mornings, just leisurely perusing through Pinterest getting recipe ideas. I'd comb through my pantry and my fridge, meticulously noting what needs to be used up, and what I'm running low on.
From there, I'd create my master grocery list, and traipse across town to multiple grocery stores getting the best-of-the-best ingredients, and meal prep for the week.
Do you know what I do on Sundays now that I have a 3-year-old and a 1-year-old?
I run around like a chicken with my head cut off, screaming at everyone and everything until my butt hits the seat in church service. After church, I spin around like an F-5 tornado trying to keep the kids entertained and fed and happy and generally alive until nap time.
At nap time (precious, blissful nap time), I zip out to the grocery store as quickly as humanly possible, pause just long enough for the kind employees to load my pick up order into the car for me, and race back home so I can get everything loaded up and put away with enough time for the briefest respite to sit on the couch and stare silently into the abyss before it all starts over again.
Enter: eMeals. The eMeals app gives you new recipes to choose from each week, and compiles your shopping list based on the recipes you choose. And THEN, it sends the list straight to your grocery store pickup or delivery service-of-choice.
Life-changing, y'all. For real. The links in this post will get you a two-week free trial – and if you like it, it's only $5/month. I can't even begin to express to you how WORTH IT that is.
Mini BBQ Bacon Turkey Meatloaves Recipe
All right, so without further ado, THE MINI MEATLOAF RECIPE.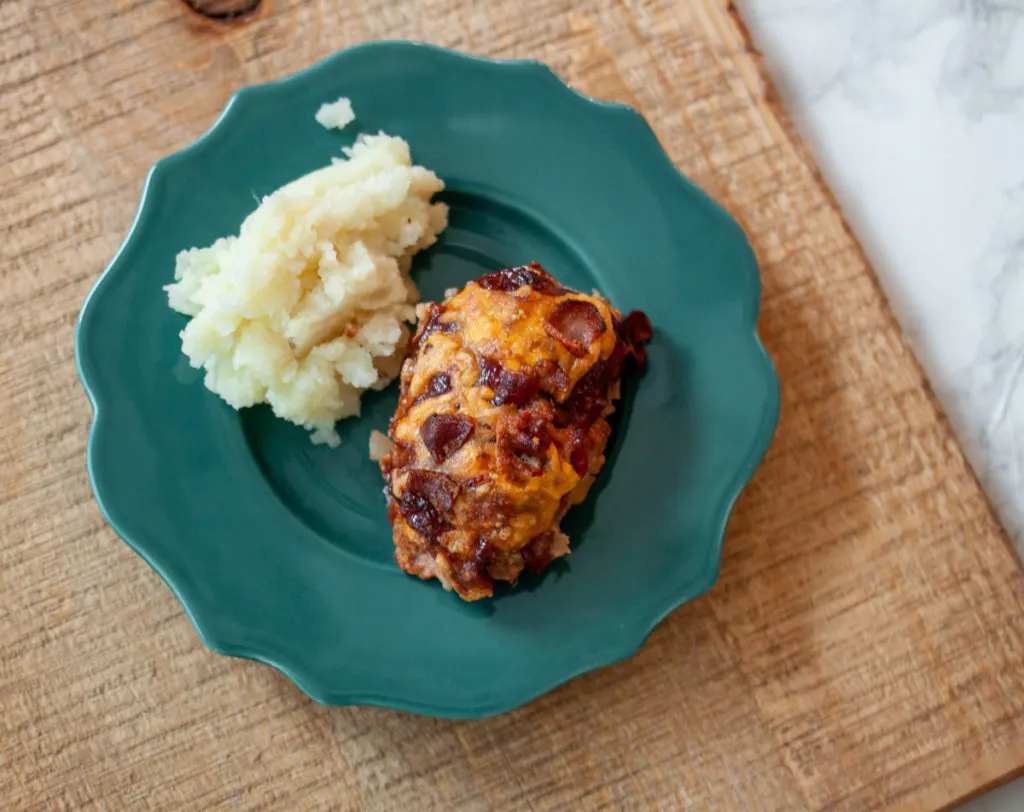 It's pretty simple (as are the majority of the eMeals recipes, in my experience):
1. Cook the bacon (and bask in your home's new delicious, bacon-y aroma).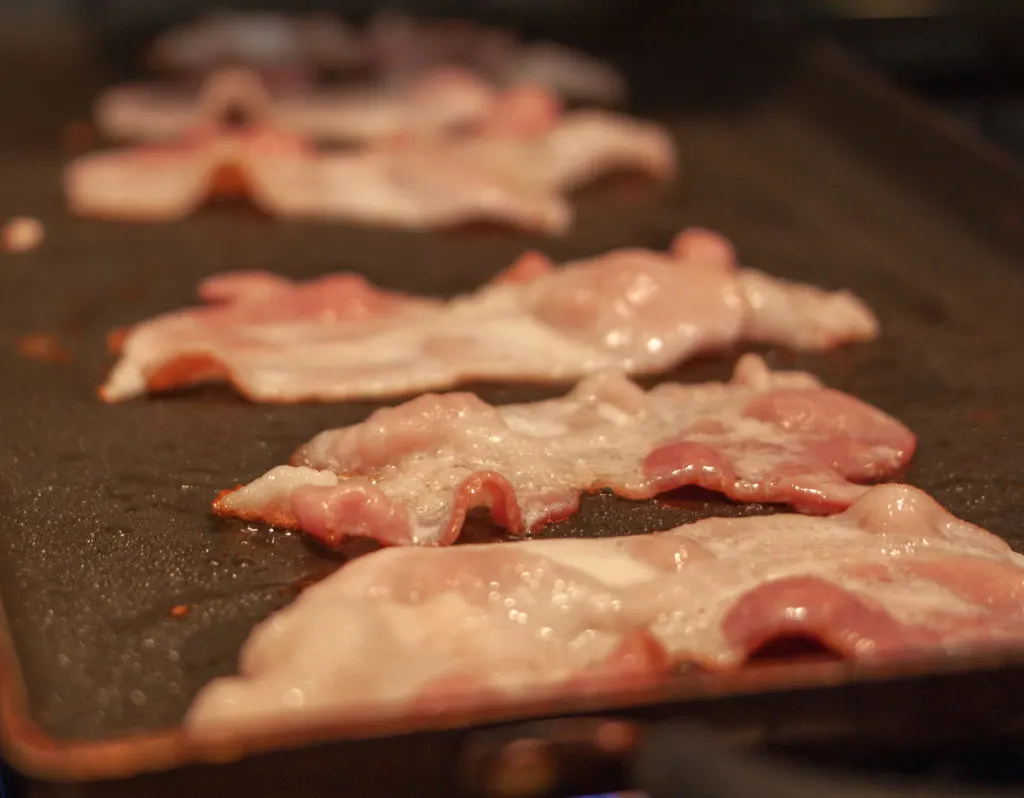 2. Combine all the meatloaf ingredients (veggies, breadcrumbs, garlic, bacon, barbecue sauce, eggs, and ground turkey) in a large bowl.
3. Form into mini-loaves, and top with more barbecue sauce.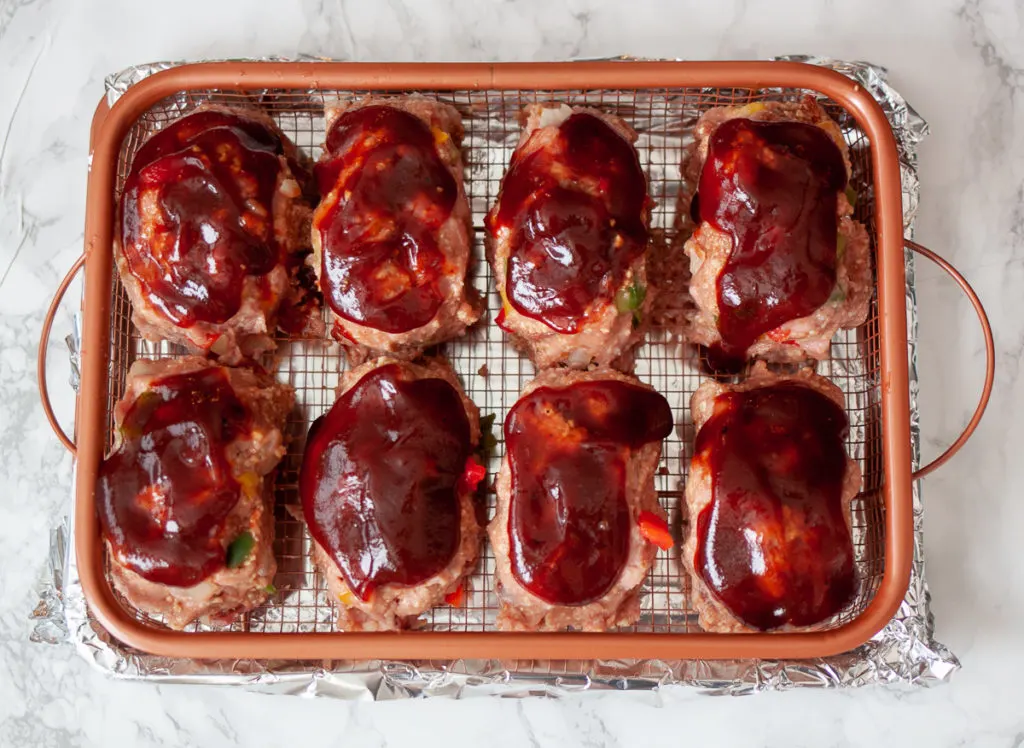 4. Bake on a wire rack on top of a baking sheet for 15 minutes.
5. Add cheese, if desired, and bake another 5 minutes.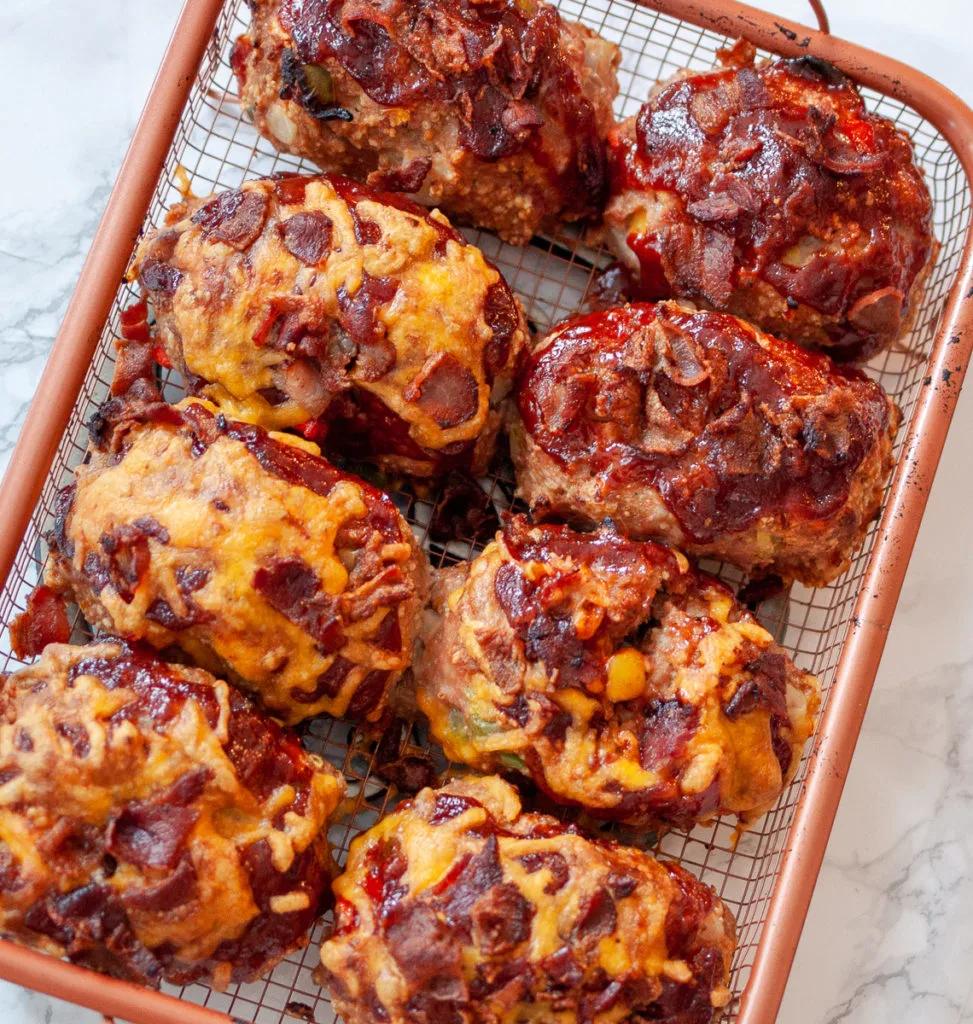 And that's it! A real-life 30 minute meal – it IS possible!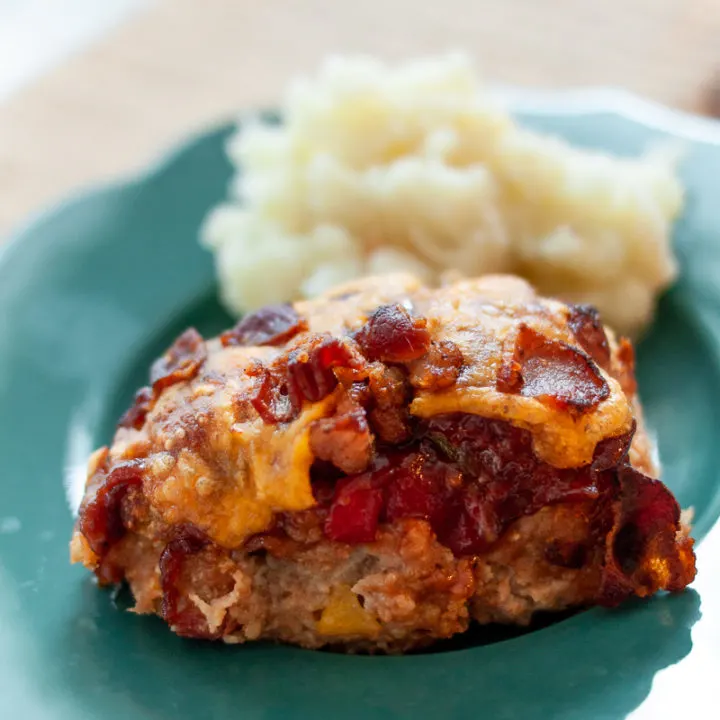 Mini BBQ Bacon Turkey Meat Loaves
Yield:
8 Mini Meat Loaves
Adapted from eMeals, this mini-meat loaf recipe checks ALL the boxes: healthy, fast, family-friendly. Plus, it's easily adaptable to be gluten-free AND dairy-free!
Ingredients
8 slices center cut bacon
1 cup frozen chopped vegetables (diced onion, bell peppers, and celery, or your preference)
2 tsp minced garlic
1½ cups panko breadcrumbs (gluten-free, if desired)
1 cup barbecue sauce, divided
½ tsp salt
½ tsp pepper
2 large eggs, lightly beaten
1½ lbs ground turkey
1 cup shredded cheddar cheese (optional – leave out for dairy-free)
Instructions
Preheat oven to 450 degrees F.
Cook bacon in a large skillet or griddle over medium-high heat until crisp, and chop into small pieces.
Cook frozen vegetables in a large bowl in the microwave until tender (2 minutes on High usually does it!). Drain any water from the bowl.
Add garlic, breadcrumbs, 1/4 cup barbecue sauce, half of the bacon, salt, pepper, eggs, and ground turkey to the bowl. Mix gently.
Mold into 8 individual loaves, and place on a wire rack over a foil-lined baking sheet. Top with remaining barbecue sauce.
Bake in the oven for 15 minutes.
Top with cheese (if desired) and remaining bacon. Bake for an additional 5 minutes, or until fully cooked.
Notes
To make dairy-free, simply leave out the cheese.
To make gluten-free, swap panko breadcrumbs for gluten-free variety.
*As always, read the ingredients list of all items to ensure no dairy or wheat is hiding in there!*
Recommended Products
As an Amazon Associate and member of other affiliate programs, I earn from qualifying purchases.
Nutrition Information:
Yield:

8
Serving Size:

1 loaf
Amount Per Serving:
Calories:

505
Total Fat:

26g
Saturated Fat:

9g
Trans Fat:

0g
Unsaturated Fat:

14g
Cholesterol:

162mg
Sodium:

1040mg
Carbohydrates:

33g
Fiber:

2g
Sugar:

14g
Protein:

34g