Easter is right around the corner, y'all, and that means Easter Egg hunts, Easter baskets, church celebrations, and perhaps most importantly (*awaits lightning strike from Heaven 😖*), Cadbury eggs.
My husband and I have a long-standing argument about Cadbury eggs. See, I think the traditional, creme-filled egg is the absolute best. I look forward to them all year long.
I know, you're probably thinking, "…obviously, so what's the argument here?"
My husband hates them. HATES. THEM.
What?!
He also hates peanut butter.
Get your pitchforks, folks… LET'S GET HIM!!!!
I digress.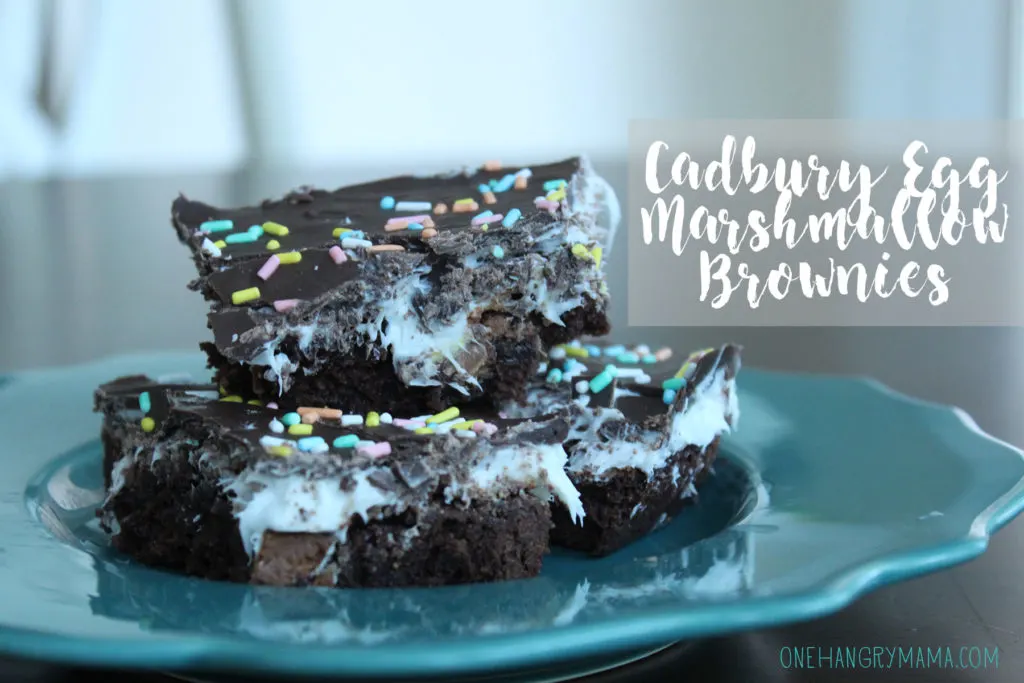 The Cadbury Mini Egg Obsession
*He* looks forward to Cadbury Mini Eggs all year long. Ya know, the ones that are basically really big, glorified m&ms.
I mean, don't get me wrong, I love those too. There really is something special about that Cadbury chocolate, and who ever thought a really big m&m would be a bad idea?
But the difference is, my husband has a real problem with how much he loves Cadbury Mini Eggs. I'm about to put him on Front Street (people still say that, right?): we're barely even into Easter season, and he's gone through three bags of them.
The full size bags, not those silly little pre-portioned ones.
So when I came up with the idea for these Cadbury Egg Easter Brownies, I knew I needed to be covert about it.
I had to keep the idea itself secret, hide the bag of eggs in the back corner of the pantry, and the pray he didn't go digging in there looking for something.
If he gets his hands on the bag, it's game over. They'd be gone in 12 hours.
Sorry, babe, it's time to give up the eggs. These brownies were your farewell tour. I hope you enjoyed them.
For the rest of you who can be trusted with a bag of Cadbury Mini Eggs, here's how easy these brownies are.
How to Make Cadbury Mini Egg Easter Brownies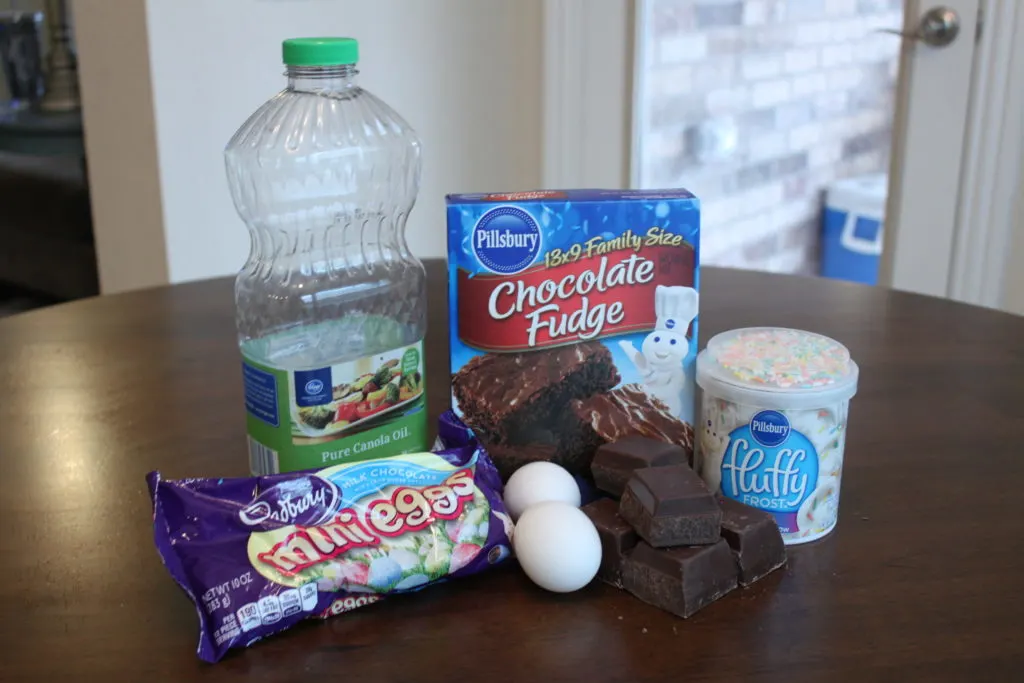 I started with a boxed brownie mix for these, because why not? You could just as easily do this with your favorite from-scratch brownie recipe, but that's a lot of work, and I only had one nap time to get this done.
Roughly chop up your bag of Cadbury Mini Eggs. I'm sorry to tell you, but this probably needs to be done by hand with a knife.
I tried to use my food processor, and not only was it absurdly loud and woke the baby (😠), but all it did was pulverize the outer shell into a powder and leave the chocolate mostly whole.
Mix together your brownie mix per the package instructions, and spread it into a 9×13 pan.
Then drop your chopped up eggs on top, and lightly press them into the batter with a spatula. They'll sink in more as it bakes.
Pop it in the oven for 25 minutes (or however long your box mix says).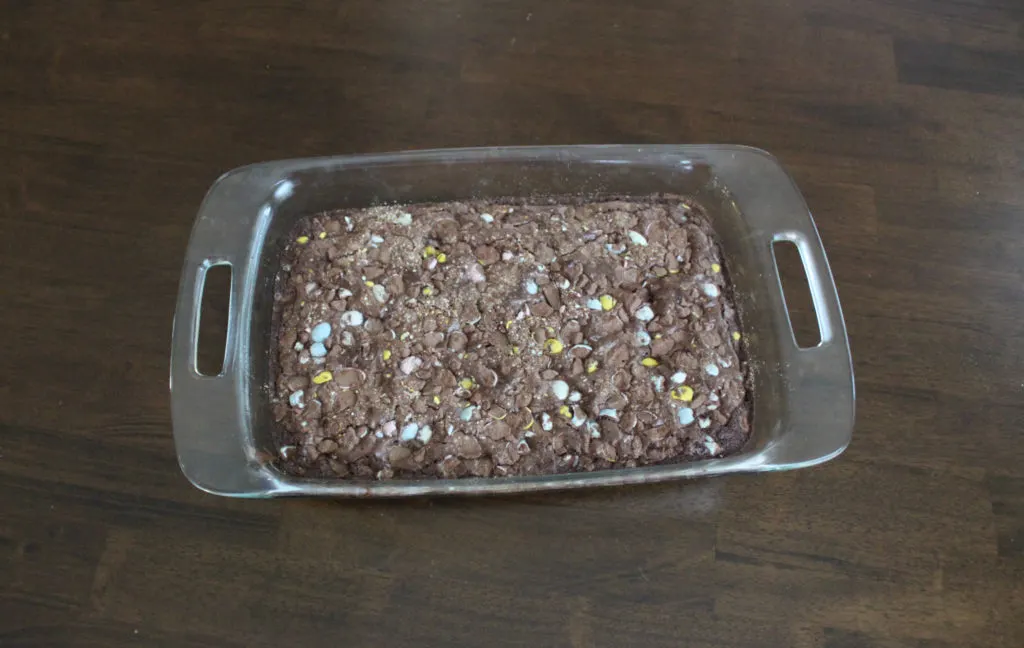 Once they've completely cooled, top them with the marshmallow Fluffy Frost frosting.
And y'all, we need to talk about this frosting.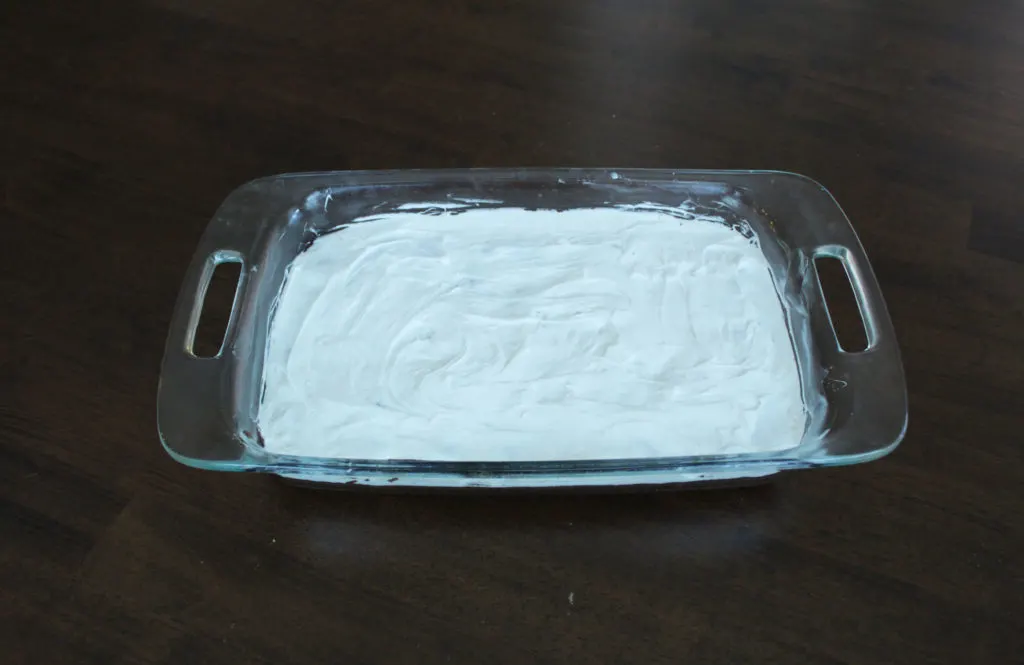 I'm usually a big proponent of homemade frosting—it's so easy, and so much better most of the time. But this one is different.
It's magical. It's the best frosting I've ever had. Equal parts creamy and fluffy and flavorful. You must use it. The end.
It gives these brownies a fluffy, marshmallowy taste, without the sticky mess of marshmallow creme. Plus it maintains the creaminess of frosting.
IT'S JUST MAGIC.
Melt your chocolate (because yes, obviously these don't have enough chocolate yet), and spread it evenly in a thin layer on top of the frosting.
Then add sprinkles on top, because it's Easter and they're pastel and they make everything more festive.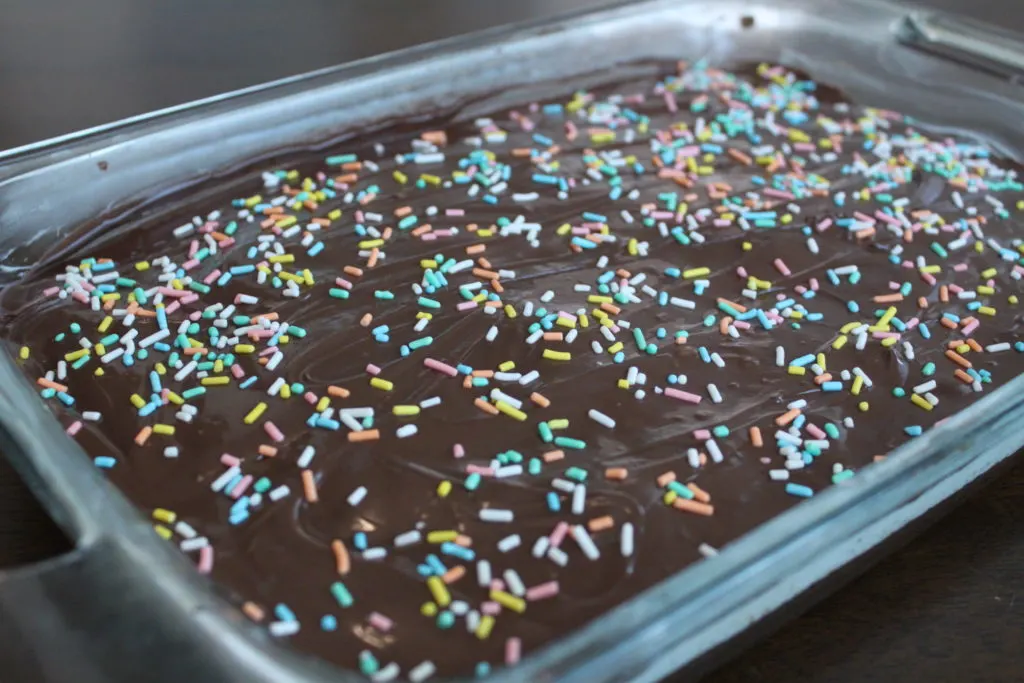 Stick it in the fridge for a couple hours to let everything completely set and harden before cutting.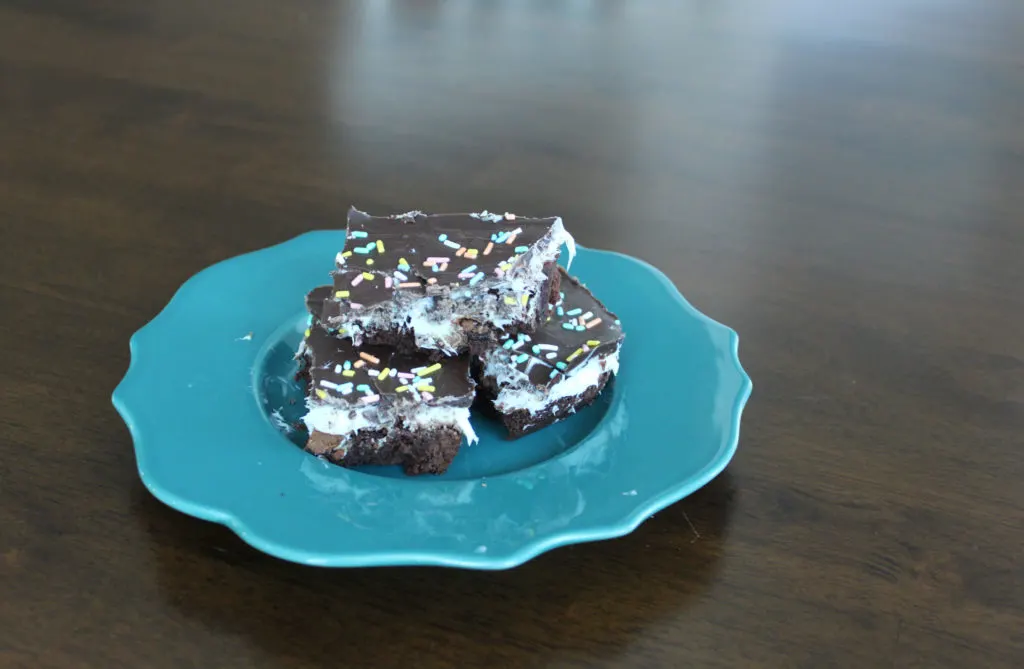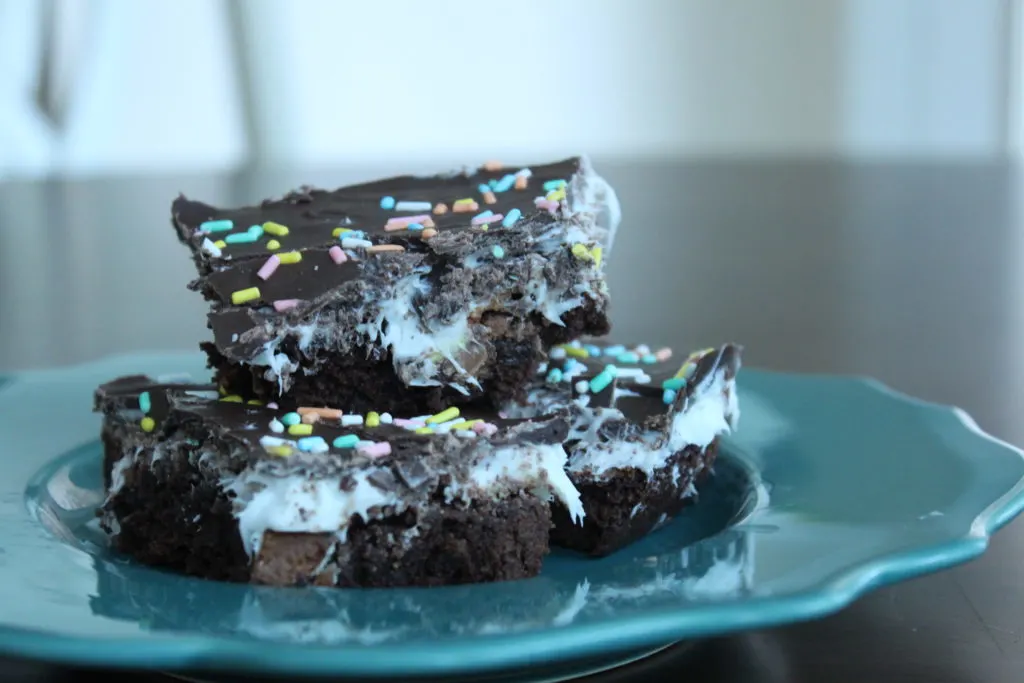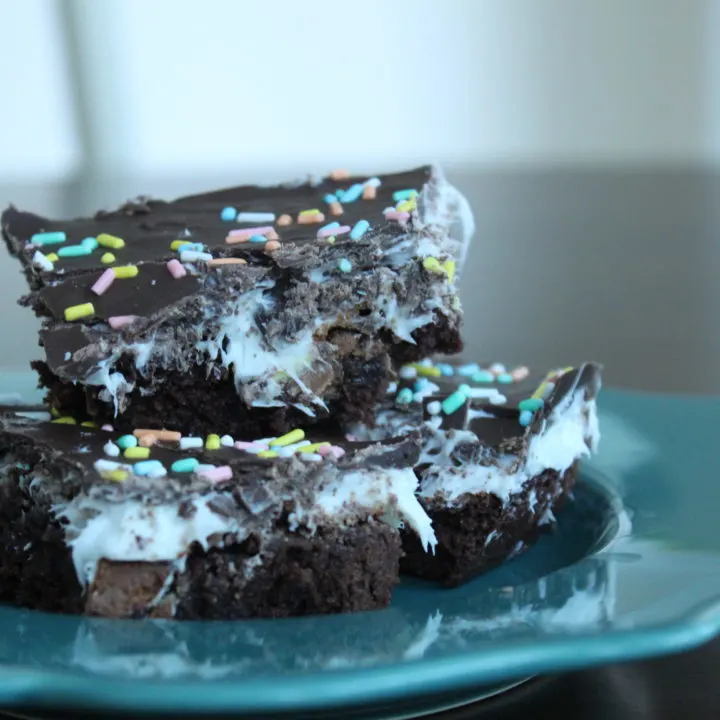 Cadbury Mini Egg Marshmallow Easter Brownies
Total Time:
3 hours
40 minutes
These Cadbury Mini Egg Marshmallow Brownies are the PERFECT Easter dessert. You'll be the hit of any Easter egg hunt potluck with this divine dessert.
Ingredients
1 box brownie mix
2 eggs, according to brownie package instructions
1/2 cup canola oil, according to brownie package instructions
1/4 cup water, according to brownie package instructions
1 bag Cadbury Mini Eggs, chopped
1 container Pillsbury Vanilla Fluffy Frost Icing
8 oz. chocolate candy coating
Instructions
Preheat oven to 350 degrees, according to brownie package instructions.
Mix together brownie mix, eggs, oil, and water, according to package instructions.
Spread into 9x13" pan. Place chopped Cadbury eggs on top, and gently press them into batter.
Bake for 25 minutes, or according to your brownie instructions.
Allow brownies to fully cool, then spread frosting on top.
Melt chocolate, and evenly spread on top of the frosting.
Add sprinkles on top.
Place in fridge to set for 2-3 hours, then cut and serve.
Recommended Products
As an Amazon Associate and member of other affiliate programs, I earn from qualifying purchases.