It's very, very easy to lose hope when you're battling infertility. Sometimes, you just need to take a break from reading statistics and TTC forums, and read some feel-good infertility quotes instead.
When I was going through my own infertility journey, I know the emotional toll it took was even larger than the physical toll.
From the monthly reminders of failure from Aunt Flo, to the seemingly daily pregnancy announcements on Facebook, to the obliviously insensitive questions about your family plans… the hits never stop coming.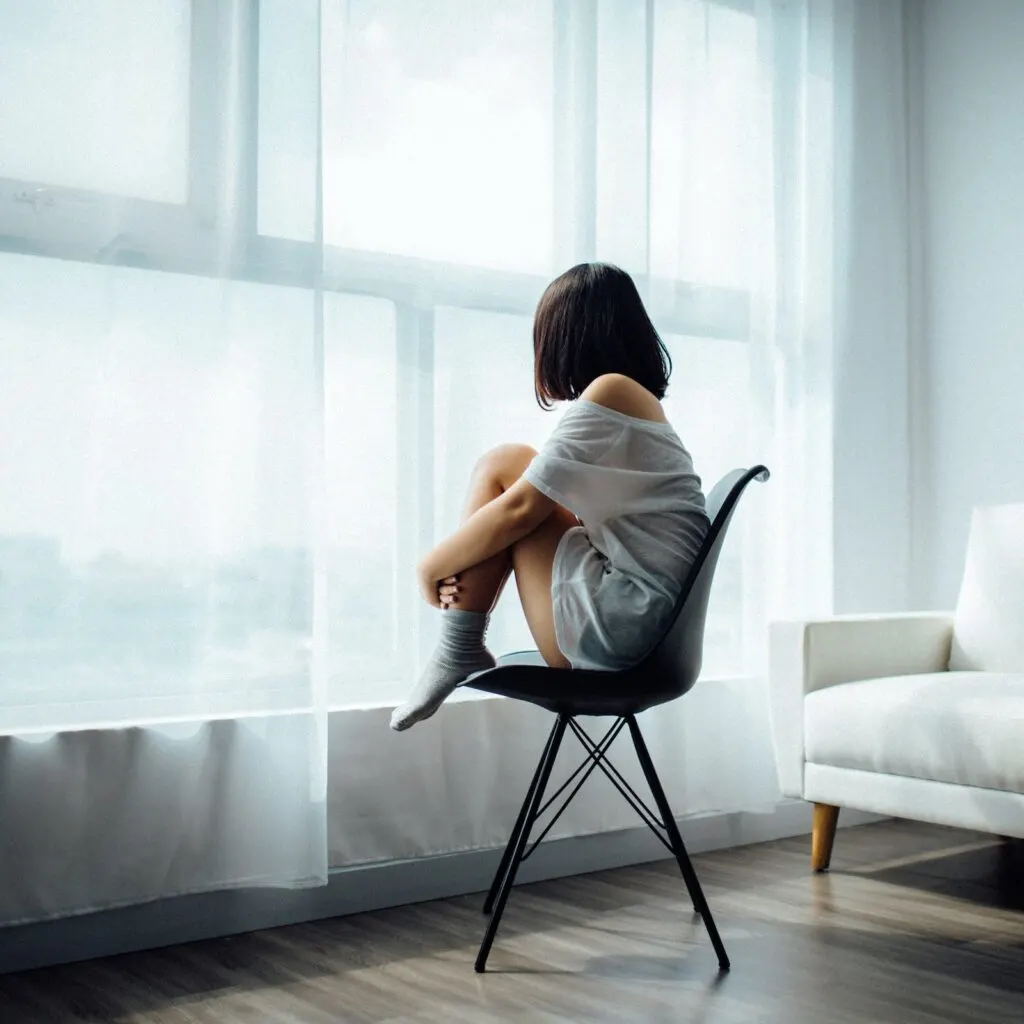 How to Cope with Infertility
Learning to cope with infertility is honestly a lifelong battle. I have two miracle babies, and I still wouldn't say I'm "over" my infertility struggle. It's affected me in more ways than I even realize.
But one thing I have learned is that the negativity will crush you, if you let it. I know, it's easier said than done to just not feel sadness or anger or doubt. And that's not what I'm saying – I actually think it's important to feel all those things!
However, you also need to do your best to feel the good things. Let yourself feel hopeful for a new cycle. Let yourself be excited about the possibilities of a new treatment plan. Let yourself take relief in a month off of fertility treatments.
Because if you don't let the light in, the darkness will suffocate you, and your future baby – who is coming, some day, some way, some how – needs your bright light.
Find your Infertility Mantra
One thing that always helps me hold on to a glimmer of light is having a mantra, quote, song lyric, or image to hold onto. I print it out and stick it on a wall, or write it on a post-it note next to my computer screen, or scribble it on my bathroom mirror using a dry-erase marker.
Wherever I put it, I make sure it's in a place that I'll see it every day, preferably multiple times throughout the day.
When you start to feel that negativity sinking in, find your mantra and read it.
Read it again, and again, and again, if you have to… until you start to believe it.
These are a few of the infertility quotes that helped me throughout my 2+ year journey – I hope they're able to bring you some comfort and hope, too!
Infertility Quotes for Perseverance
"You were given this mountain to show others it can be moved."
This quote has really spoken to me from early on in my journey. It gave me comfort to know that my struggle had a higher purpose, and that others could someday benefit from what I experienced and learned.
And as soon as I started opening up about my infertility struggles, it really came to life. So many people started reaching out to me, letting me know they were going through it too, and asking for advice or references.
Ultimately, it's what led to the creation of my Infertility Guidebook – I wanted to share all my knowledge of how to move this seemingly impenetrable mountain.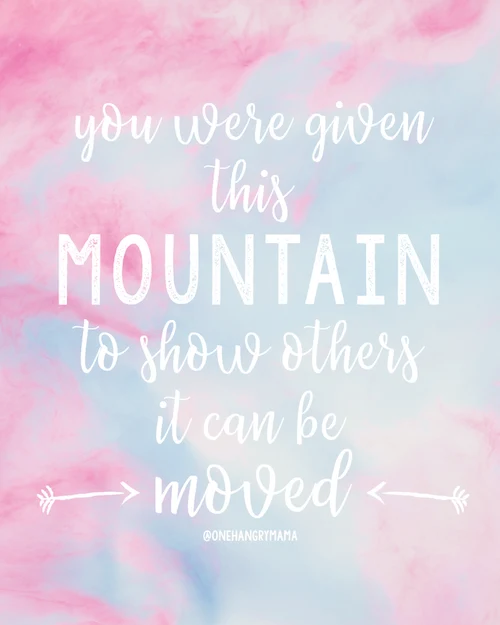 "The greater the storm, the brighter the rainbow."
You can weather this storm, and you will be so much better off for it afterwards, I promise.
And trust me, nothing will compare to how bright that rainbow is after it's over!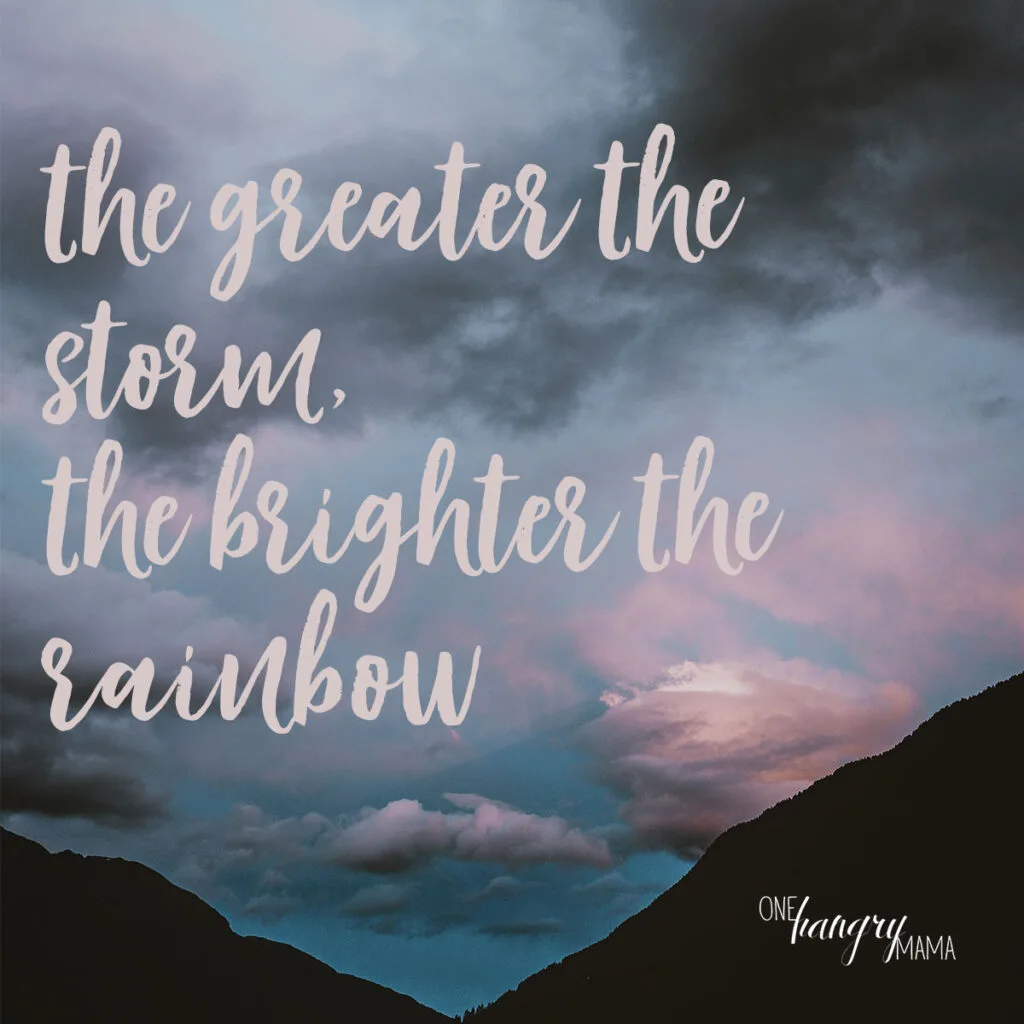 Infertility Quotes for Hope
"Do not lose hope. For after the storm, there is sunshine."
You know those big thunderstorms that roll in quickly, darken the sky, and make it feel like nightfall even though it's the middle of the day?
And then, just as quickly as they begin – they end. And the sunshine breaks through.
And after all the fear, all the thunder, all the darkness… that sunshine is even brighter than you remember it being. And before you know it, the warmth returns, the air feels crisp, and that storm is just a memory.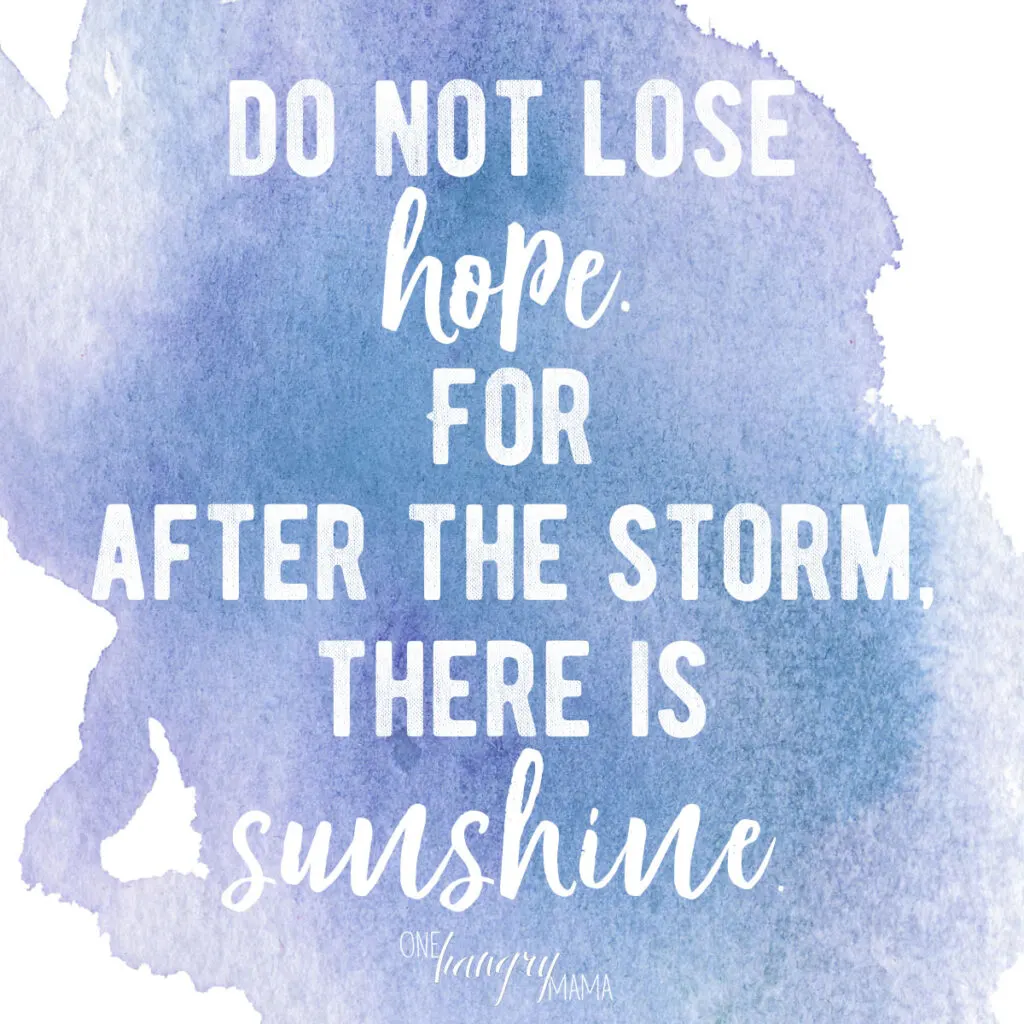 "Even miracles take a little bit of time." – Cinderella's Fairy Godmother
Who says Disney princess movies are just for little kids? We could all use a fairy godmother during our darkest days, and Cinderella's doesn't disappoint.
While she can't "bippity boppity boo" us a baby, she can remind us that the best things in life are worth waiting for.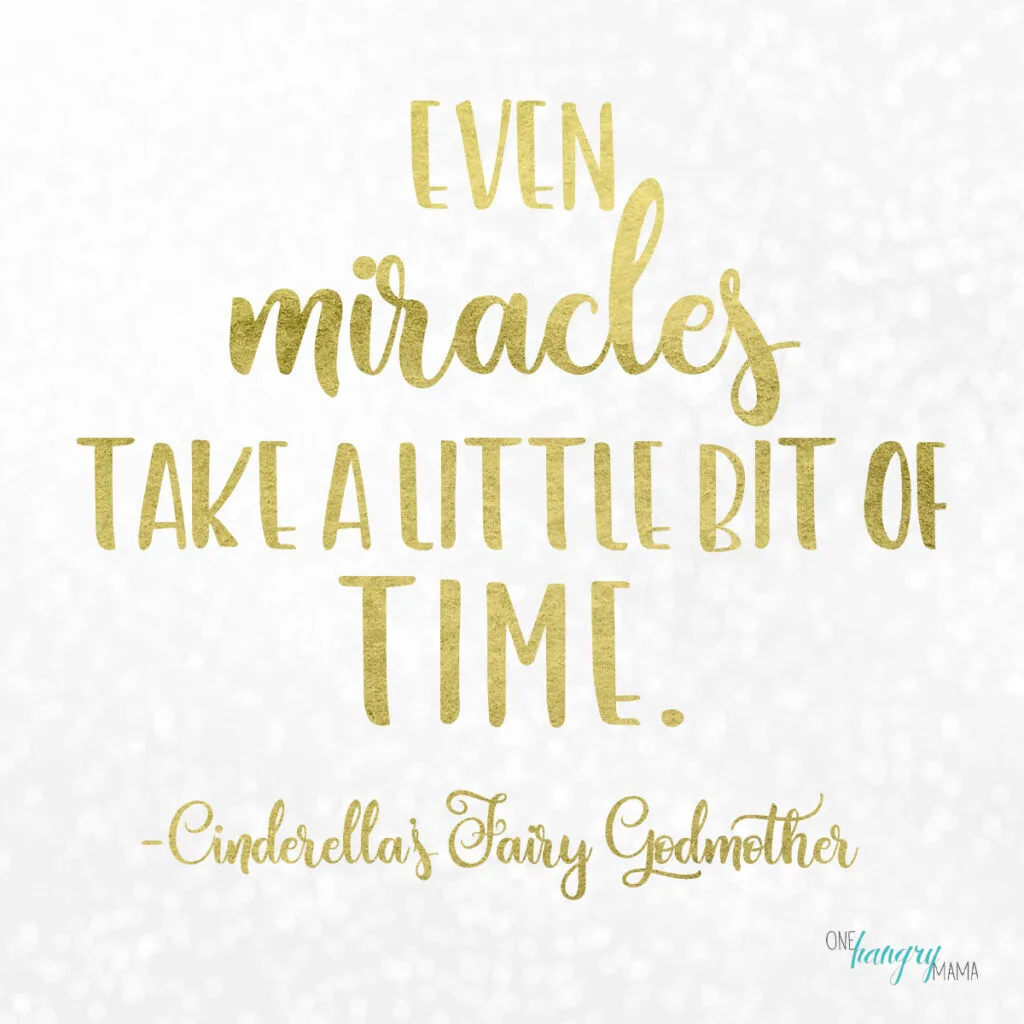 Religious Quotes for Infertility Support
"I will not cause pain without allowing something new to be born." – Isaiah 66:9
If you're a Christian, I highly recommend you lean on prayer and the Bible for support. It was my greatest source of comfort throughout my journey, and it strengthened my relationship with God so much.
This is one of my favorite Bible verses for infertility, because it's a great reminder than God is good. He will not cause us pain frivolously. We just have to wait and see what's to come.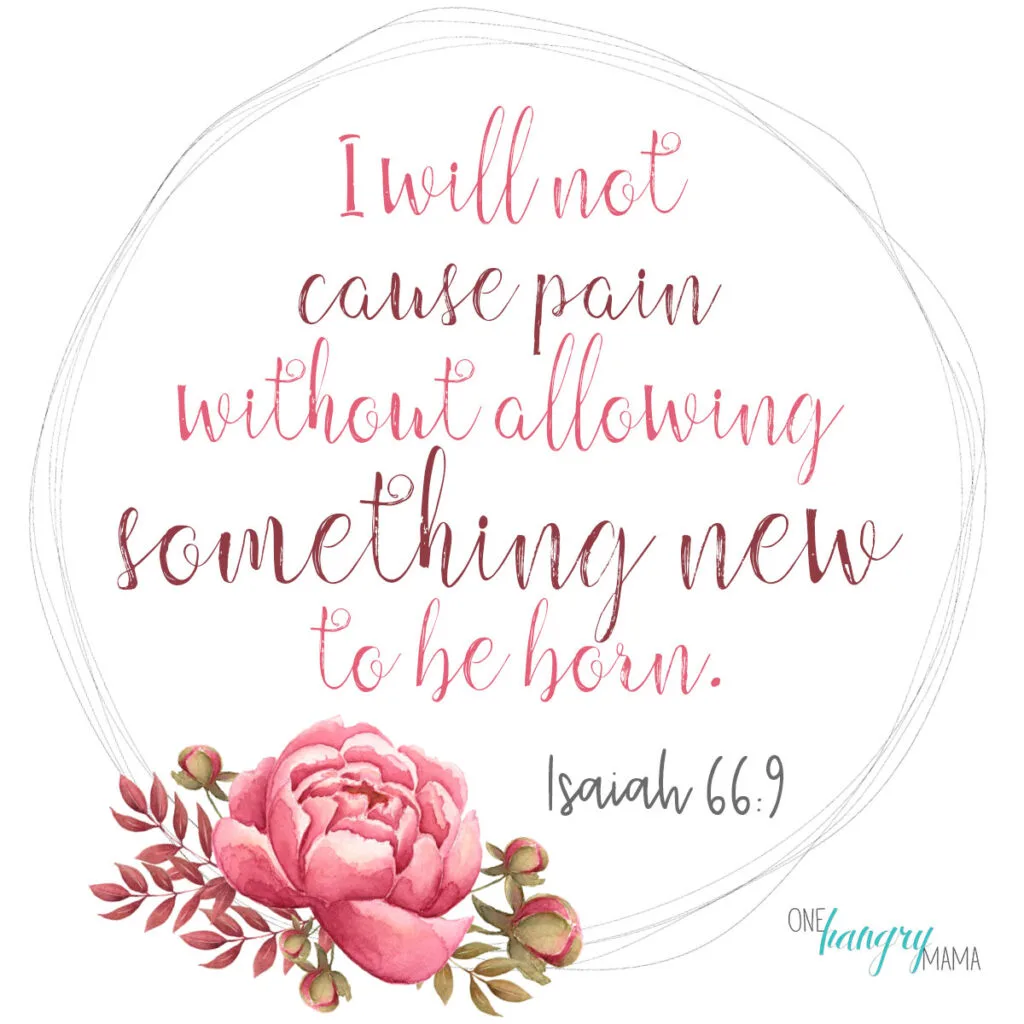 "She believed in His plan, even she could not see His path."
This quote may not be directly from the Bible, but it is a lesson God has shown me repeatedly throughout my life – to trust in His plan, even when I can't see the full picture.
In hindsight, it's always easy to see why you were led down a certain path or went through a particular struggle, and how you ended up better off as a result.
If we can just remember that purpose while we're going through it, we may save ourselves a little bit of angst.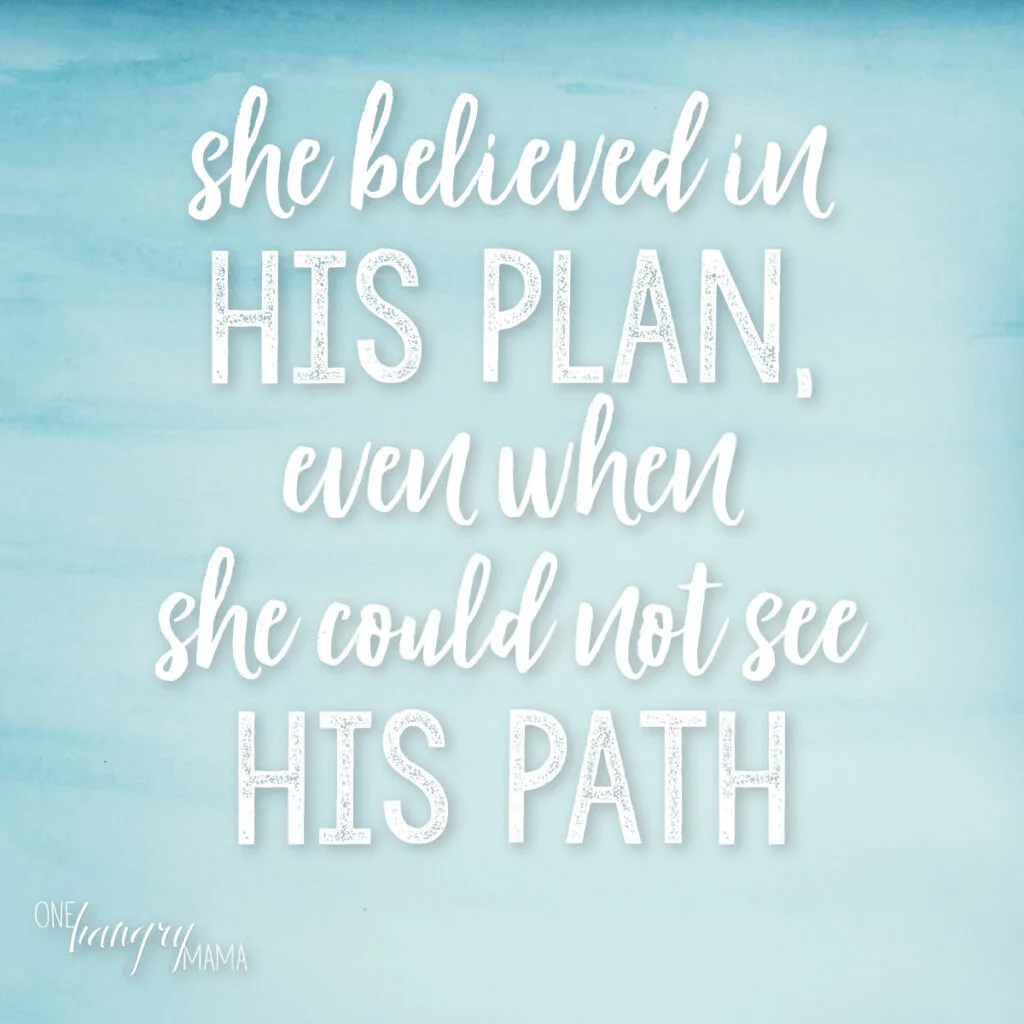 I hope these quotes are able to bring you a little peace, comfort, hope, or encouragement if you're struggling with infertility. Feel free to print them for yourself, save them as a phone background, share them on your Pinterest boards… wherever you find them useful.
And of course, let me know the quotes that have helped you through your struggles in the comments! I'd love to add to this list over time.