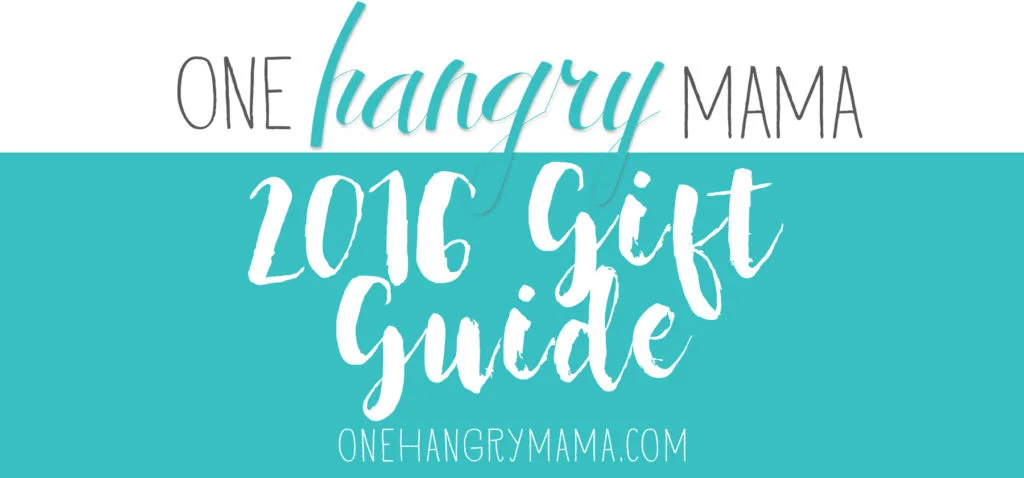 'Tis the season for gift guides! We are in the home stretch for gift-buying, with about three weeks to go until both Christmas and Hanukkah. So if you haven't started shopping yet (lookin' at you, dads everywhere), consider this your wake-up call: GET. IT. IN. GEAR.
With that, I give you 10 things the hangry mom in your life will love (probably… make sure to have pie or cupcakes on hand, as a backup… just in case):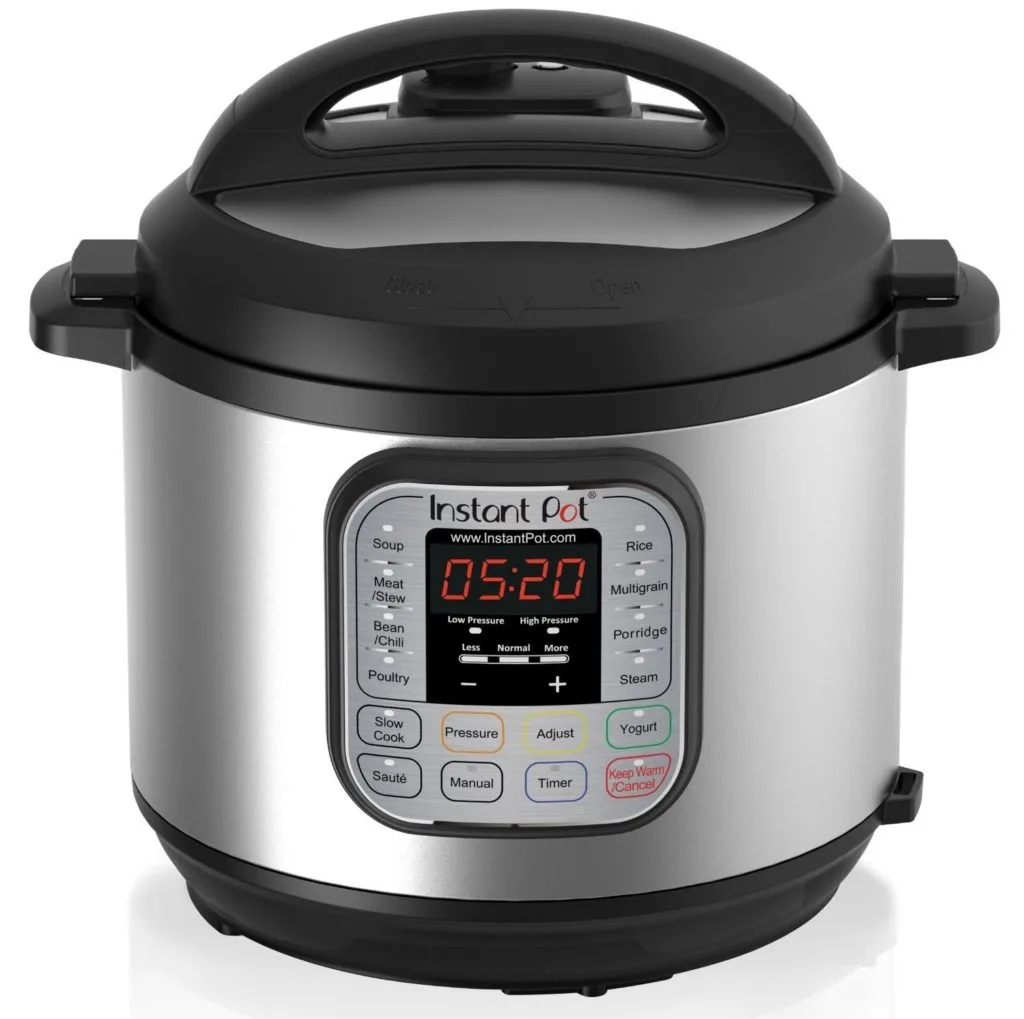 An Instant Pot: $99.99
If she's an actual hangry mama, then odds are, anything that can simultaneously make dinner faster, easier, and more delicious, is likely at the top of her list. I've never used a pressure cooker myself, but I hear people rave about them all the time, and there are loads of recipes on Pinterest that I'm excited to try out (a-hem, assuming Santa gets me one). Stay tuned for OHM Instant Pot recipes in 2017.
An Inkwell Press Planner

:

$54.00
Y'all, life with a baby is no joke. Working moms and stay-at-home moms alike (and hybrids like myself) are scheduled out the wazoo. I know, you're thinking, what on earth is a one-year-old so busy doing? And the answer is, I DON'T EVEN KNOW. But he has more social events than I did when I lived in my sorority house. And I know it only gets worse as they get older. A real-life paper planner does wonders for organizing your household and your calendar, way beyond what your mobile calendar will manage. Plus, the fact that this particular planner is super stylish in addition to being functional will not be lost on her.
A New Diaper Bag: $120.00 – $150.00
If you've ever heard her complain about her current diaper bag situation (or better yet, if you've witnessed the chaos in action), help a mama out and get her a better one. A good diaper bag is a luxury that many moms won't give themselves, but it makes such a difference in quality of life, given all these damn social events. If you've ever watched her dig for more than 5 minutes in search of something, empty her entire bag out in a public place in search of something, or seen her bag fall off her shoulder due to its extreme weight & discomfort, those are strong clues that she needs a new bag.
This JuJuBe BFF is the bag I have, and it's the best. It has the option for a backpack or a shoulder strap (she'll probably try to protest the backpack straps for a month or so before giving in and realizing the ease of the backpack is worth the nerd-factor), has lots of insulated pockets inside and out, and has a sturdy bottom so it stays upright and maintains its structure when you're looking for stuff.
PJs, a Robe,

Slippers

: $15 – $65
Mama's tired. Guaranteed. But new comfy PJs are almost definitely not something she's going to treat herself to. So let her know that it's OK to spend an entire Saturday in her PJs by upgrading her collection. One of my best friends gave me a set of some PJ Salvage flannel pajamas right after I had my baby, and they were one of the best postpartum gifts I got. A year later, and I still pretty much live in them (don't judge me).They're a little pricey, but SO worth it. If you're not up for dropping $65 on sleepwear, you could get the same effect with a cozy robe, or some slippers.
Kate Spade Alphabet Pendent Necklace: $58.00
Really, any kind of keepsake that represents her babies. Anything Kate Spade is a guaranteed winner, so this necklace with her baby's initial is a great option. The hubs got me this Kate Spade locket last year, and I still wear it almost every day. You may even get a glistening tear out of this one, if you catch her at the right moment.

A Coffee Mug

: $5.99 – $19.99
We moms like our coffee. We need our coffee. Coffee is life. But we never get to drink hot coffee– or ice cold coffee, for that matter. Room temperature coffee is pretty much all we get. The second we finish crafting our perfect cup of joe in the morning, we hear cries from the baby monitor, or someone demands breakfast, or oh crap it's already 7:45, we were supposed to leave 10 minutes ago. So help her combat this lukewarm coffee epidemic, and get her a mug that will keep her coffee warm, no matter who or what interrupts her.
Another option: give her a little boost of motivation to tackle whatever [probably literal] shit-storm comes her way with one of these cute mugs from Target.
Wine Glasses: $39.99
The only thing on-par with coffee in our world is wine. Give mama an excuse to have an extra glass with some festive new wine glasses. Just make sure they're dishwasher-safe because ain't nobody got time for hand-washing fragile wine glasses. If you're looking for something a little more "evergreen" (and less expensive), here's a fun set from Target, too.

Google Home

: $129
OK, full disclosure: Google is a client of mine at work. BUT I really genuinely want one of these smart speakers, as my husband will gladly tell you, based on all the not-so-subtle hints I've been dropping on him. (I've basically been walking around my house saying "OK Google" and making requests, then getting disgruntled when nothing responds. If I annoy him enough, he'll buy me one, it works every time.) This speaker will connect to your phone and play music you request, make your grocery list for you, control your connected thermostat or lightbulbs, tell you the weather, give you a head's up on your schedule for the day (we're scheduled out the wazoo, remember?), all just by talking to it. It's a mom's personal assistant.
Photo Service Gift Card: However much you want
Odds are that mama's phone and camera are filled with pictures of all of her precious snowflake's most impressive, adorable, hilarious moments, never to see the light of day. Give her a gift card to one of the popular photo websites (Shutterfly, Picaboo, mpix, to name a few), so she can finally do something with them, be it a photobook, canvas print, or maybe even one of those creepy photo blankets… her call.
Pamper Her: $20+
If all else fails, just shower her with spa treatments. Every mama needs an hour, an afternoon, a day away, so you can't go wrong with a mani/pedi, massage, facial, or any combination thereof.
What did I miss, mamas? Tell me what else is on your wish list this year!
*Please note: Some of the links above are affiliate links, which means I get a teeny, tiny sliver of the profits, at no extra cost to you.