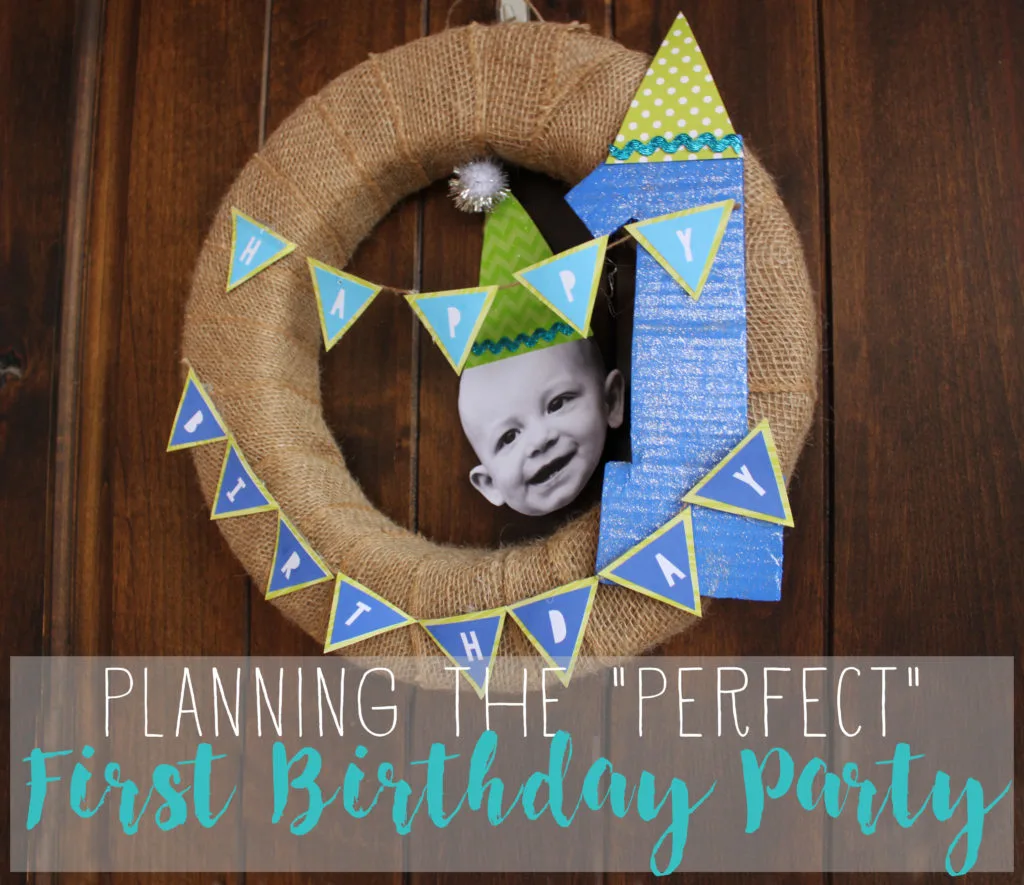 First of all, can we talk about how insane first birthday parties are?! We all know it, we all joke about it, and then we all turn right around and host a full three-ring circus in honor of our little snowflakes.
I started planning for my baby's birthday 3 months in advance. We've been on a pretty tight budget since I transitioned to part-time at work, so I thought, we're gonna keep this thing low-key. Just family and a few friends at our house, homemade food and cake, and DIY decorations and invitations.
Well, 3 months, 50 people, 5 smash cakes, and about a zillion hours (and dollars) of crafting later… we had ourselves a three-ring circus.
How did we get here?
It all started with the invitations. I had a vision in my head of an "Oh What Fun, Keller is One" theme: bright colors, party hats, fun things. I couldn't find anything online that matched what I was thinking, so I just decided to make something myself. I spent approximately 742 hours in Adobe Illustrator perfecting polka dots and tweaking colors and changing fonts and sizes.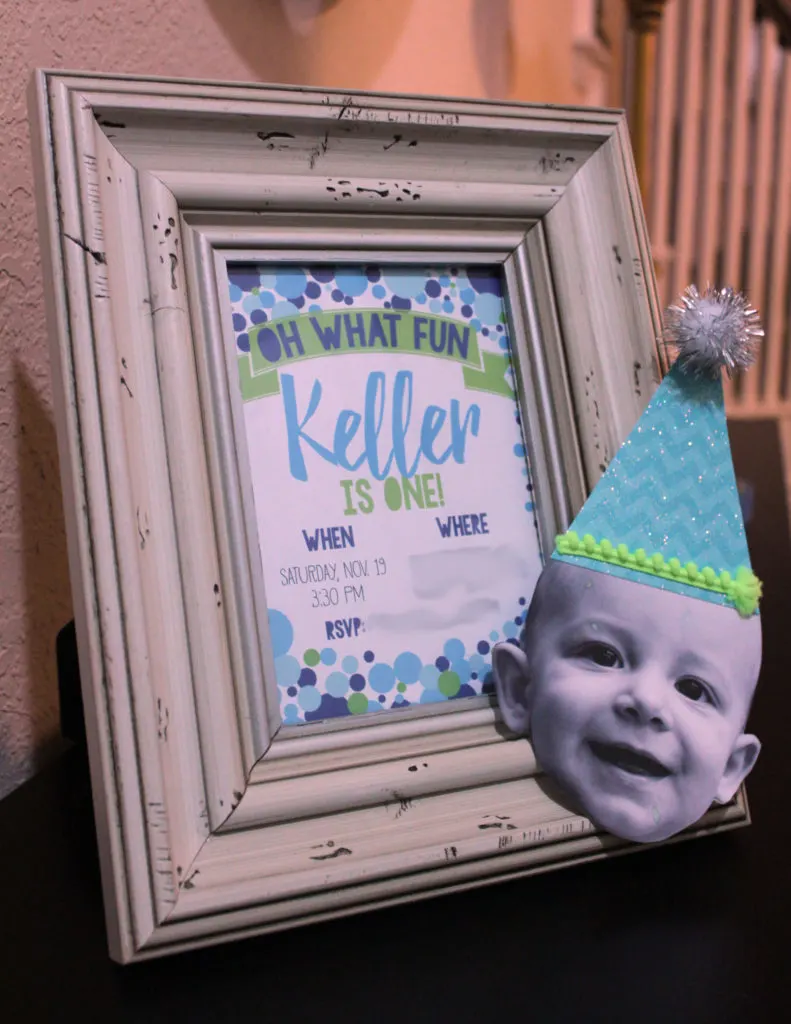 At least I now had a color scheme to work with, though… the rest will fall into place, right?!
The natural next step was, of course, Pinterest. AKA, the future cause of death for moms everywhere. MISTAKE.
As soon as I stumbled upon this image of another baby's first birthday party, I knew I wanted Kellerheads to be the center of the party design. (Yes the phrase "party design" was in my repertoire, clearly this was already out of hand.)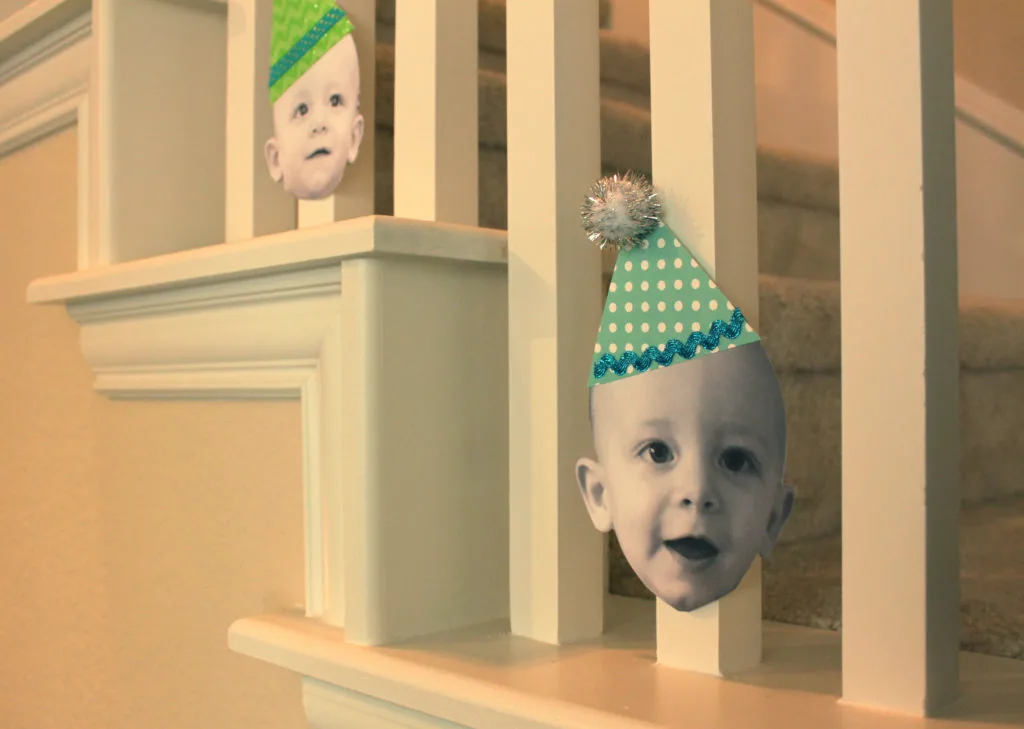 So simple! Just print pictures of the baby, cut out his head, and stick party hats on them! The secret is that the pictures have to be close-ups of his head, and he has to be sitting still enough to not be blurry, and you have to crop each photo on the face, and make it black & white, and resize it to be big enough, and print 985 copies of it, and CUT OUT 985 TINY LITTLE HEADS, and then MAKE 985 tiny little party hats, and THEN string them on banners and make sure they don't flip upside down and backwards and sideways.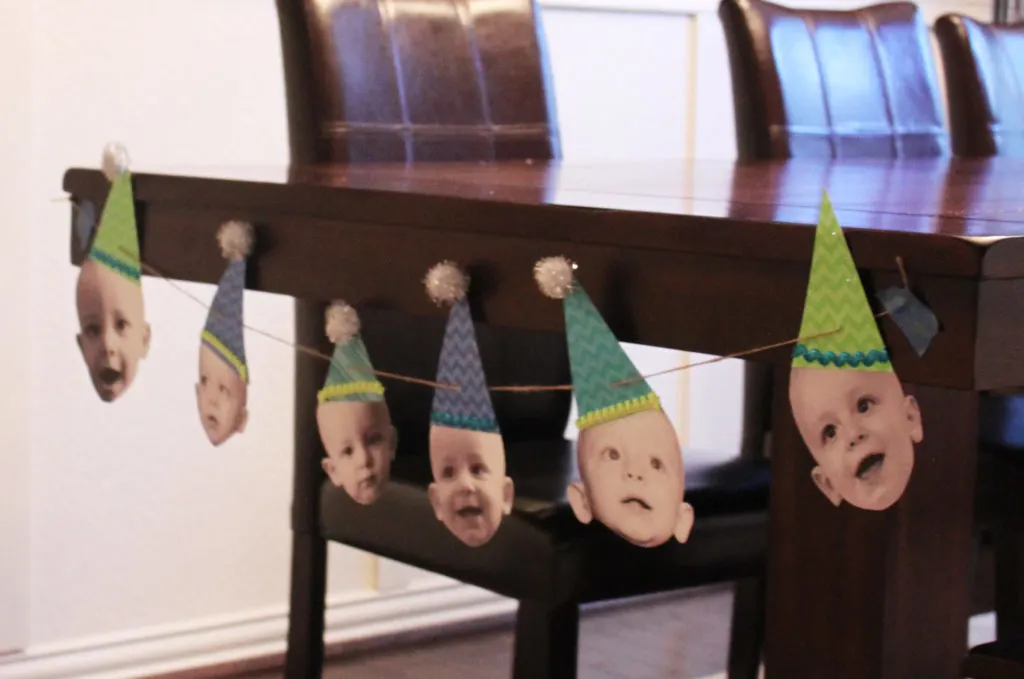 THIS. WAS. AN. UNDERTAKING.
But it was actually worth it. It was my favorite part of the whole party, and I've been giving them out to some of our family & friends and hanging them in our playroom. So even though this took 20 hours+ of work, I'm okay with it. NOT A MISTAKE.
Next up, the smash cake. I'm not spending hundreds of dollars on a cake for my baby to destroy; I'll make something simple myself, I thought. Another venture through Pinterest, another mistake.
I found this recipe for a healthy-ish smash cake, and thought, perfect! No need to send baby into a diabetic shock after his first dosing of sugar!
Thankfully, I had the foresight to test this out first, because OH DEAR LORD was it a fail. Neither my husband nor I have ever been ones to say no to sweets of any kind, but we literally took two bites of this cake and threw it in the trash.
Can you let that sink in for a second?
How bad does a cake have to be to go in the TRASH? Like, it's still cake right? The worst of cakes is still CAKE. Fluffy, sugary goodness, coated in more creamy, sugary goodness? You can't screw that up.
Well, apparently you can.
I'm gonna go ahead and assume I did something wrong, because I can't imagine that what we ended up with is what Marielle at The Resplendent intended. This cake was so dense, y'all. Like, if you made 6 loaves of banana bread, and then compacted them together into one single slice of cake, dense. I don't think I can adequately describe the horror that was this cake.
So I scrapped the whole "healthy cake" idea, and decided to just do a standard white cake, with blue ombré frosting to match my aforementioned "party design." I found tutorial upon tutorial for ombré frosting. It's so easy! Totes beginner cake decorating! So naturally, I hit up Hobby Lobby and spent $25 in cake decorating tools, then back to the grocery store for $15 more in cake-making supplies and gave it go.
This one tasted fine, but was ugly as all get out. Word to the wise: ombré frosting is not beginner cake decorating. In fact, there is no such thing as "beginner cake decorating." Don't be fooled by all the cake videos on Instagram that make it look like all you need is one hand and a spinning cake stand to make a beautiful cake. This is a lie, just like the rest of Instagram, and I should've known better.
But I'm stubborn, and I'm not opposed to more cake, so I wanted to give it another shot. Another from-scratch white cake, another day of scrubbing blue frosting off everything I own (including my own skin), another ugly blue frosted nightmare.
At this point, I decided I was over the ombré frosting, over baking from scratch, and basically over this whole damn thing.
But alas, there were still more cakes in my future. We'd already decided to do a pre-party cake smash the week before the party, so we could really enjoy his first bites of sugary bliss without 50 other people around and get some good pics. So I made another damn cake. (And then yet another damn cake for him to smash at the actual party.) These last two cakes were also quite ugly, but I'd come to terms with that at this point, and at least I didn't turn my whole house blue in the process.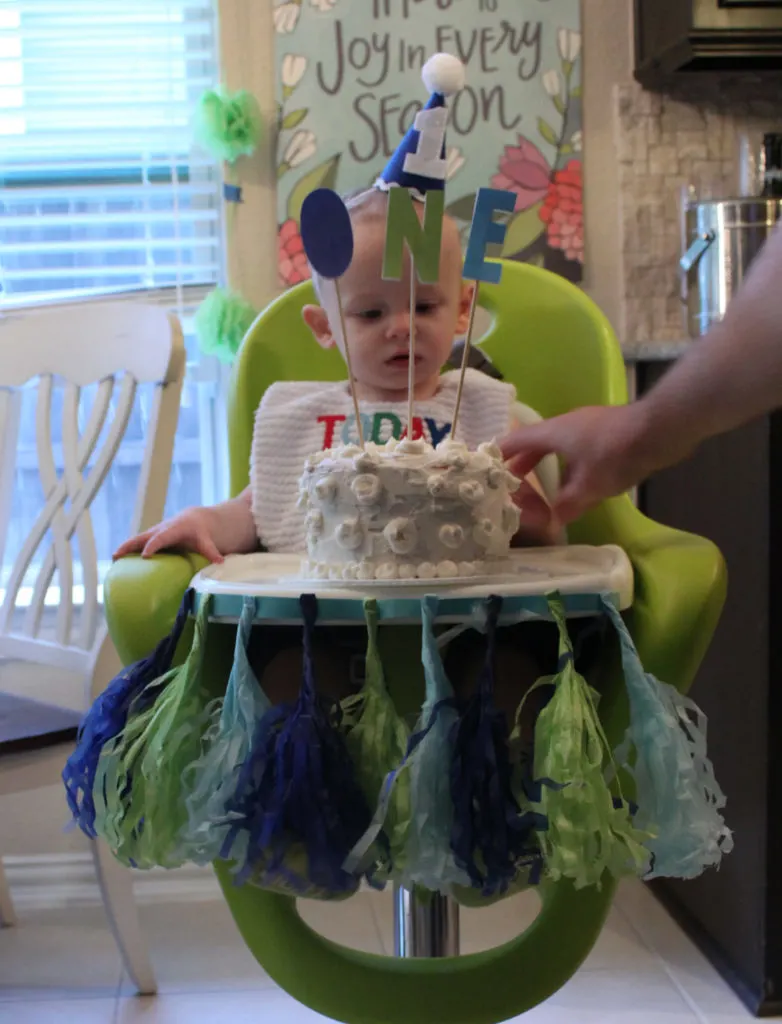 The most important part of any party equation is the food & drink, of course. Our party was at 3:30, so we figured we could keep it relatively simple.
Drinks:
mimosas
beer
bottled water
juice pouches
Food:
sausage rolls
taco cups
fruit skewers
caprese skewers
veggie tray
cheese cubes
PB&Js
puffs
pouches
cupcakes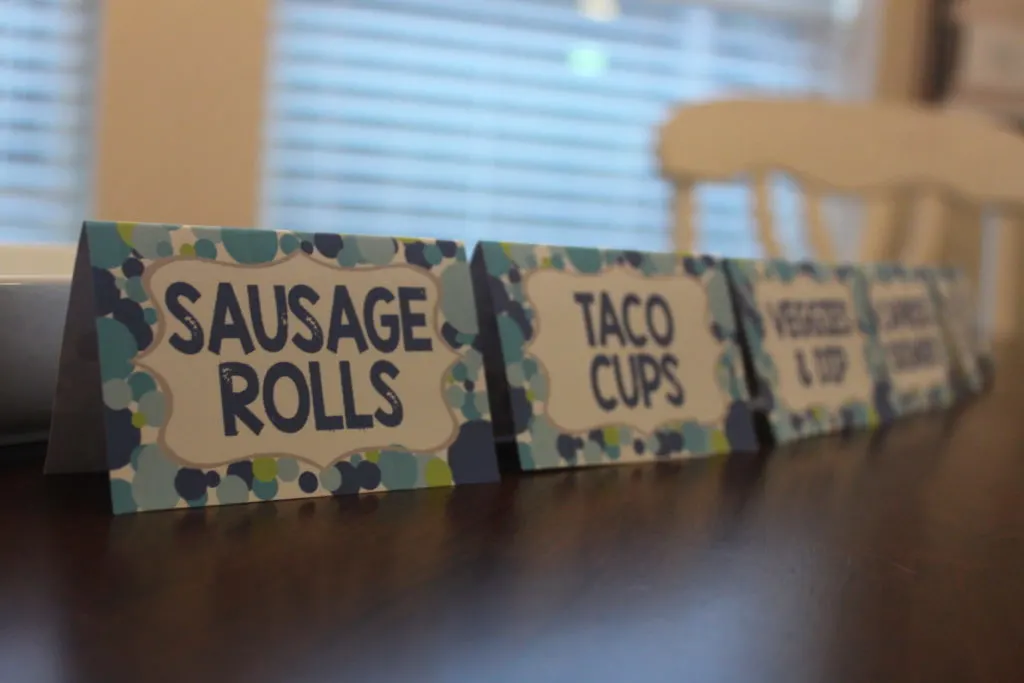 If you're thinking to yourself, that many food & drink options doesn't sound "relatively simple" at all, then you are correct. A lot of this stuff didn't even get touched. Better to have too much than too little, of course, but even better to not waste time, energy, and money on stuff you don't need. At this time of day, you probably really only need a couple things for the kids (little sammies & fruit), a couple things for adults to mindlessly munch on, water, and booze. And cupcakes… always cupcakes.
The activities were the next big hurdle. We knew we were going to have a mix of age groups. A bunch of infants, a few toddlers, and a few big kids, so I wanted everyone to have something to do — if for no other reason than so they didn't tear my house down to the studs out of sheer boredom.
The babies were easy: we brought all of Keller's big toys and his infamous ballpit downstairs into the living room, and let them go wild.
The toddlers were a little harder: we have a small swing set in the backyard, and my parents brought over a playhouse to go out there too, and we prayed for a mild November day (and shout out, Texas, you came through! It was 55 degrees and sunny.).
I was totally stumped on the big kids, though. I'm honestly a little intimidated by 5-10 year olds (and pretty much everyone from there on up, if I'm really being honest). I don't know what they can & can't do, and I don't know how to talk to them. They don't need baby talk, but they don't know big words either? But then sometimes they're like way smarter than I am? How do you entertain them without an X-Box?
Thankfully, my BFF party-planner-extraordinaire gave me the brilliant idea to have custom color book pages and crayons out for them to doodle their hearts out until cupcake time (which is all they were really there for anyways, let's be real). These were great at keeping them busy, and only $6 on Etsy. And we were left with a whole stack of pretty pages colored just for Keller, which was so sweet (but yeah, I threw those out).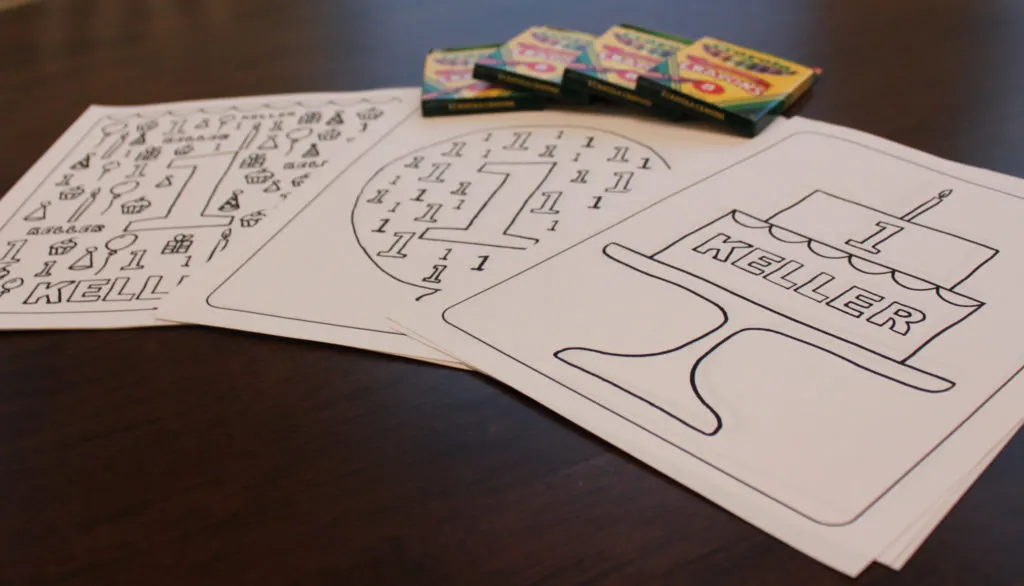 And that's it! After the party was over I slept for a week. HAHAHA just kidding, the baby was up all night long that night and caught RSV at the party and then a stomach bug after that and it's been two months and I basically haven't slept through the night ever since and parenthood is great.
Lessons learned:
Simplify. Everything. Guest list, decorations, food, drink, activities… everything.
Enlist help. Between the friends I stole ideas from, my mom and mother-in-law who cooked and paid for various food & drink items, my husband who ran out to the store multiple times the day of the party for things I'd forgotten, my best friend who inadvertently showed up 5 hours early and entertained my kid while we got ready, and my in-laws who were unknowingly enlisted into a Hangry Mama sweatshop the night before the party making decorations… this party was a collaborative effort to say the least.
Take pictures. You might notice there are like two pictures on here from the actual party itself. That's because I didn't take any. The one below is literally the only picture I have of the three of us from that day. Assign someone else this job.
Stay off Pinterest. Pinterest is a thief of joy. Stay far away from it. It will only do you harm.
Drink. All the booze. Before, during, and after the party. Your kid is a year old! He survived! You survived! You've earned it.