You probably already know the typical postpartum essentials for new moms – maxi-pads, nursing bras, numbing spray, Tylenol, etc. These are all very important items for postpartum moms, but that's not what this list is for.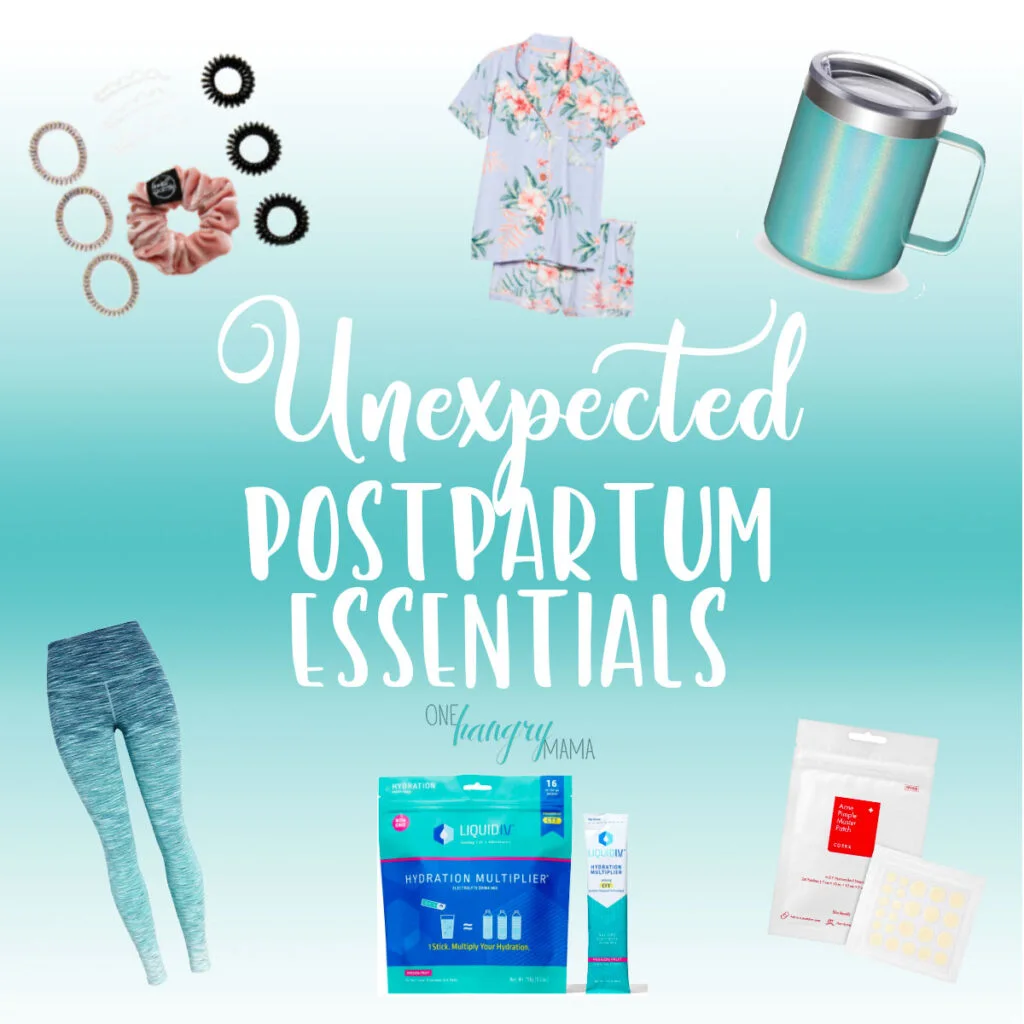 The Postpartum Essentials You Didn't Know You Needed
These are the unexpected essentials… the things you may not think about while you're prepping for baby's arrival. The things you may not even know you'll need before you're actually living the crazy that is postpartum / newborn life. The things you only learn after doing this postpartum battle a time or two.
I've had two babies, and I'm due with my third in just a few weeks (YIKES!), so I can personally vouch that these were all among my favorite postpartum items during those challenging first months with a baby.
New Mom Care Package
Whenever a friend has a baby, I like to bring by a few things for the new mama. I've typically already gifted items for the baby at a baby shower or sprinkle, so I use the postpartum visit as a time to shower mom.
She's a warrior, after all! She just spent nine months growing a human, and then probably multiple days ejecting it from her own body. Her organs have been rearranged, her hormones have been wrecked, and some part of her body was most likely sliced and diced at some point.
On top of all that, she probably hasn't slept more than a few hours since all of that. If ever there was a time to dote on and spoil a woman, it's the 4th trimester postpartum time period.
So, if you're a thoughtful friend, looking for ideas for a postpartum care kit, you've come to the right place! Any new mom would love a care package with these items. Plus, you won't be bringing her the same ol' blankets and socks for the baby that everyone else has probably been dropping off.
10 Unexpected Postpartum Essentials for New Moms
One of the things I was totally unprepared for was the middle-of-the-night hot flashes in the first weeks postpartum. Lightweight PJs are everything when you wake up drenched in sweat!
But when you're nursing, easy access to the boobs is also everything – so these short-sleeve button down PJs from Nordstrom are perfect.
If you didn't already live in athleisure wear during your pregnancy, then the time to jump on the bandwagon is now. Get yourself some good, comfy leggings, and get used to them – this is your new out-of-the-house wardrobe.
Nordstrom's Zella leggings are awesome – they're like a more affordable Lululemon. They're high-waisted, so they're super comfortable and they hold in your postpartum belly.
Leggings may be your out-of-the-house postpartum staple, but a cozy robe is your new at-home wardrobe. Those first few weeks with a new baby are primarily spent nursing, napping, and snuggling, and a robe is the most efficient item of clothing to accomplish all three of those tasks.
As a postpartum mom, hydration is absolutely essential. Especially if you're breastfeeding, there's no amount of water that will leave you feeling hydrated and satiated.
The hospital will likely give you a ginormous water bottle during your stay, but I much prefer this one – it's got a filter in the top that helps the water flow smoothly, and has nice, clear markings on the side to keep track of your intake volume.
And while you're at it, go ahead and stock up on some Liquid IV hydration packs, too. You just mix it in with water, and it helps your body absorb it more quickly, so every drop you drink goes further.
Plus, they come in a few different flavors, and it's always nice to have a little change of pace from just plain water day in and day out.
In between gulps of water, you'll also probably be chugging coffee by the gallon, because NEWBORNS.
But as you'll quickly learn as a new mom, the cardinal rule of motherhood is that you are never allowed to eat or drink anything while it's hot again.
So a good insulated, stainless steel mug is a great addition to any postpartum mom's kitchen, to give her a fighting chance at a warm sip of coffee.
New moms don't have a lot of time or energy for pre-baby luxuries like showering. So dry shampoo is one of the ultimate postpartum essentials.
Just give your hair a little (or a lot...) spritz before bed, and when you get up in the morning, your hair will be volumized and fresh – so you can at least pretend to be living like a real human again.
As a new mom, you'll probably want your hair out of your face most of the time, while you're gazing down at that precious new baby. So clips, hair ties, bobby pins, and scrunchies are all super handy to have nearby at all times.
Okay, after you have a baby, your hormones go haywire. They plummet one day, spike the next... it's an actual roller coaster inside your own body.
So your skin is bound to take a hit at some point. I always keep a pack of these pimple patches on hand – you just put one on an open zit before bed, and by the morning, it will have sucked out all the gross pimple gunk. They're a godsend!
If there's anything new moms need, it's easy and fast sustenance. Between breastfeeding, bouncing, rocking, burping, and changing that new baby, there's surprisingly little time for a full meal in those early days.
That's why it's always handy to have a quick protein bar nearby, for when the hanger strikes. Nobody wants a hangry newborn and a hangry postpartum mom.
What unexpected postpartum essentials surprised you after having your baby? Share them with all the moms-to-be in the comments!