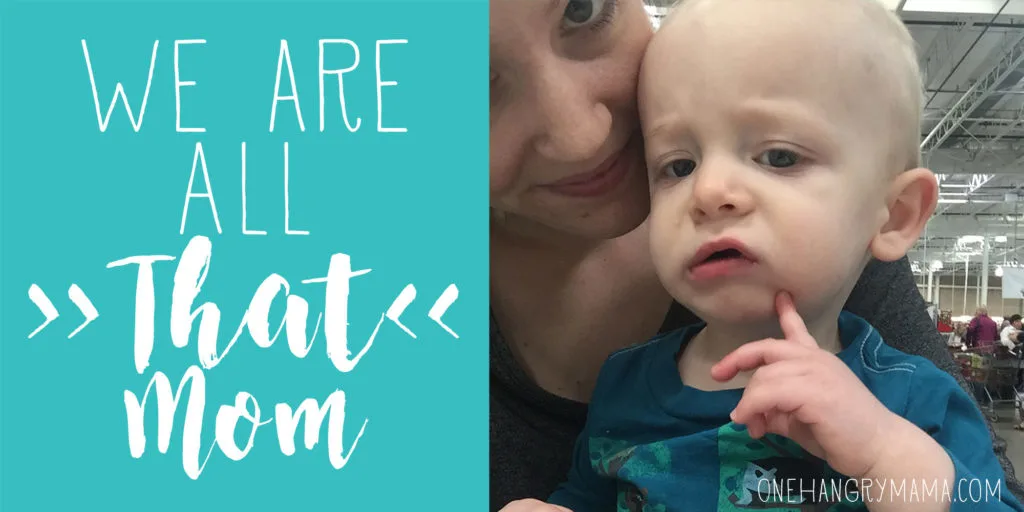 So there I was, on the floor of the Walmart deli, crawling after my baby who'd made a break for the puddle of spilled rotisserie chicken juice, when a grown man approached me slowly and asked: "Um. Do you need a cart?"
It was in that moment that I realized: I am that mom right now.
The one who looks like she hasn't slept, eaten, or brushed her hair in a week. The one who strangers—like this sweet Walmart man—fear might go postal at any moment.
I could feel their judgement: Who lets their baby touch the floor of a Walmart for God's sake?!
I could feel their pity: Oh, poor thing. Toddlers are so hard.
And ya know what? I embraced it. I was fully that mom in that moment.
Generally, I consider myself pretty damn put together. Yes, I live in leggings and oversized t-shirts, and my hair and I have an agreement of sorts with our 4-day wash cycle, but generally, the dark circles under my eyes stay covered up, I show up where I'm supposed to be (roughly) on time, and for the most part, I have my shit together.
Don't get me wrong, it is WORK keeping this mess in order. I'm a planner: I make lists, I have a schedule, I live by them, and I have a full-on village to help keep this baby under control.
But in that moment, on the floor of a Walmart, looking up into the vaguely terrified eyes of that kind stranger handing me his shopping cart, I realized there was no escaping being a hot mess.
So how did I get here?
After running errands for 2 hours, Walmart was our third stop (AKA, the third time I'd gotten my squirmy bag of cats in and out of the car seat and in and out of the stroller). I only needed two small things (Splenda & powdered sugar—for some reason these two contradictory items feel important to the story), we were getting close to afternoon nap time, and we still hadn't eaten lunch—because clearly my meticulously planned schedule had fallen apart, so I thought, I'm just gonna grab my wallet from the diaper bag, hold the baby, and run in and out.
That was a great thought, until, on the way to check out, I realized we had nothing for lunch at home and decided to grab a rotisserie chicken. I got to the deli counter, handed the box of Splenda to the baby to hold (because why not), draped the bag of powdered sugar over my free forearm, and bent over to grab the rotisserie chicken from the warming case. I GOT THIS, I'M A PRO.
I picked up the chicken one-handed like a champ, and took two steps before its plastic container popped open, and the chicken started slipping out towards the floor. My raccoon baby saw his lunch flash before his eyes and lunged after it. I quickly dropped to the ground in a squat so he wouldn't fall, slid him, the Splenda, and powdered sugar onto the floor to join my sunglasses, keys and phone that went flying in the process, sat my tired ass down, and basically gave up on life. Enter kind stranger with a cart stage left, exit my pride & dignity stage right.
So let's face it, y'all, we are ALL that mom. Join me here on the floor, won't you?