Disney+ is officially HERE, and it's like Christmas has come early! I've spent the morning diving into the service, and I've picked out the BEST shows and movies on Disney+ for toddlers.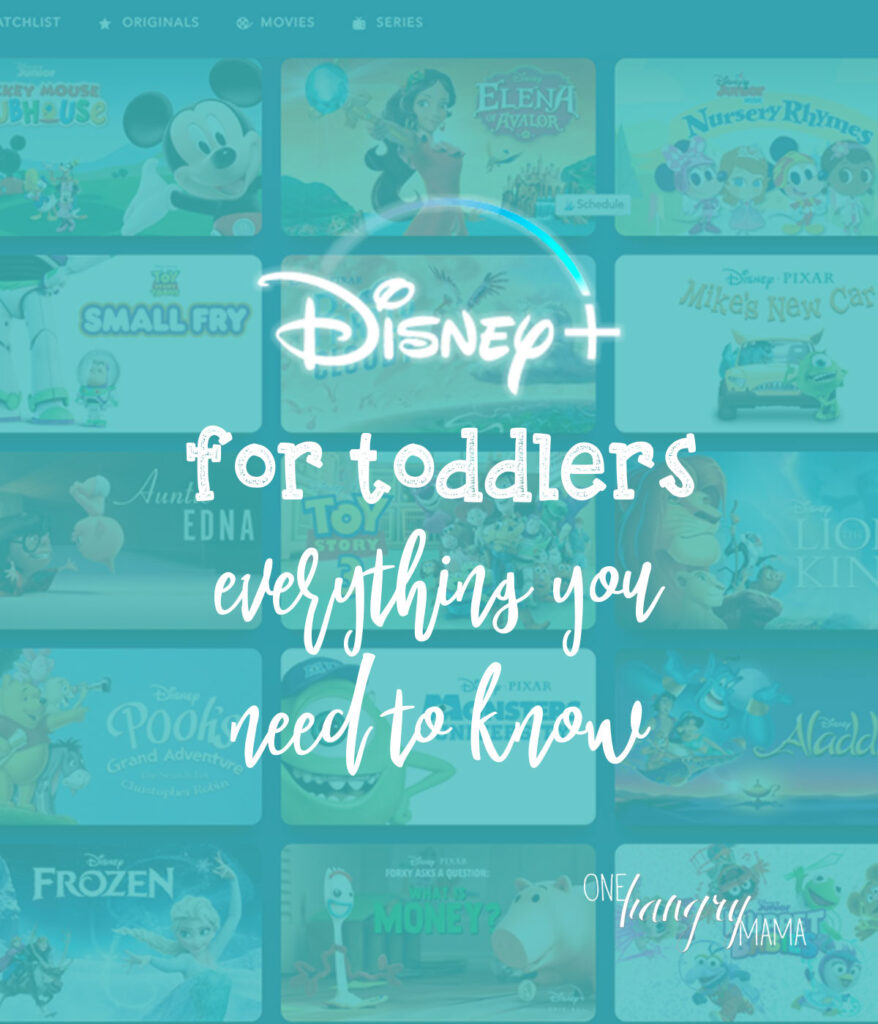 I know when my 4-year-old is left to his own devices inside any content service, whether it's Netflix Kids, Amazon Prime, or – God forbid – YouTube, he immediately spirals into option overload and wants to watch everything and nothing all at once.
That's a recipe for the worst kind of privilege-induced tantrum, if I've ever seen one.
I much prefer to set up a nicely curated watch list for him in advance, so he can make good choices and not fall into the FOMO abyss of endless options.
So, if you also need a good playlist for your toddler on Disney+, you've come to the right place!
And if you're somehow still debating, "should I sign up for Disney+?" read on – but the short answer is: yes, yes you should.
What is Disney+?
If you've been living under a rock, Disney+ is Disney's new streaming video service. It has ALL. THINGS. DISNEY. in it.
AKA, it's everything you've ever dreamed of.
Think: all the Disney classics (the vault is officially OPEN, y'all!).
All the Disney Channel TV shows (Lizzie McGuire! Boy Meets World! That's So Raven! Be still, my 90s girl heart!).
All the Disney Junior Series (Mickey! Elena! Doc McStuffins!).
All the Pixar movies (Toy Story! Monsters, Inc.! Even the Pixar shorts!)
All the Marvel movies (AVENGERS. AVENGERS INFINITY WAR. AVENGERS ENDGAME!)
All the Star Wars movies. (Like, ALL of them.)
PLUS, original series and movies that we've never seen before (even an Anna Kendrick original Christmas movie!).
And Disney+ costs just $6.99/month (even less if you pay annually)!
Can you tell I'm a little excited here?!!
If you're able to resist signing up for it, I commend you. You should be negotiating with terrorists because you have an iron will.
This would also make a great gift for toddlers, or a toddler mom, for the record.
How do you set up Disney+ for toddlers?
First things first, you'll want to create a separate profile for your toddlers. Maybe you thought this service was just for kids, but as you can see, mom & dad are going to be getting just as much use out of this as the kiddos.
So, here's how to get your littles their own profile:
1. Click the user profile icon in the bottom right of your app.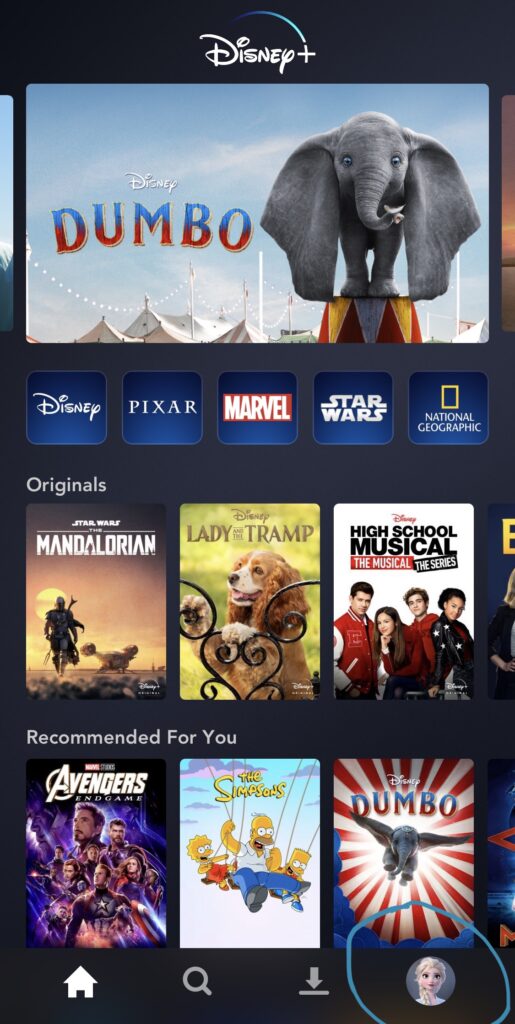 2. Make sure to name the primary profile as your own profile.
3. Click "Add Profile."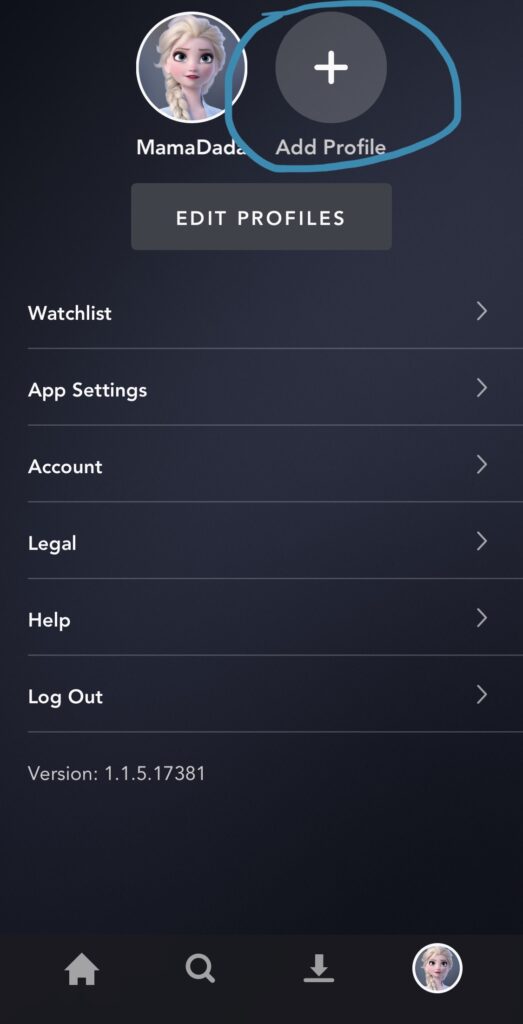 4. Choose a fun icon for your kids (we're big Olaf fans over here).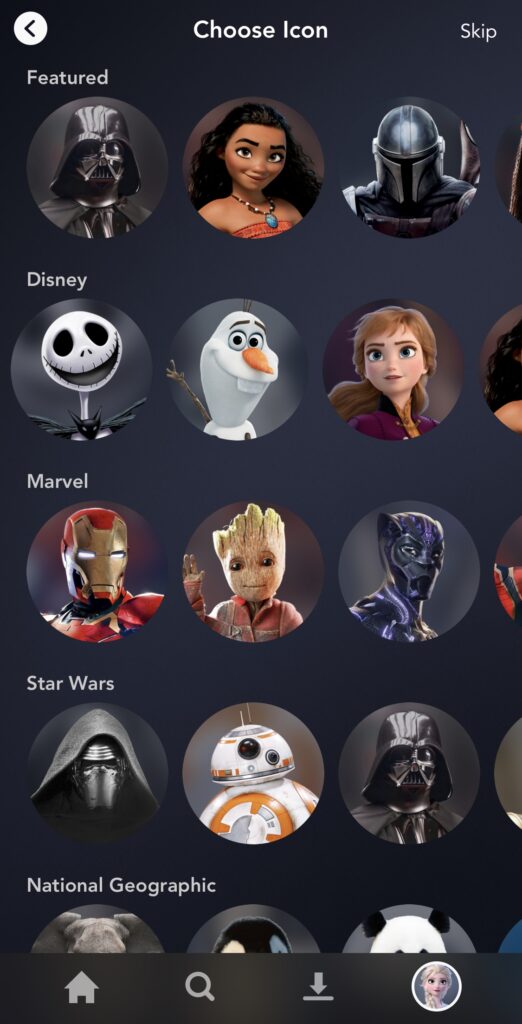 5. Name the profile, and toggle the "Kids Profile" option to ON.
6. Reselect the "Autoplay" option, assuming you don't want your kids screaming at you to play the next episode every time PJ Masks ends.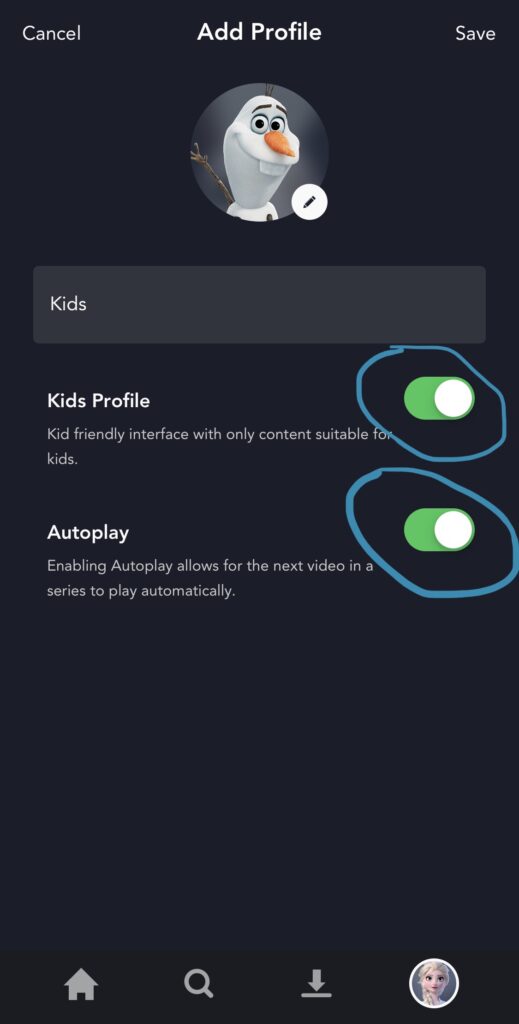 7. Save!
If you want to jump between the two profiles, you just tap that icon in the bottom right, and tap the new icon for the kids profile.
It'll change your homescreen from this: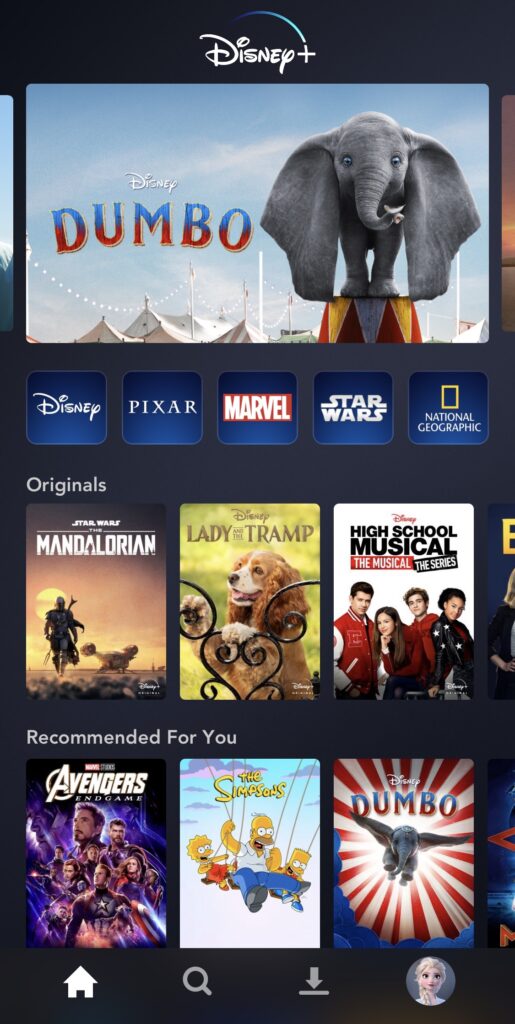 to this: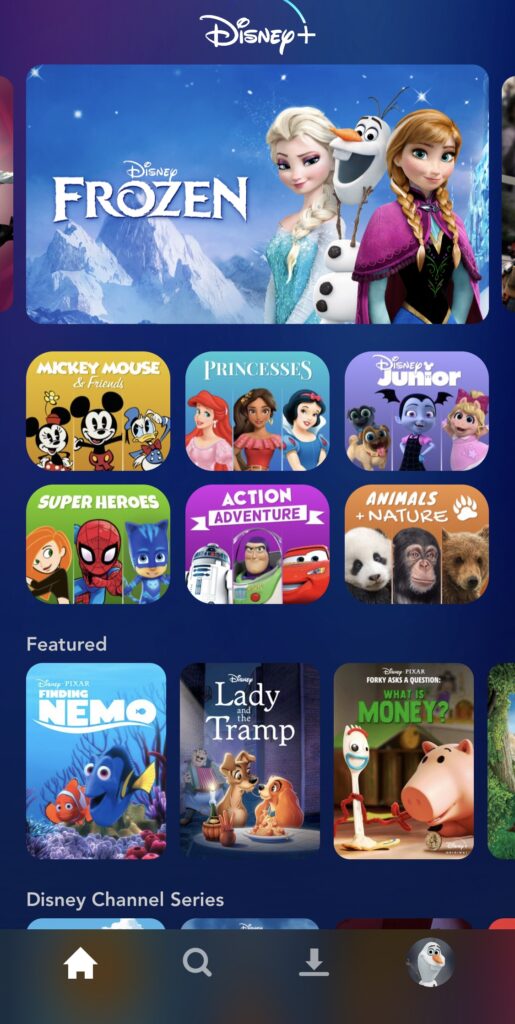 Can you limit what shows are available for my toddler on Disney+?
Unfortunately, it doesn't look like there are any deeper age-restrictions built into the app, like Netflix Kids has, or any ways to "block" certain shows if you don't want your kids to stumble upon them.
(We'll just have to use some good ol' fashioned parenting, I guess.)
What you can do, however, is create a "watchlist" for your toddler in their Disney+ profile, and direct them to that screen.
With any luck, they'll be so enamored with the choices on that screen, they won't be tempted to click around to uncover the deep black hole of content that awaits them within the rest of the app.
To add a show to the watchlist, just go to your child's profile, tap on a show, and then click the little plus sign next to the play button.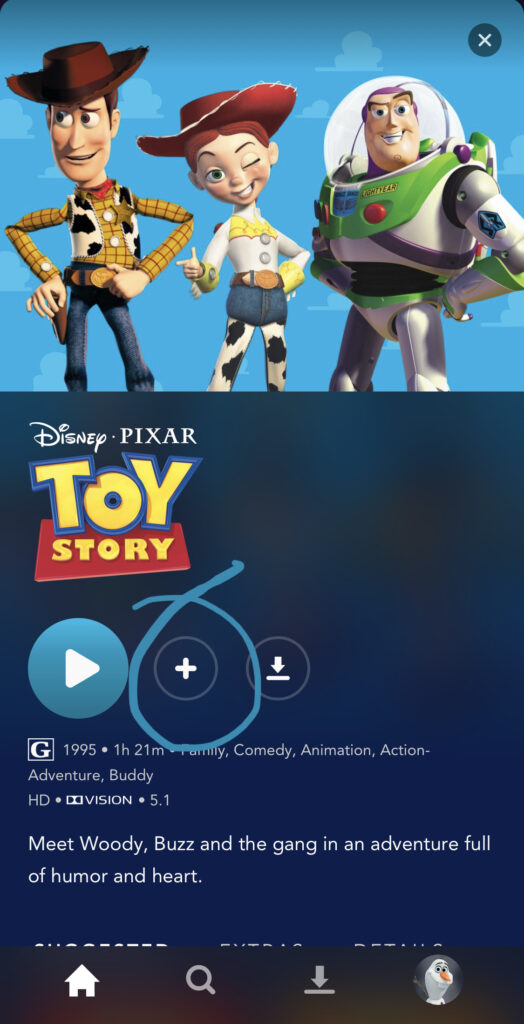 What Disney+ movies and shows are best for toddlers?
I know everyone has vastly different opinions on what is and isn't appropriate for young toddlers, so obviously, you know your own kid best.
I personally think any of the Disney animated movies and Disney Junior series are A-OK for all toddlers.
(However, I also know that when my sweet niece was 3, "Moana" terrified her, so again – know your own kid!)
There are a lot of live-action movies and series in the Disney+ kids app that I wouldn't necessarily recommend for toddlers, like a movie called "Z-O-M-B-I-E-S," or even "Hannah Montana."
I do wish there was a way to hide or block categories of content or even individual items like those, just to remove the future argument from my life, but at this point, that doesn't seem to be an option.
What's on our toddlers' Disney+ watchlist?
As I curated our watchlist for our two toddlers (4-year-old boy and 18-month-old girl), I made sure to include a variety of movies, TV shows, and even shorts.
I also wanted to include a mix of their usual go-to favorites and some of the old classics that they haven't seen yet, but have heard the music to, or that I know they're going to love.
(Or maybe I just love them, and am going to force my kids to love them too… same thing.)
I know there will be times when my 4-year-old wants to change his mind every 90 seconds, so in those cases, I'll direct him toward one of the Pixar shorts.
There will be times when one or both of them just wants to binge-watch the same 4 episodes of their favorite shows… so those are available to them.
And there will definitely be times when I'm too exhausted to deal with the pre-dinner crazy, and I'll want them to just park it for a movie.
So with that in mind here is our toddlers' Disney+ watchlist…
The 25 Movies, Series, and Shorts on Our Disney+ Watchlist for Toddlers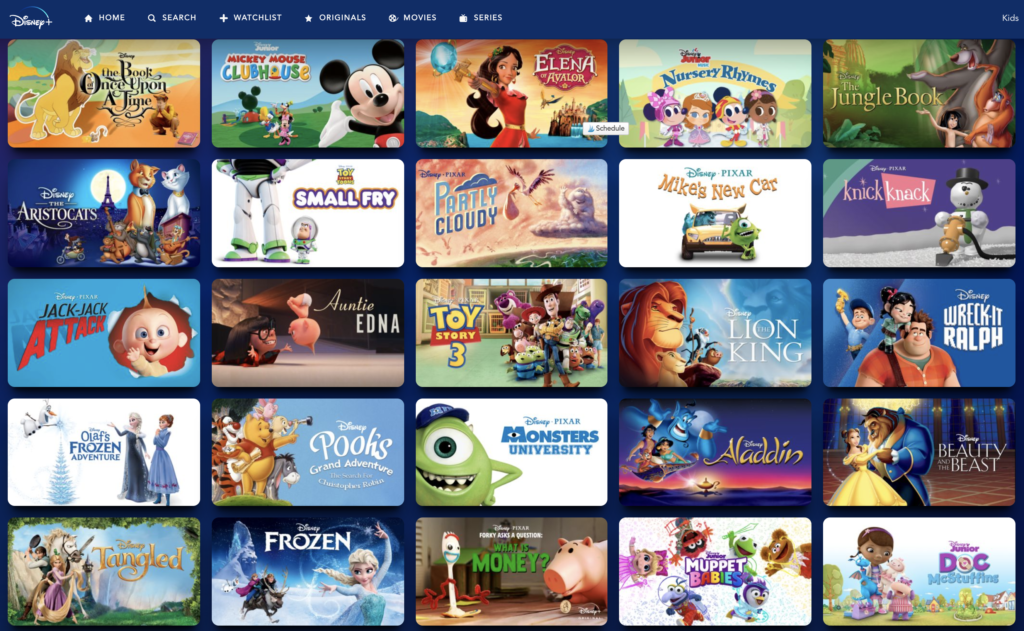 Movies:
Series:
Shorts:
So have y'all signed up for Disney+ yet?! If so, what's on your watchlists? If not, what's holding you back? I'm dying to know everyone's thoughts, so let me know in the comments!