Taking your kids to Disney World is one of those life goals that transcends all things, right? Whether you've dreamt of going to Disney World with toddlers, with preschoolers, with preteens, or any combination thereof, it's as much of a rite of passage for parents as it is for the kids.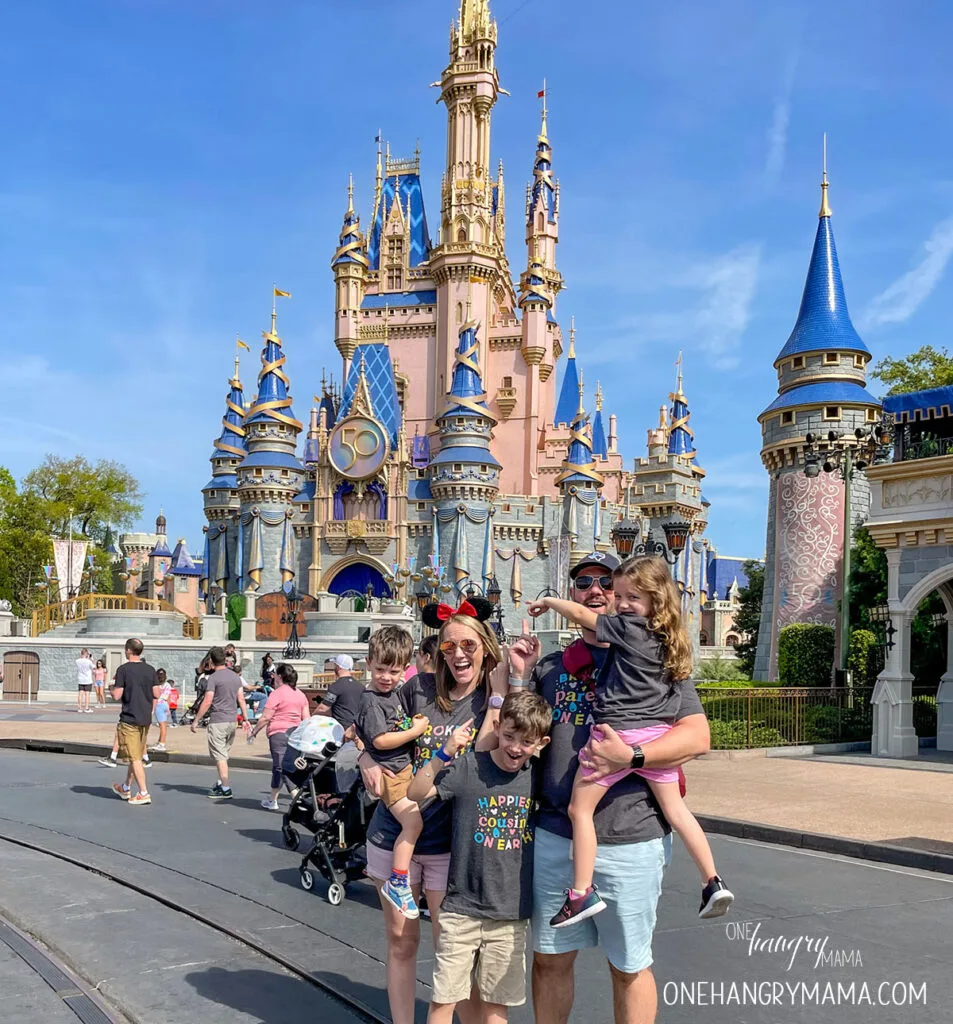 But when you have multiple kids, it can be tough deciding when the ~best~ time to go is. When your oldest is at the "perfect" age, your youngest might be too young. But when your youngest is finally old enough to skip a nap and enjoy all the stimulation and activity of Disney World, will your oldest child be ~too~ old?
Well, first of all, you're never too old for Disney World. Not at 7, 12, 17, or 37. It's magical no matter how old you are – just in different ways!
That said, there is a truly special joy in bringing your kids to the Disney parks when they're little, and experiencing the pure magic through their little toddler eyes.
So if you're thinking about planning a trip to Disney World with toddlers or young kids in tow, just do it! I promise it will be so worth it. Especially if they're little Disney+ fans, like my kids – there will certainly be something there for them to enjoy!
My family just got back from Disney World last month with a toddler, a preschooler, and an elementary schooler. All three of our kids – ages 2.5, 4.5, and 7 – had the times of their lives. Disney with kids is so, so doable, especially with the help of a few tips and a little bit of planning.
Planning Your Trip to Disney World with Toddlers
Preparing for your trip to Disney with a toddler all starts with the planning, before you've booked a single thing.
Work with Disney Travel Planner
The first, easiest step you can take is to work with a Disney-licensed travel planner. Their services are completely free to you, and they can make your entire trip so much easier, from beginning to end. They'll book your hotel, your park passes, your dining reservations, as well as any extra activities at the parks.
Plus, their wealth of knowledge is invaluable – they will save you so much research time, just in one conversation. They already know the best restaurants, the best days to do certain activities, the best strategies for tackling each park, etc.
Our family worked with Christa from Share the Magic Travel, and she made our trip absolutely seamless. We couldn't have done it without her. (Not sponsored at all, just eternally grateful!)
Stay on the Resort
Typically, when we're traveling with our kids, we're exclusively an AirBnB or VRBO kinda family. Our kids are high-maintenance sleepers and need their own rooms, sound machines, pure dark, the works – and hotels just aren't conducive to that, for that most part.
But Disney trips are an exception to that rule.
Staying on the resort at Disney has so many benefits:
Early entry to the parks
Free transportation to the parks
Earlier access to book lightning lanes
Earlier dining reservation booking
Close proximity to the parks (easier to get back for naps!)
So even though it may be a little more expensive – particularly if you're looking at a suite or villa with multiple rooms – the benefits do make it very worth it.
Our family of 5 stayed in a 1-bedroom villa at Animal Kingdom Lodge, and it was perfect for our needs. We may have even been able to get by with a smaller room – "Disney tired" is a real thing, and even my high-maintenance sleepers were passed out cold within minutes of their heads hitting the pillow.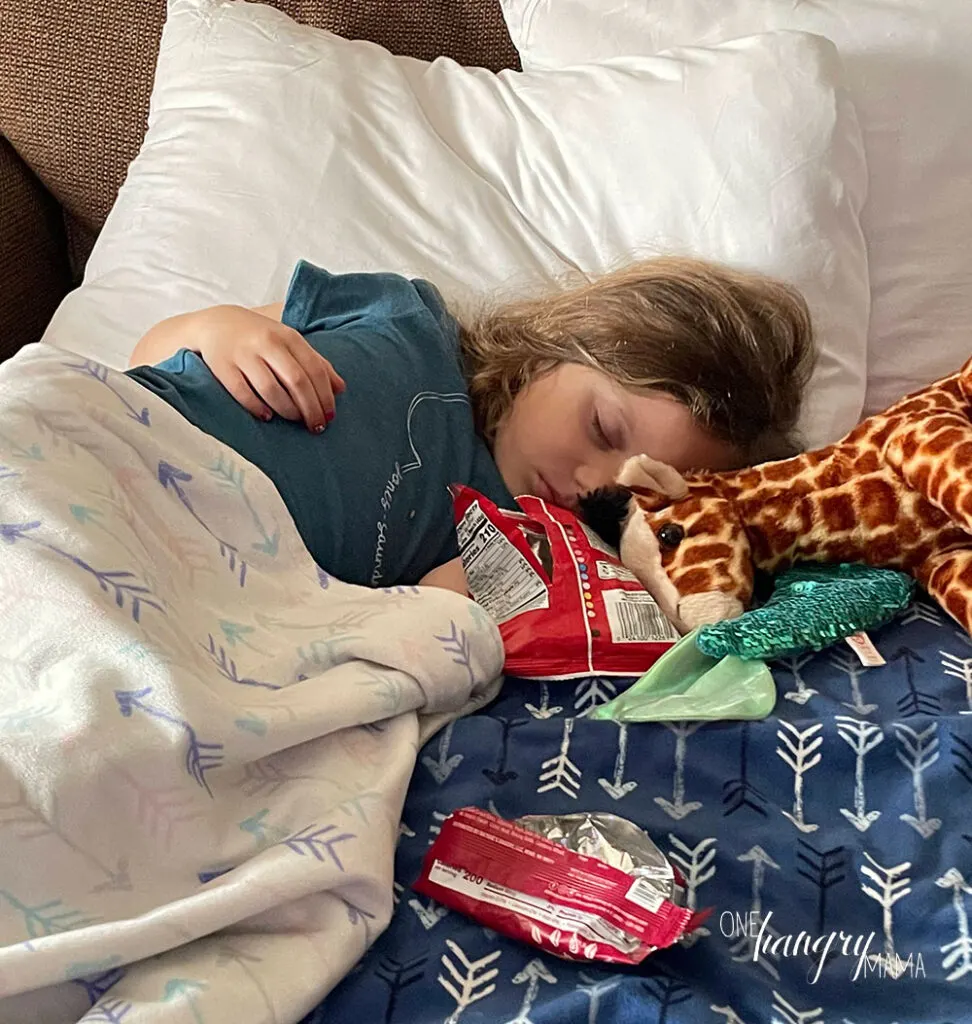 Plan a Resort Day
Speaking of Disney tired… Since you're going to be shelling out more dough to stay at a Disney World resort, make sure to plan a resort day into to your trip. On our last trip with our 2 and 5-year-old, we could have really used a day right in the middle of our week to just explore the resort, hang by the pool, watch TV, and rest. Unfortunately, we didn't do this for our trip, and it's one of the few things I regret.
For young kids and toddlers at Disney World, I'd recommend one resort day for every two park days. Your feet will thank you for it, too!
Get the Memory Maker
When you (or your travel agent) book your park passes, you'll be able to add the Memory Maker package. The Memory Maker allows you to download all the photos taken of your family at the parks throughout your trip… which will be a lot. This includes all your ride photos, all your character meet & greet photos, and all the many photo ops Disney sets up with professional photographers throughout the parks.
It's so worth it to not feel like you have to have your phone out to capture every single iconic spot or moment, knowing there's a professional doing it for you.
Picking Toddler-Friendly Activities at Disney World
OK, so you've gotten your flights and hotel booked and your park tickets purchased. Now the real fun starts: planning your activities!
As much as I'd love to be a carefree, spontaneous traveler, it's just not realistic at Disney World – or really ever when you're traveling with a toddler.
Plan Ahead for Food
If you have kids, then you already know you can't leave meal planning to the last minute. Dining reservations at Disney World pretty much have to be made 60 days in advance, or they book up.
So after you book your trip, the first thing to do is look at the dining options, and decide which meals you want to do a sit-down / table-service meal for, if you want to splurge on any character dining, and if you want to check out any of the other resort restaurants.
I'd recommend doing table-service meals for dinners only and grabbing a quick-service pick-up order at the parks for breakfast and lunch (or better yet, bring some grab-and-go options with you for those meals… more on that later).
As with all-things-Disney World, there are so many incredible dining options at each park, and even more if you branch out to the various resorts. So, do your research, and find the ones that your family will enjoy! Character dining is pricy, but it was worth it for the entertainment it provided our kids while they ate (and they actually ate!).
Research the Rides
The next mistake we made on our trip to Disney with our younger kids, was assuming that all (or even most) of the rides would be kid-friendly. I hadn't been on any rides at Disney World since I was a kid myself, so I naively assumed that the height requirements were on-par with the age-appropriateness of a ride.
I was very wrong.
If you have a child who's sensitive to noise, lights, darkness, etc., then definitely do some research before your trip, and make notes for yourself on which rides will be good for your younger kids.
Our 4-year-old, who is easily overstimulated and not a fan of loud noises or dark places, refused to go on most rides after our first ride was a little more intense than we realized. Even the Frozen Ever After ride was too much for her, because there was a little drop at the end.
We also accidentally traumatized my 5- and 8-year-old nieces with the Guardians of the Galaxy ride. We had no idea how intense that ride would be… rookie mistake, I know! After that, we ended up frantically googling every single ride to determine who would like it, while trying to get lightning lanes booked at the park. Definitely not ideal – do the research in advance, and save yourself the stress!
Make a Daily Wish List
Once you've researched the all the attractions, and their height requirements and trauma-levels, it's time to make a wish list.
For each park, make a list of the attractions you MUST do, and the ones you'd like to do if time allows. I don't think it's realistic to make an hour-by-hour itinerary in advance, but if you at least have a list of the things you're aiming for, you can get a rough map of your day in mind.
If your Star Wars fanatic would die to fly the Millennium Falcon, then put Smuggler's Run on the top of the list for your lightning lanes at Hollywood Studios. If you're little Encanto lover hasn't stopped talking (or singing) about Bruno for a year and a half, then make sure to catch Mirabel on the Disney Adventure Friends Cavalcade at Magic Kingdom.
This will help when you're booking Lightning Lanes throughout the day – you have to be able to make quick decisions to snag the times you want. Making a wish list in advance will also help you not miss out on anything that's important to you or your kids. There is SO much going on at each of the Disney parks that it's very easy to get distracted or completely miss something going on while you're there!
Navigating the Parks at Disney World with Toddlers
If you've done all the prep work mentioned above before your trip to Disney, you'll be set up for success! Now, here are a few tips to help you navigate your park days with a toddler seamlessly.
Rent a Stroller
Whether you rent one in Orlando or bring one with you from home, do not do Disney World with toddlers without a stroller. We ended up renting a double-stroller from Scooterbug for our trip, and it was full at all times – even the 7-year-old spent plenty of time in it! You will be walking a lot, and you'll save yourself a lot of whining if your kids have a place to kick up their tired feet.
Not to mention, you'll be happy to have extra storage for water bottles, snacks, merch, and all the things.
If you're lucky, you may even be able to get a stroller nap in for your younger kids (mine refused, but I saw lots of passed out kids in strollers, so I know it's possible).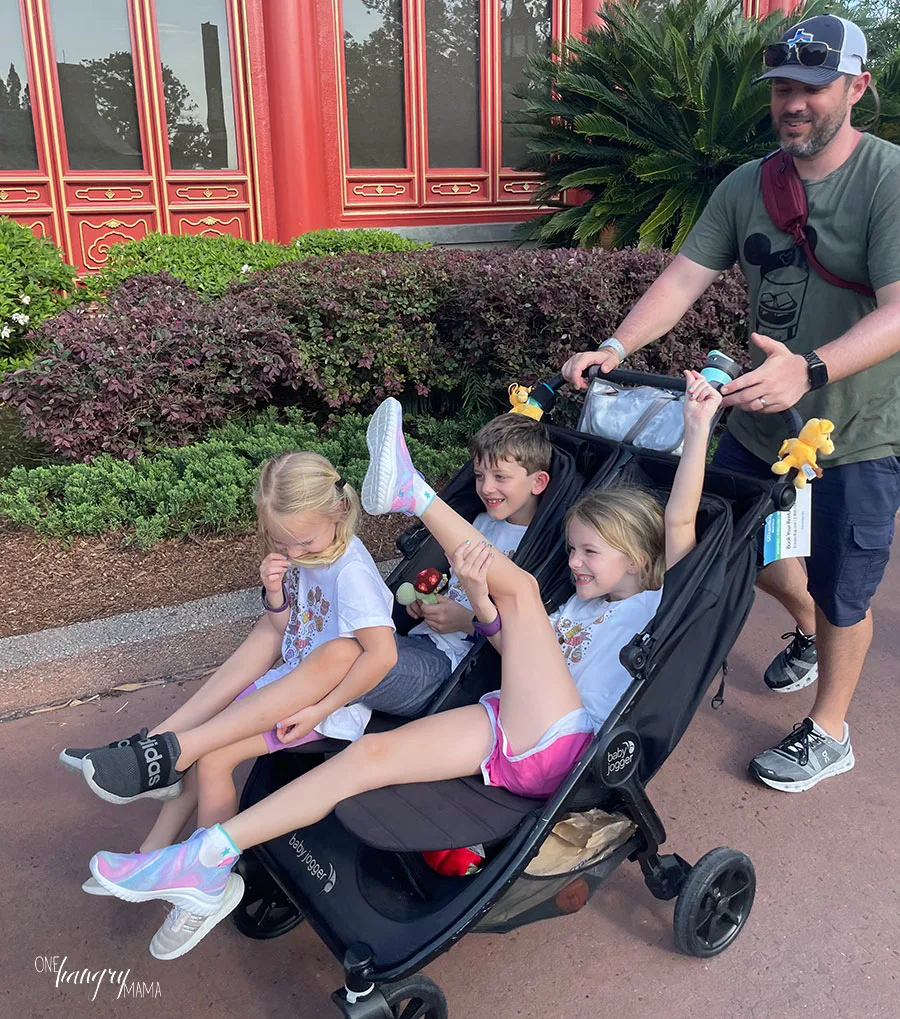 Bring Snacks
Disney World has tons of delicious food and drink options, but it ain't cheap. It definitely isn't worth spending the extra money on for your kids to take two bites of it and decide it's too "spicy."
So, pack all the snacks and water with you each day! We brought Uncrustables, goldfish, Z Bars, and lots of extra bottled water. That pretty much kept our kids happy all day, and allowed us to spend our money on fun treats (Mickey Ice Creams and Dole Whips!).
If your hotel has a fridge, consider placing a Walmart or Target delivery order when you arrive to get some basics. We ordered a case of bottled water, Uncrustables, freezer waffles, and a couple different snacks, and that pretty much kept our kids from getting hangry for the week.
Genie+
Just go ahead and prepare yourself for the confusion that is Disney Genie and Genie+ and Individual Lightning Lanes. Here's a very brief overview, but I'd definitely recommend doing some research on it and/or asking your travel agent for a tutorial, because it's a lot!
Disney Genie is the Disney World app's free service. You tell it what activities you're interested in for each park, and on the day of your visit, Disney Genie puts together a recommended itinerary for you, and keeps wait times and other tips at the top of the list for you.
Genie+ is the upgraded version of that, which you can buy each day you're at the parks. The cost varies per day ($15-30 per person), and you have to buy it the day you're using it (i.e., you can't pre-purchase it with your park tickets). Genie+ allows you to book Lightning Lanes to skip the lines at most rides. It is well worth the cost, even when you add it up across the whole family.
When you're traveling with kids, always be moving is pretty much the name of the game. We hardly waited in any lines our entire trip, because we were able to snag Lightning Lanes for all the major attractions we wanted to do.
The final element that adds to the confusion here is "Individual Lightning Lanes," which you purchase in addition to Genie+ for the biggest ride at each park. Yes, I know… cha-ching. It adds up quickly! But again, being able to skip a 2-hr wait for many of the rides allowed us to do so many more things, and still get home at a reasonable hour to get our tired kids to bed.
Rope Drop
Before our trip to Disney World, "rope drop" was a completely foreign term to me. The first time our travel planner mentioned it to me, I had NO idea what she was talking about.
So what is "Rope Drop" at Disney World? It's actually quite simple – it's when the park opens. Technically, it tends to be a few minutes before the park opens, when the cast members literally drop the rope to start letting guests in.
If you're staying on a Disney property, and you have access to the early park entry (30 minutes before park open), Rope Drop is a MUST. When you're at Disney World with toddlers, you're probably going to be up at the crack of dawn anyways, so you might as well take advantage of that and get your day started.
We were able to get SO much done during our first hour at the park after Rope Drop. Here's what we did at each park (but I'd love to hear if any of your seasoned Disney parents have other Rope Drop strategies to try!):
Hollywood Studios: Mickey & Minnie's Runaway Railway, then Toy Story Mania, then Alien Swirling Saucers.
Epcot: Frozen Ever After, then we had an early Genie+ lightning lane for Remy's Ratatouille Adventure
Animal Kingdom: Only my husband and 7-year-old rope dropped this park, and they did Flight of Passage, explored Pandora, then rode Expedition Everest THREE times before the rest of us got there.
Magic Kingdom: Barnstormer, then Under the Sea.

*disclaimer here: we probably could have done a lot more in that early entry time at Magic Kingdom, but we tried to go to Snow White's Mine Train first, and it was instantly a 120 minute wait! So we decided to bail on that. Then, I lost my MagicBand on Barnstormer, so we lost more time tracking that down.
I definitely think Rope Dropping is a must for Hollywood Studios & Magic Kingdom at a minimum, and make a plan for it! Know which ride(s) you want to knock out first so you can head straight there and beat the rush.
Rider Swap
Rider Swap is a cool option for families at Disney World that seems obvious, but wasn't something we'd thought about beforehand. Basically, if you have a child isn't big enough for, or doesn't want to go on a specific ride, but both the parents want to ride it, you can ask the cast members outside the ride to initiate a Rider Swap.
If you have a lightning lane for the attraction, it's important to mention this to the cast member before you scan into the lightning lane. They'll set it up so that one parent stays outside the attraction with the kid(s) who aren't going on it, while the other one goes in with the rest of your party. When they're done riding the attraction, the parent who stayed behind gets to go in the lightning lane, and one person from the original party gets to go again – so you don't have to ride it all by yourself!
This worked in our oldest son's favor MANY times. Our 2- and 4-year-old couldn't or didn't want to go on a lot of the rides, while our seven-year-old wanted to go on EVERYTHING. So ultimately, he got to go on a lot of rides twice. Once with dad, then with mom.
Plus, it was nice for each of us to be able to take turns hanging back with our younger two kids, and have some time to just explore Disney World with the toddlers, without rushing to the next ride.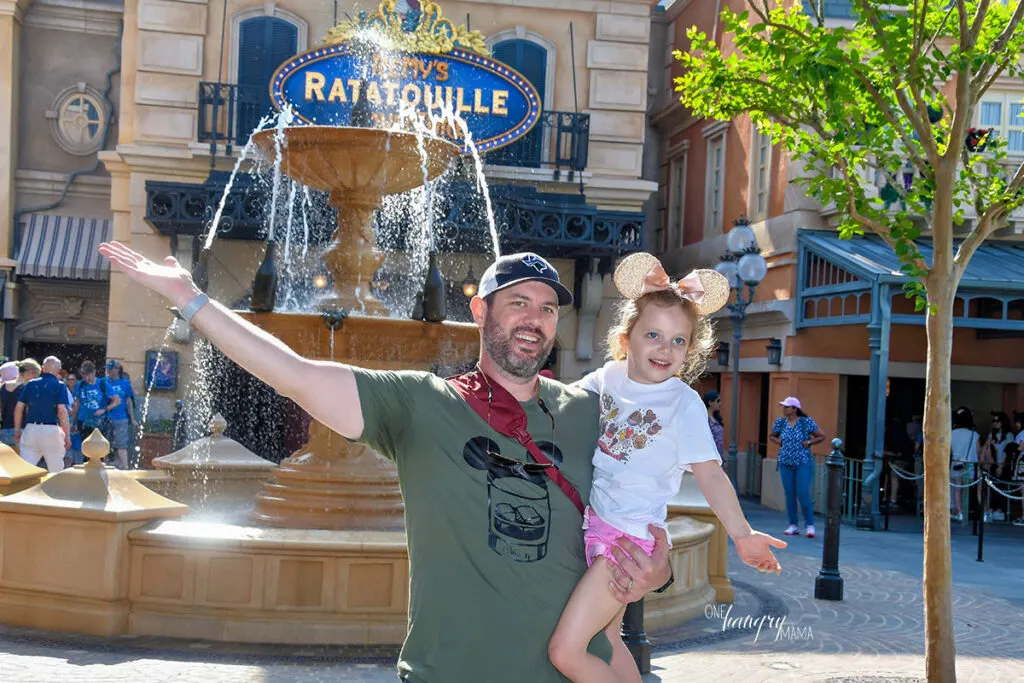 Rider Swap is one of those Disney "tricks" you just have to know – it isn't really publicized anywhere. So make sure to ask a cast member about it if you have any questions when you're at the park. They're extremely helpful!
Have FUN with Your Toddlers at Disney World!
Most importantly – don't forget to have FUN at Disney with your toddlers! It's easy to get tied up in all the chaos and rushing around, and forget that you're at the happiest place on earth. Don't forget to take it all in and have fun just being there with your little kids.
If you've conquered Disney World with toddlers, what are your best tips? Share them with other Disney parents in the comments!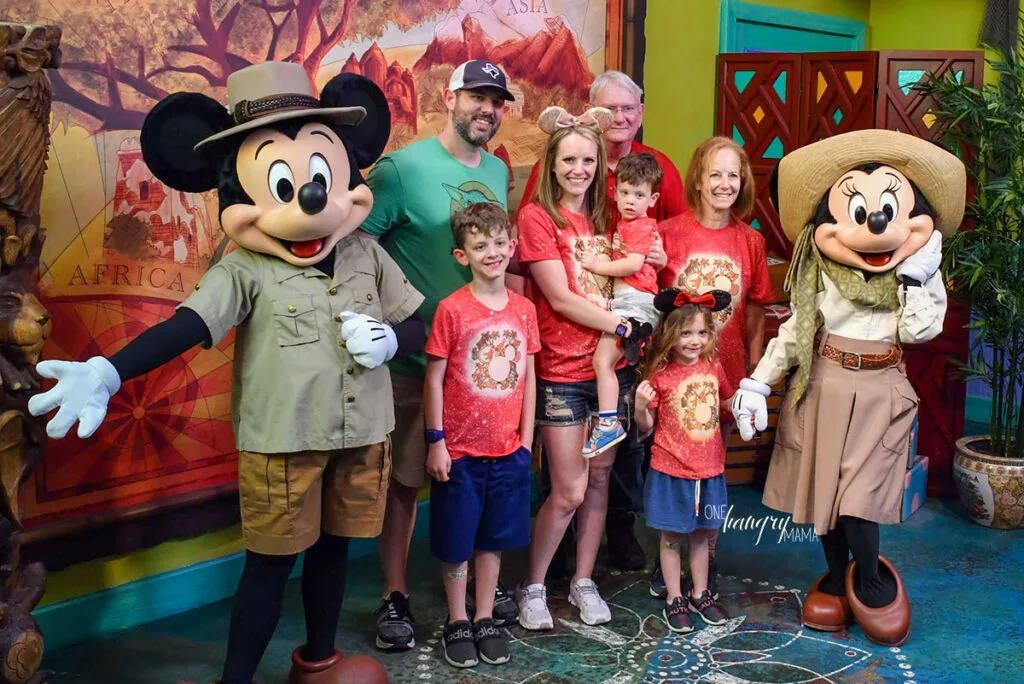 Pin it for later: