I have a feeling this year is going to be the year of Encanto-themed birthday parties! I mean, if you haven't been singing "We Don't Talk About Bruno" for the past two months straight, are you even a parent?
We are fully on board the Encanto train in our house, so it was a no-brainer that we would be doing an Encanto birthday party for my daughter's 4th birthday in a couple months.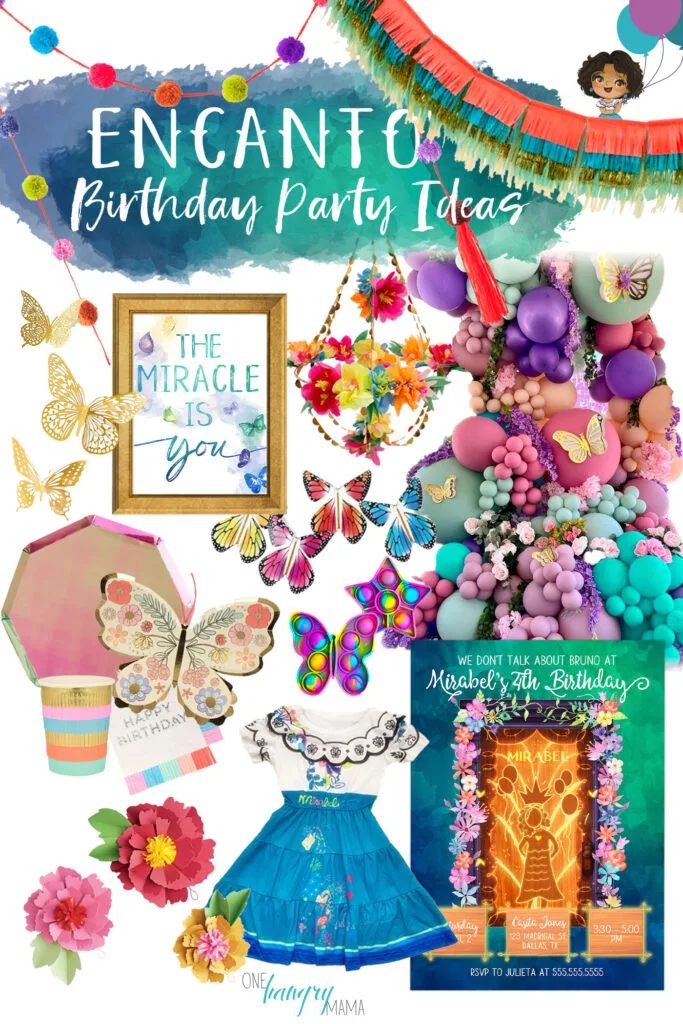 So, if you're looking for some easy, unique Encanto birthday party ideas, you've come to the right place! For now, I've got all the items I've found so far while I'm planning, but stay tuned and pin this for later –because after my daughter's party in April, I'll update this post with photos from her party.
The Elements of an Encanto Birthday Party Theme
The movie Encanto really lends itself perfectly to a birthday party theme. Not only does the movie have bright, fun, festive visuals, but it all revolves around a family party (the gift ceremony)!
With the added themes of flowers, butterflies, and glowing magic, it's pretty much got all the elements you need for any good party. So, to check all the Encanto boxes, you can include things like:
Bright colors
Fiesta decorations
Butterflies
Florals
Succulents and Cacti
Animals
Encanto Birthday Party Activity Ideas
I'm still a couple months out from my daughter's birthday party, but my wheels are already turning with all the fun (and EASY) games and activities the kids can do that will tie in with Encanto and/or its characters. I'll update more with what we end up doing after her party, but here are my thought-starters for now:
Isabella's Flower Garden: Pick up some artificial flowers or felt cut-outs and let kids make their own gardens.
Make a Casita Door: Set out blank sheets of brown construction paper, or kraft card stock, and use gold paint pens, gold letter stickers, and glitter glue (if you dare) to let kids make their own Casita doors.
Julieta's Healing Arepas: Set up a cookie-decorating station for kids to make their own "arepas."
Pepa's Hurricane: For an outdoor / summer party, set up sprinklers for a makeshift hurricane from Pepa!
Karaoke: We all love belting out Encanto songs, so set up a karaoke machine and let the kids (and let's be honest… adults) go wild!
What I'm Buying for Our Encanto Birthday Party
These are some of the items I've found while planning my daughter's Encanto birthday party – I can't wait to see all the ideas come together!
As an Amazon Associate and member of other affiliate programs, I earn from qualifying purchases.
Who else is having an Encanto birthday party this year? Share your party ideas in the comments!