I'm so excited to have found some NEW awesome dairy-free Trader Joe's items!
UPDATE FOR 2022! This post has always been a favorite on this site, and lot of you have left super helpful comments and emails as some of the previous items on this list either became unavailable or changed recipes to include milk. I'm excited to have an UPDATED list of dairy-free Trader Joe's favorites for y'all. And please keep the tips and and finds coming in the comments!
If you've ever attempted a dairy-free diet, you know it's no easy task. Milk products and derivatives hide in the most unsuspecting places, so nearly everything feels off-limits.
So when I had to go dairy-free while breastfeeding my dairy-intolerant daughter 2 years ago, letting go of some of my favorite Trader Joe's items was painful. No more Turkey Corn Dogs? Or Hatch Chile Mac & Cheese? No more Chocolate Chip Ice Cream Sandwiches?!
Of course, over time, I discovered a whole new slew of Trader Joe's favorites that fit right in with a dairy-free or even vegan lifestyle. And just in time for me to go dairy-free again for my son, who also has a dairy intolerance (it's my curse in life).
Of course, if you've been dairy-free for a minute, you know that recipes and ingredients in packaged goods change all the time, so make sure to double-check the label before you buy anything.
Dairy-Free Trader Joe's Snacks
Snacks can be some of the hardest things to find for a dairy-free mom, especially when you have young babies. We need fast, easy, grab-and-go snacks, and unfortunately, most of those options have milk hidden in them.
Trader Joe's, the king of snacks, to the rescue!
Trader Joe's Peanut Butter Filled Pretzels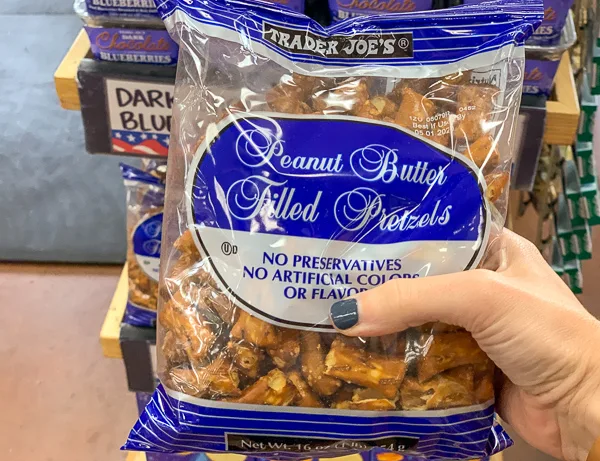 These little pretzel bites have always been a go-to breastfeeding snack of mine, so when I read the label and found they were dairy-free, I did a little happy dance!
Trader Joe's ABC Bars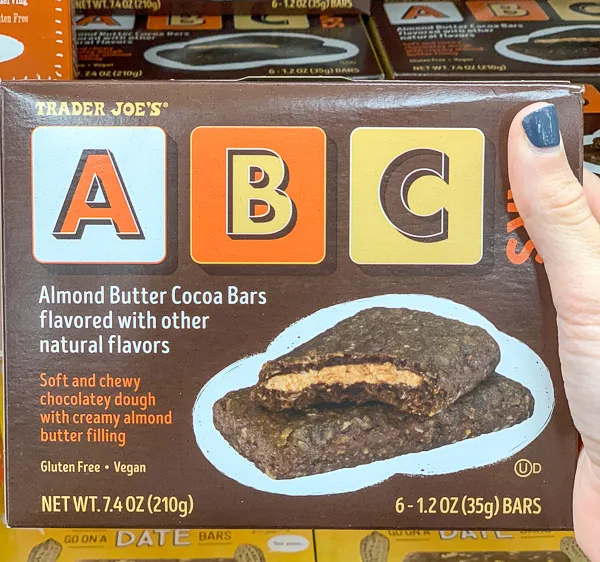 These almond butter cocoa bars (get it, a-b-c bars?) are a great dairy-free snack for grown-ups and kids, alike. Quick and easy for me, chewy and yummy for my toddlers.
Trader Joe's Dried Banana Slices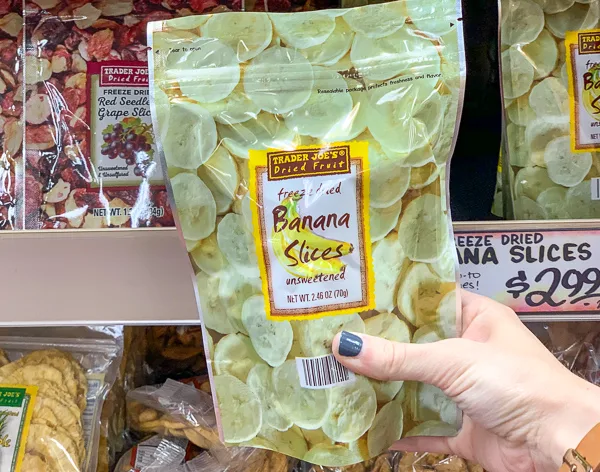 I'll admit, I originally bought these banana chips for my toddlers to munch on, but I ended up loving them just as much, if not more, than they did! When you're feeling the need for that crunch, or just a little bit of sweetness, these are perfect to grab.
Trader Joe's Trek Mix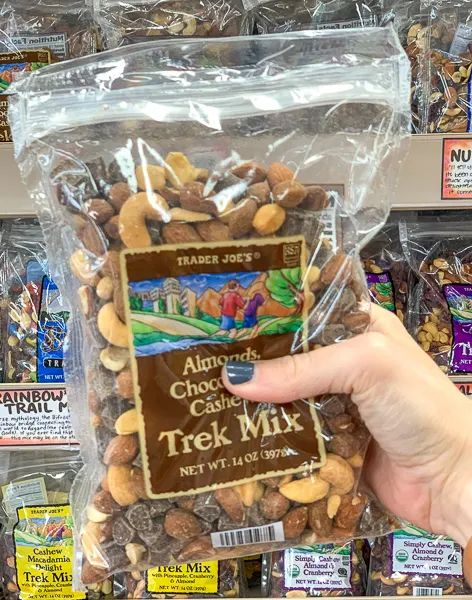 Trek Mix is another one of my longstanding breastfeeding lifelines. The nuts give you all the good fats and protein you need as a nursing mom, and the chocolate satisfies my ever-present sweet tooth.
Typically, anything with chocolate is a quick no-go for dairy-free living, but this mix uses dark chocolate with no milk in it. Hallelujah!
Trader Joe's Cinnamon Apple Snack Sticks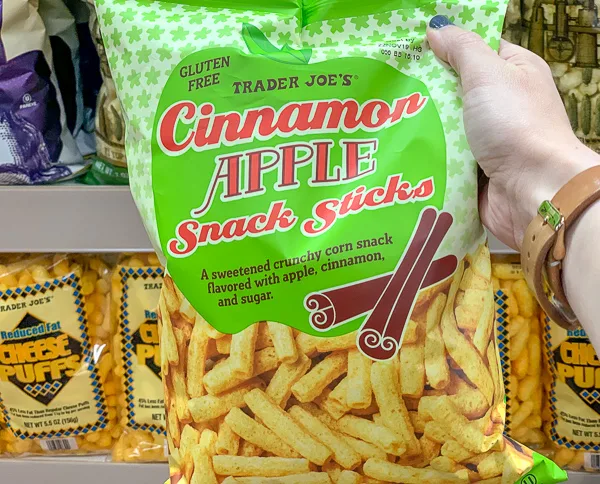 There are quite a few kid-first items on this list, because as you can imagine (or likely already know, if you're reading this), it's even more difficult to find items for a dairy-free toddler than it is for yourself.
But these cinnamon apple sticks fit the bill – my 2-year-old and her dairy-loving big brother both adore them! (And I'd be lying if I said I didn't sneak a few for myself when I dish them out.)
Trader Joe's Cinnamon Schoolbook Cookies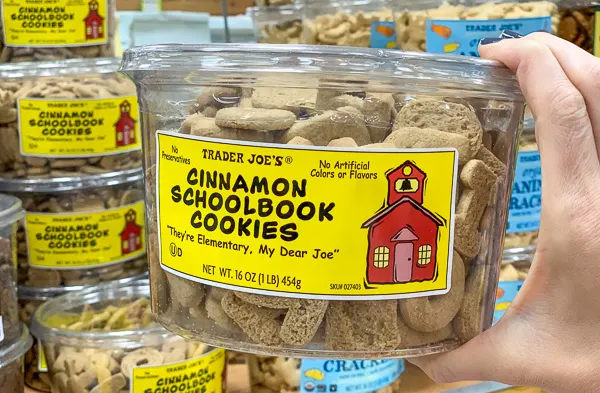 Animal crackers tend to be another one of those go-to snacks that have milk products hidden in them. So these little cookies fill that void for my dairy-free toddler! (And her big brother happens to love them too, for the record.)
Trader Joe's Pea-Protein Smoothie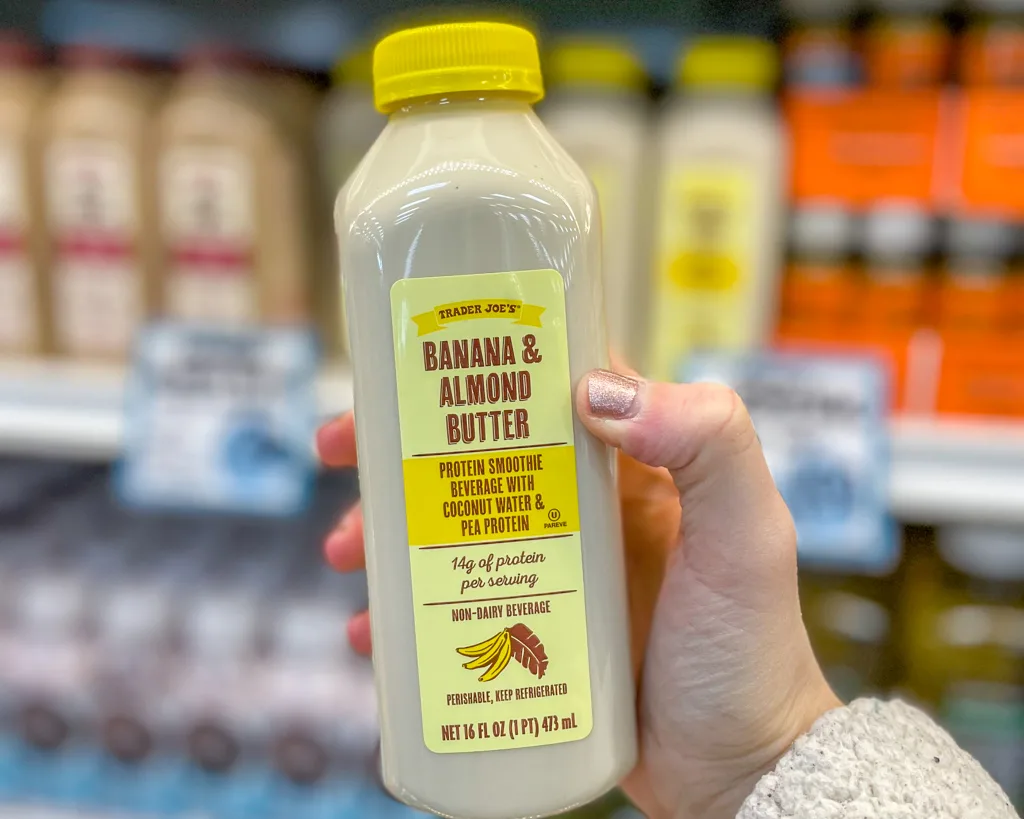 As a busy mom of three, I'm always in need of a protein-packed on-the-go snack, and this fits the bill. I'm also a big fan of pea protein, as a mom to two dairy-free kiddos, so this one checks all the boxes for me.
I'll be 100% honest here – it's not my favorite thing I've ever had, but I will still probably buy it again, for the ease-factor. I've give it a solid "okay" rating!
Dairy-Free Trader Joe's Meals
Truly, the hardest thing about going dairy-free was giving up the ease of grabbing anything from the freezer, tossing it in the oven, and calling it dinner.
It felt nearly impossible, at first, to find pre-made meals without any milk or dairy ingredients in them, and for a mom with a newborn and two toddlers – that was devastating!
Thankfully, good ol' Trader Joe's does have several dairy-free meal options that are perfectly easy and delicious.
Trader Joe's Frozen Penne Arrabbiata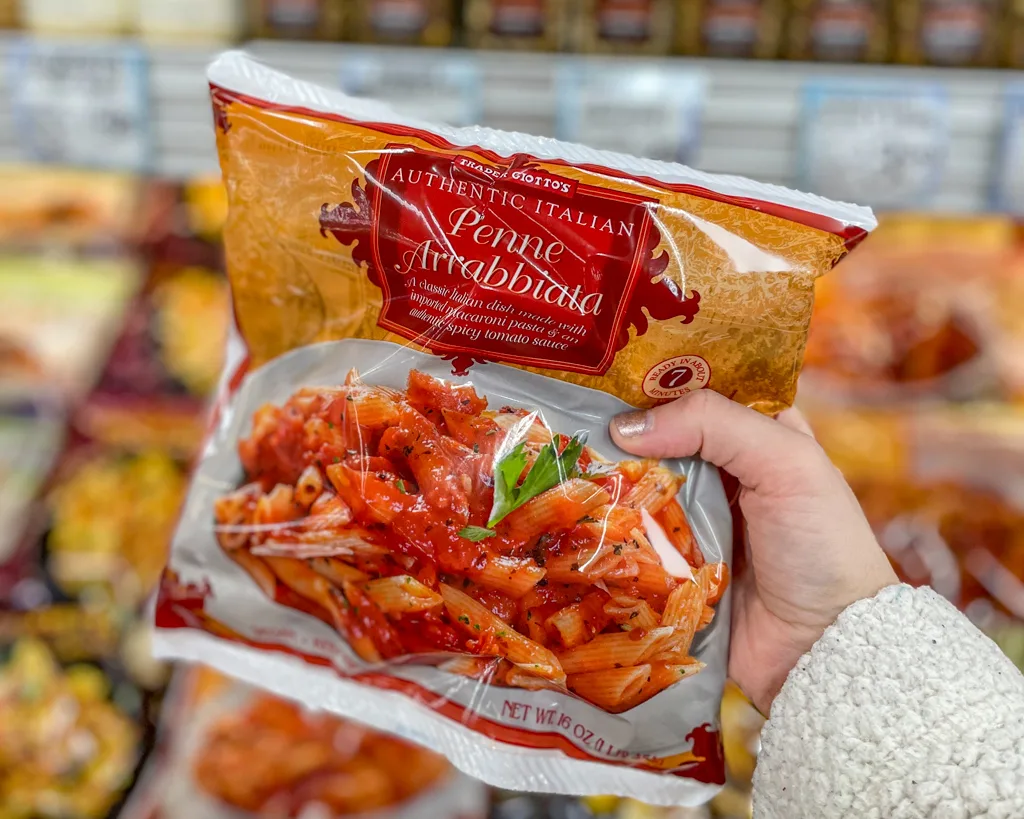 I can't believe I didn't realize this was dairy-free until recently. It's one of my favorite last-minute weeknight meals that even my kids love. Toss it into a pan for a few minutes, and add in some of the next item…
Trader Joe's Frozen Turkey Meatballs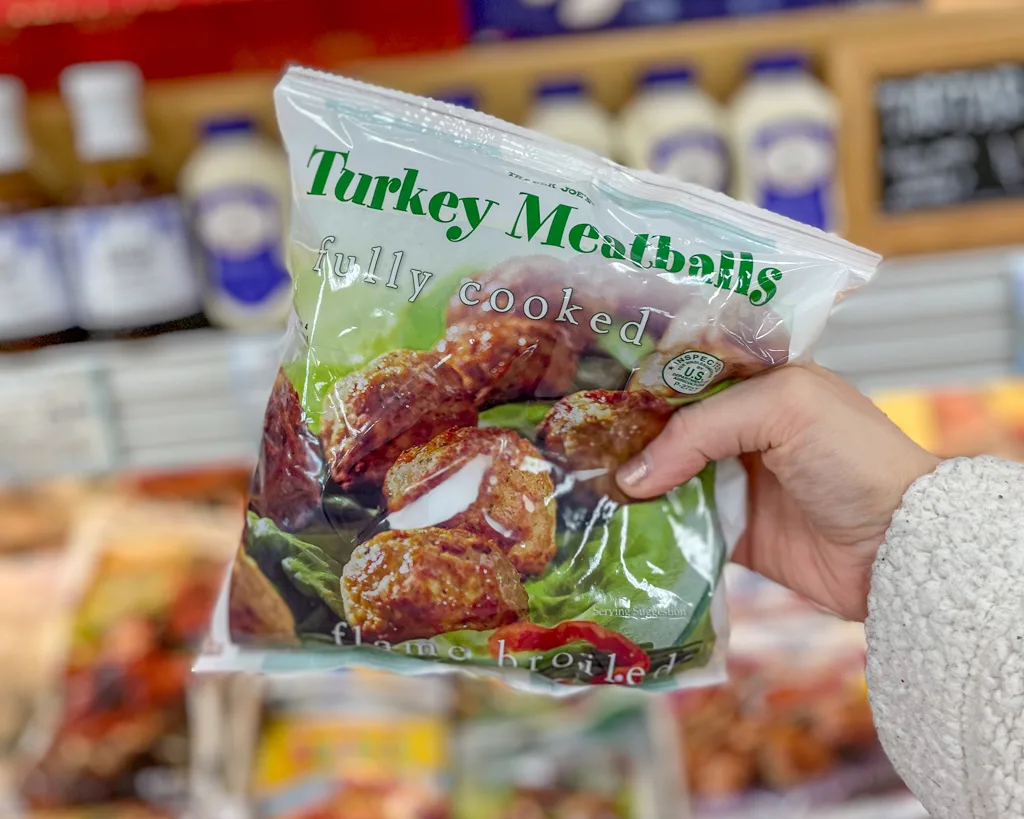 Frozen Turkey Meatballs – the perfect addition to toss in the pan with the above Penne Arrabbiata, and you've got yourself a whole dang meal in 15 minutes.
I've had a really hard time lately finding dairy-free frozen meatballs (why?!), so I'm ecstatic to know these are always waiting for me at Trader Joe's. I keep a bag in the freezer at all times!
Trader Joe's Vegan Mac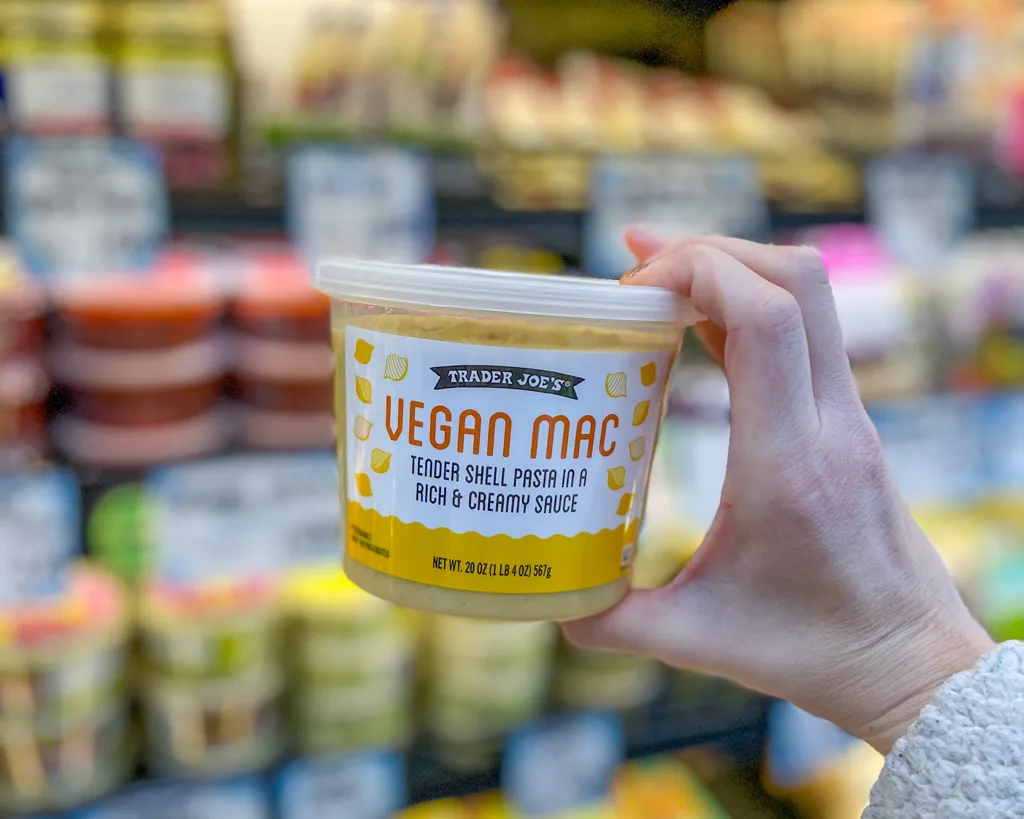 Full disclosure – I haven't tried this yet, but I'm putting my faith in the TJ's culinary genius. If not for me, then for my two dairy-free toddlers, who love their vegan mac & cheese.
Unfortunately, the current brand of Vegan mac & cheese I make them smells like feet, so I can't stand making it for them. I'm hoping this one is better (even if nothing will ever top real mac and cheese, and we should really just lower our expectations.)
Trader Joe's Dairy-Free & Gluten-Free Homestyle Pancakes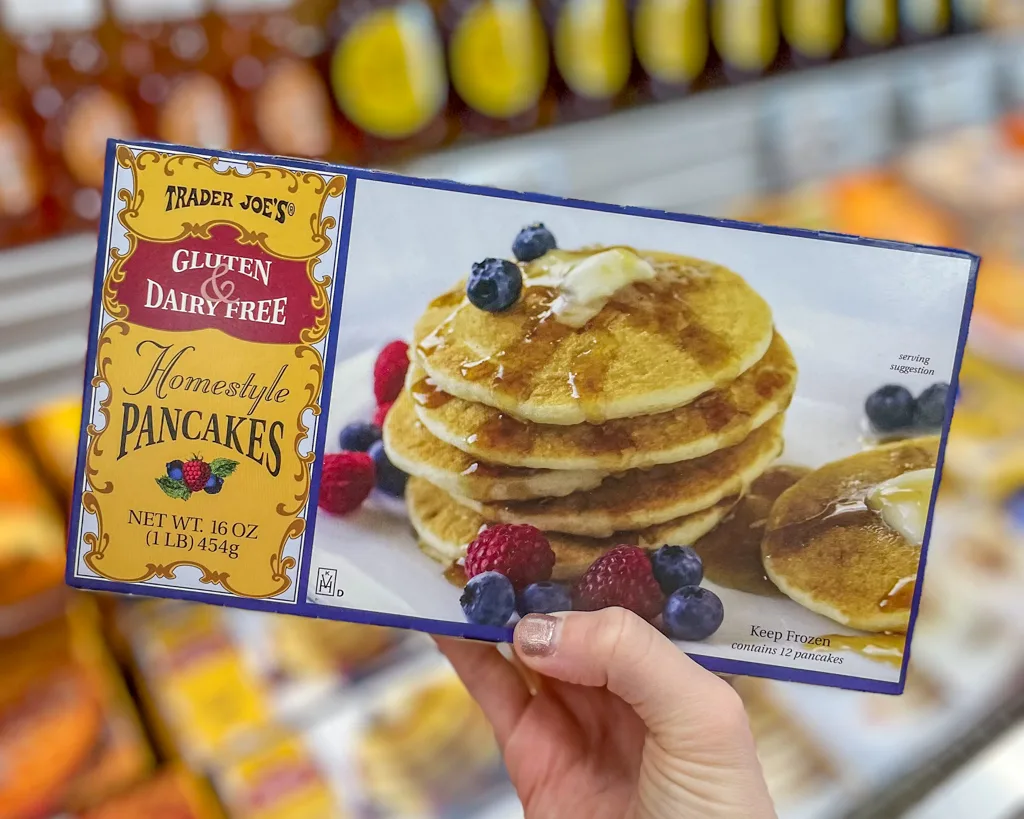 I'm not going to lie, I've never been happier to see a product in a freezer before! Not necessarily for myself, but for my dairy-free baby. He's an eating machine, especially at breakfast time, and these are fabulous to quickly heat up in the toaster and let him devour in 30 seconds flat on school mornings.
Trader Joe's Battered Halibut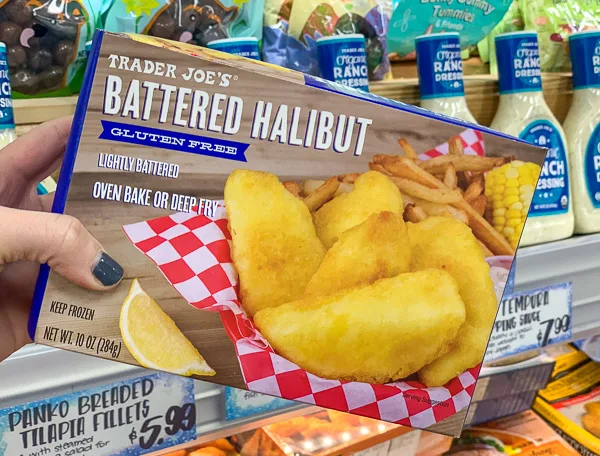 Y'all, I'm so happy I discovered this frozen battered halibut! Most "battered" products are off-limits, because nearly every kind of batter includes buttermilk.
But not this halibut! Just toss it in the air fryer, or the oven, and you've got an amazing meal ready to go.
(And bonus: it's gluten-free, too!)
Trader Joe's Wine Country Chicken Salad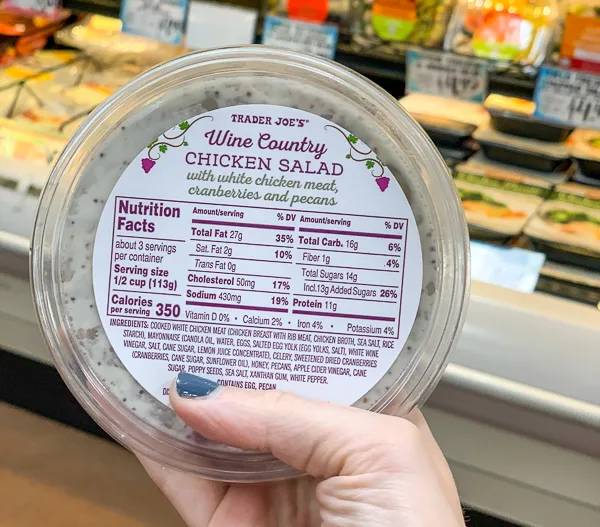 Chicken salad can be pretty hit and miss, in general, when searching for dairy-free foods. This one is free of any milk products, and has become one of my favorite lunch options.
Wrap it in a tortilla, or scoop it on top of lettuce, and you've got a healthy, flavorful, and FAST meal.
Trader Joe's Frozen Mandarin Orange Chicken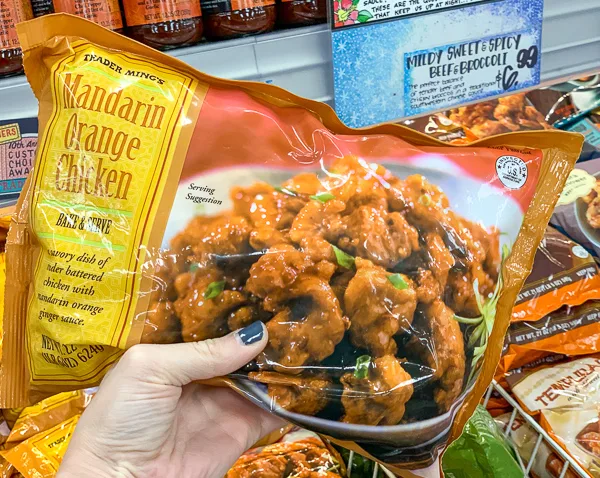 That's right, folks – everyone's favorite Trader Joe's frozen meal is dairy-free!
I was ecstatic when I read this label and found that it was safe for both me and my dairy-free daughter to eat.
(Dairy free Pro-Tip: most Asian food tends to be dairy-free. Always check labels, but it's usually a good place to start when trying to find options!)
Trader Joe's Frozen Fish Sticks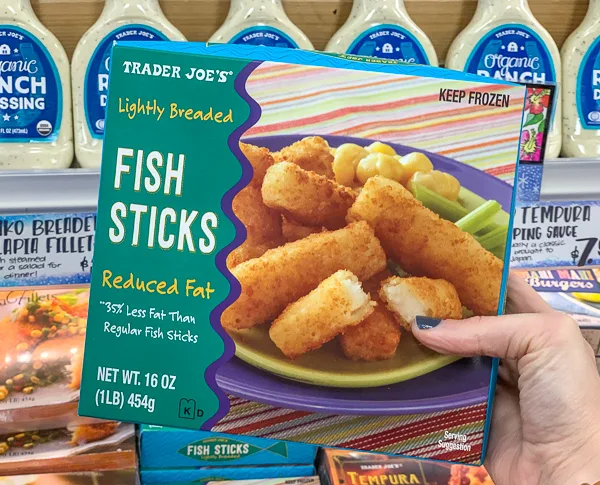 These are a great option to throw in the air fryer for my dairy-free toddler's lunch or dinner.
Oftentimes, I toss in the battered halibut for my husband and myself, and these fish sticks for the kids. Add a veggie and some french fries, and you've got yourself a complete meal.
Dairy-Free Trader Joe's Milk Substitutes
Of course, the hardest thing to do when you go dairy-free is find your favorite replacement for, well… MILK.
Milk, cheese, yogurt, butter… they're all pretty much essential for cooking, so you've got to try a bunch of different brands, and find the ones that you and your family can adjust to.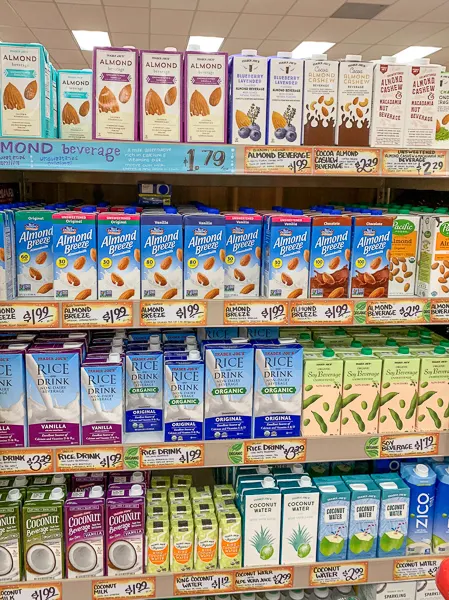 Luckily, Trader Joe's has a lot of options to choose from, so it's a great place to start.
Trader Joe's Blueberry Lavender Almond Milk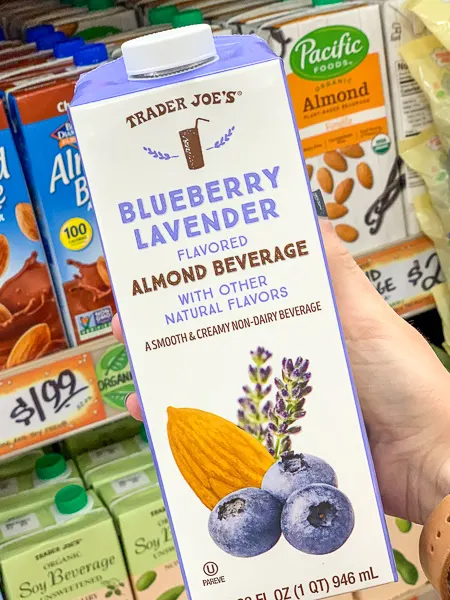 This non-dairy milk is so good, y'all. It's awesome for coffee, smoothies, cereal, and probably a million other things I haven't tried yet. It's such a treat!
Trader Joe's Dairy-Free Coconut Milk Yogurt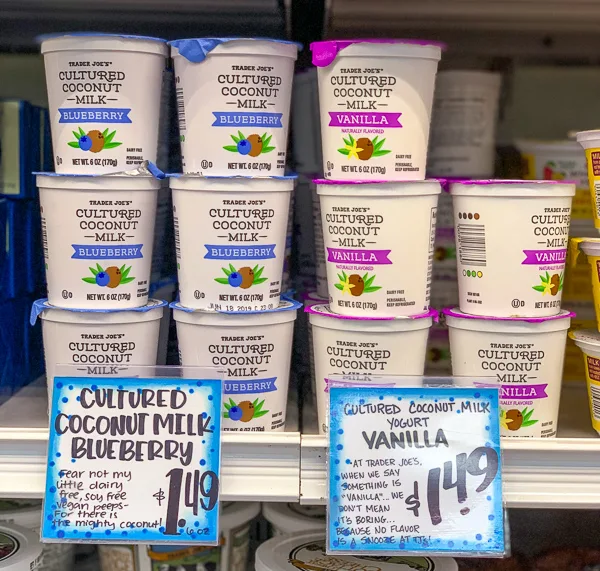 Trader Joe's has a few different non-dairy, vegan yogurt options.
At my store they currently only have coconut milk varieties, which honestly are not my favorite – I'm not a huge fan of the coconut flavor in general.
I know lots of dairy-free and vegan peeps who love coconut milk yogurt, though, so it's definitely worth trying!
Trader Joe's Vegan Buttery Spread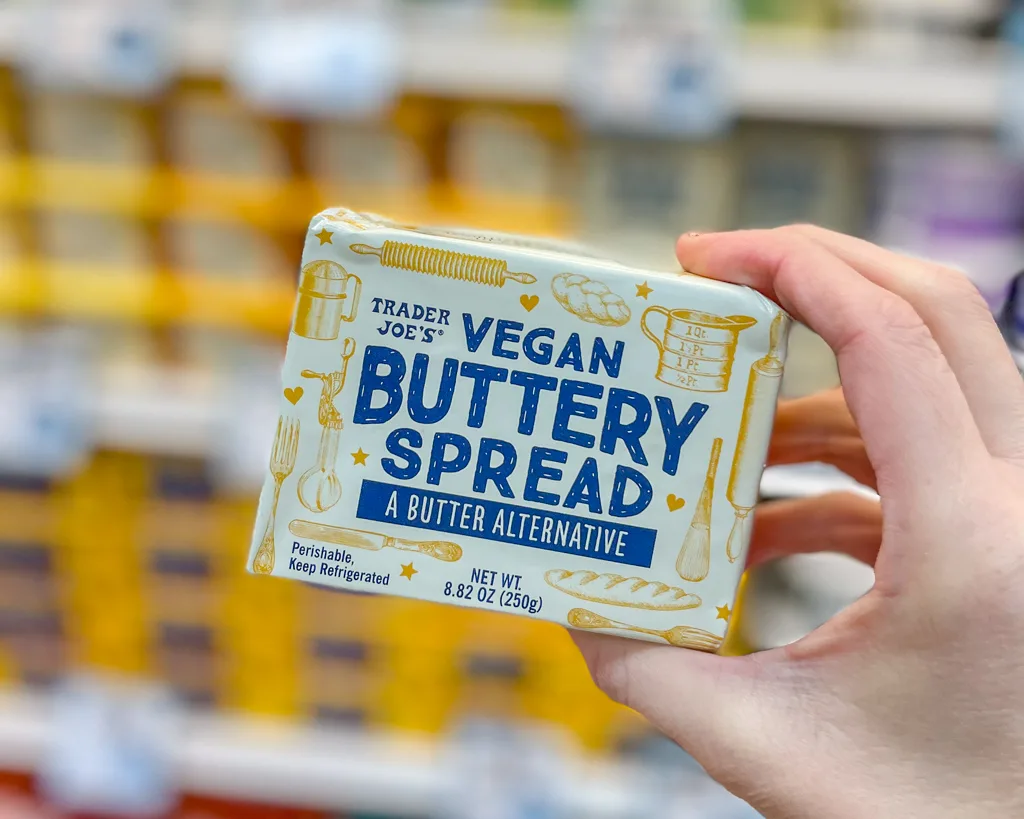 I think a lot of people forget that butter – glorious, delicious butter – is made from milk. And most oil-based, margarine substitutes are fine, but they just don't pack that same buttery punch as the real deal.
Sometimes, especially when baking, you really just want something more butter-compatible, and this is a great option.
Dairy-Free Trader Joe's Desserts and Sweets
Last, but most certainly not least: Trader Joe's dairy-free desserts, of course!
Even on my best days, I have a crazy sweet tooth that haunts me all day long. When I'm breastfeeding, that sugar craving is amplified 10x over. It's stronger than my pregnancy cravings!
But thankfully, Trader Joe's did not disappoint me – they have tons of dairy-free treats to help me keep my cravings under control and satisfied.
Okie Dokie Oat-Milk Ice Cream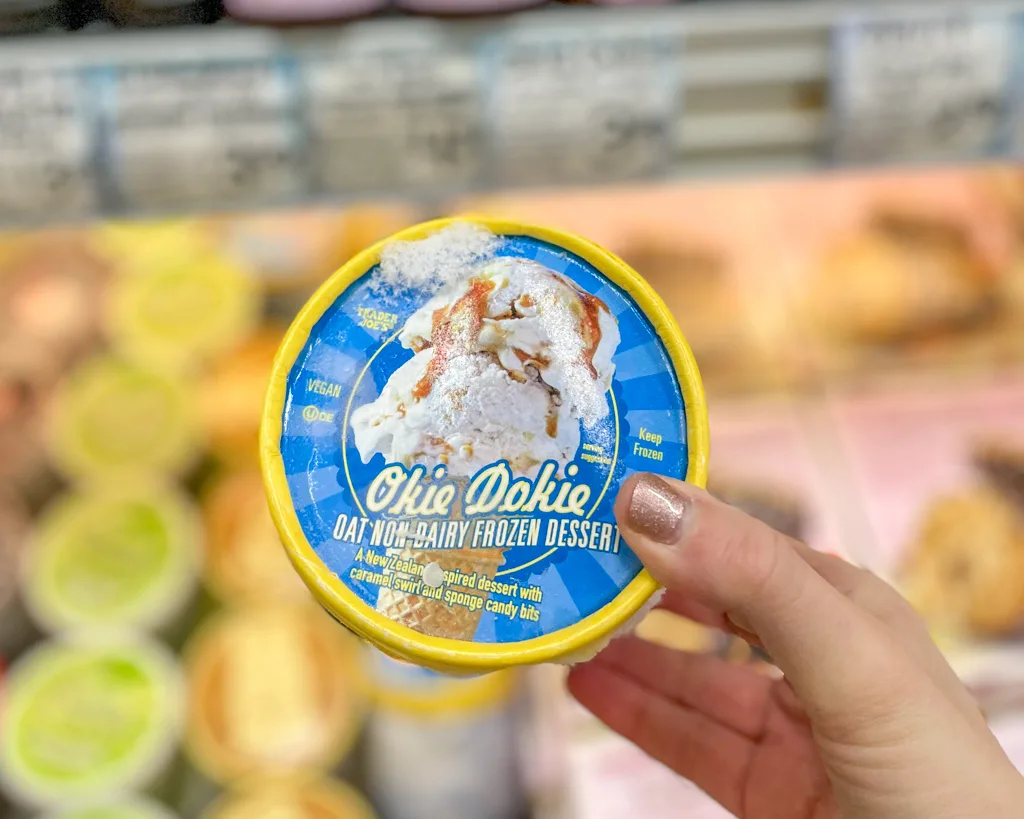 Trader Joe's has the whole non-dairy ice cream thing figured out. Oat milk is the answer! This new addition to TJ's freezer section is VERY welcome in my book.
Trader Joe's Vegan Oatmeal Chocolate Chip Cookies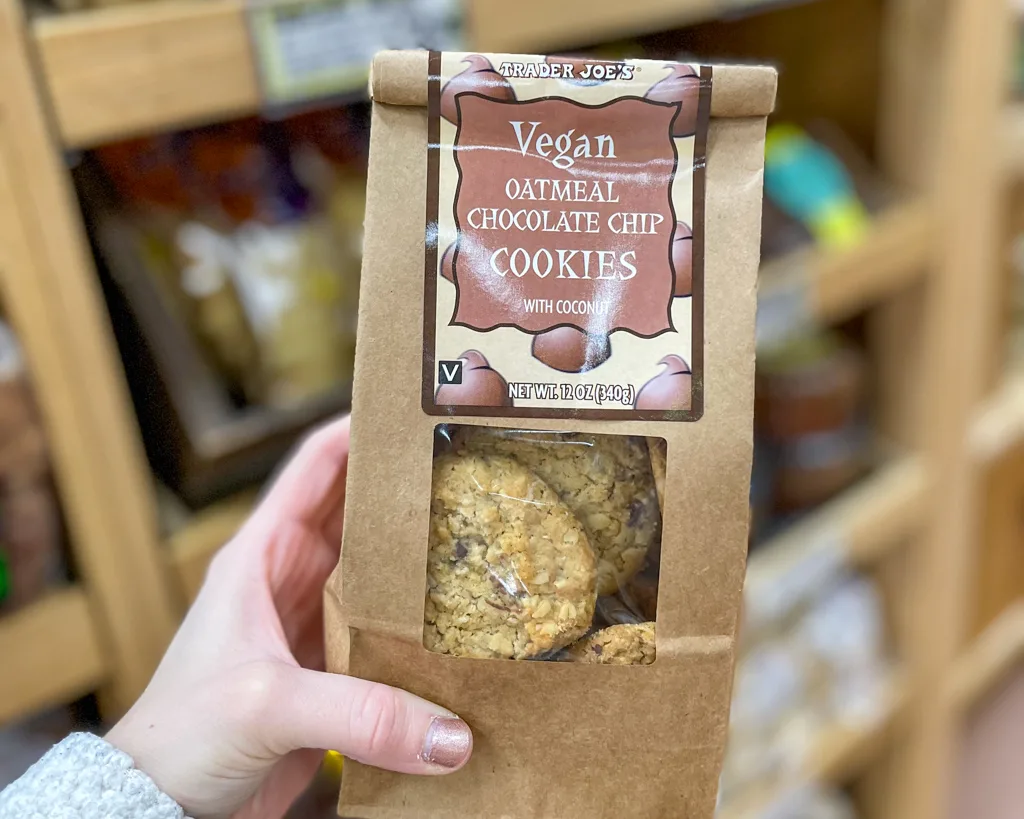 First of all, oatmeal chocolate chip cookies are the underdog of the cookie world. I'm just gonna put that out there! They get overshadowed by their less-delicious counterpart (oatmeal raisin), and overlooked next to the classic Chocolate Chip Cookie.
These are the perfect representation of THAT delicious cookie, and it's completely vegan – meaning it's safe for all your dairy-free indulgence.
Trader Joe's Hold the Dairy Mini-Ice Cream Cones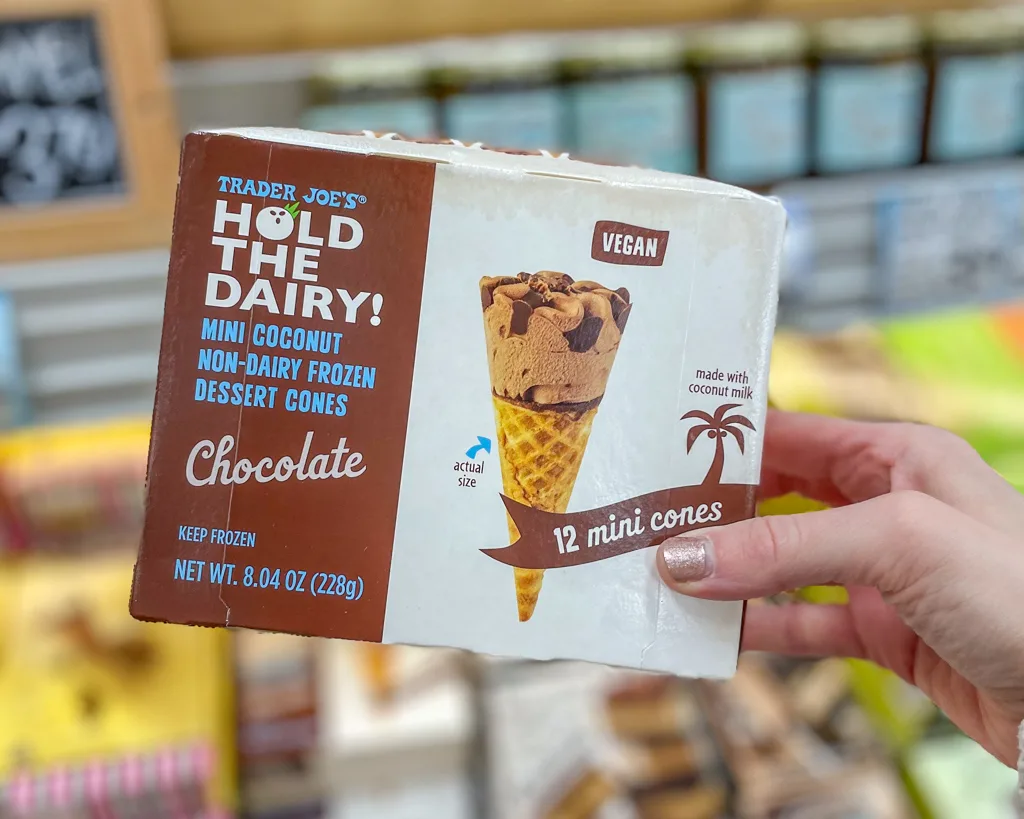 When I tell I squealed seeing these in the freezer section during my last trip! I've always been a fan of the mini Trader Joe's "Hold the Cone" ice cream treats, so I'm thrilled they brought a dairy-free option to the table.
Trader Joe's Banana Bread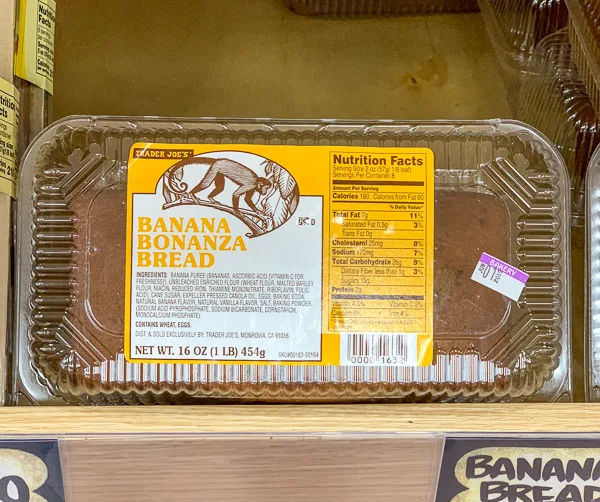 When that sweet tooth hits first thing in the morning: banana bread. Made free of milk and dairy products? Heck yes.
Trader Joe's Jumbo Cinnamon Rolls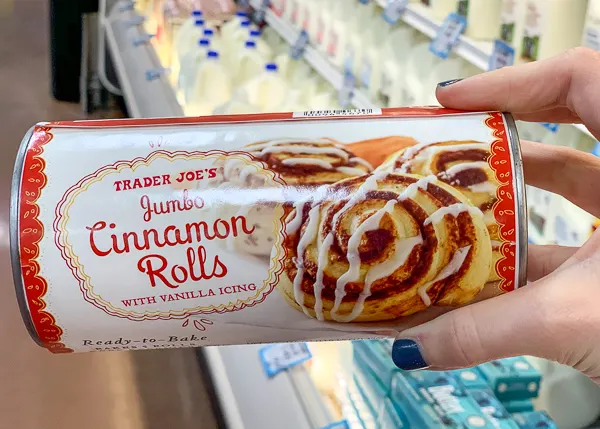 These cinnamon rolls are my go-to holiday or special occasion breakfast, even when I'm not living dairy-free! They're big, fluffy, and flavorful, and of course – free of milk.
Trader Joe's Sea Salt Brownie Petites
They're perfect for grabbing a quick bite of sweet while you hide from your kids in the pantry.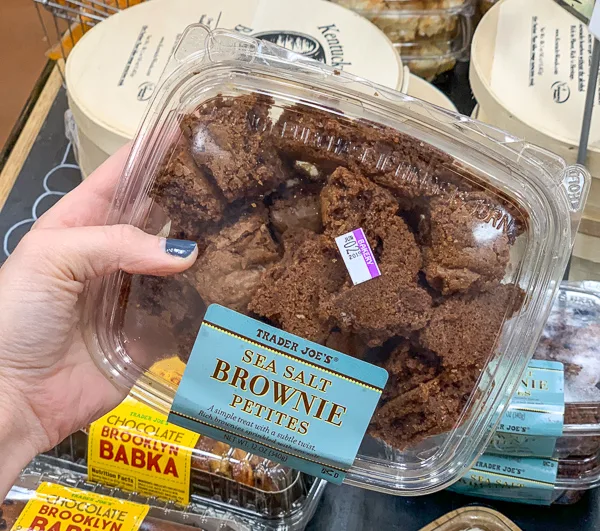 I've never met a brownie I didn't love, and these are no exception.
Pro-tip: Brownies are a secret weapon in the world of dairy-free desserts. Most boxed brownie mixes are dairy-free, and a lot (not all) of store-bought brownies are too.
Trader Joe's Dark Chocolate Sunflower Seed Butter Cups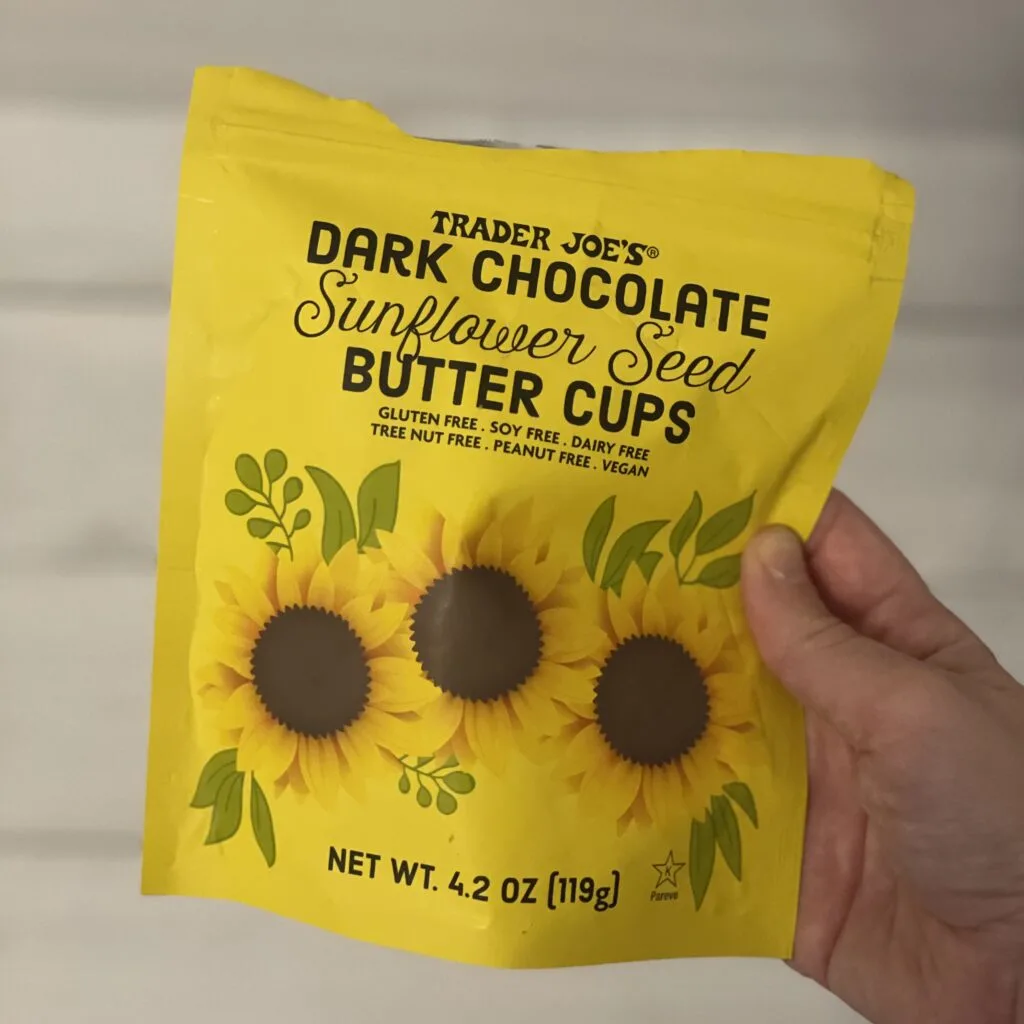 These are a new find for me, and I couldn't be happier with them! One of my favorite Trader Joe's treats is their Mini Peanut Butter Cups, which are very dairy-filled. So these are a great substitute to have around when that peanut butter cup craving hits.
Plus, they're nut-free so they're a great, school-safe lunch box treat for your kids!
Trader Joe's Neapolitan Joe-Joes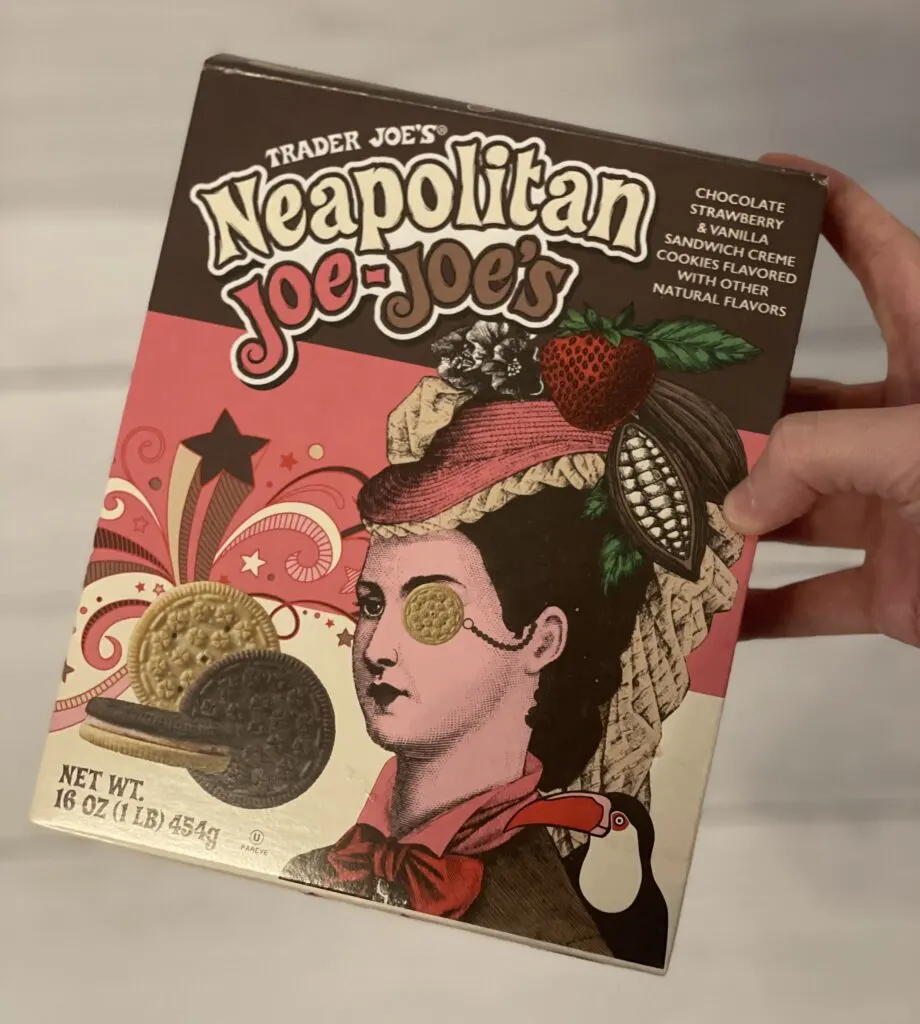 Okay, I love regular Joe-Joe's – maybe even more than Oreos – but these are on another level. They taste like a strawberry sundae, and of course, are dairy-free (as are all Oreos, by the way!).
Trader Joe's Peanut Butter Cartwheel Cookies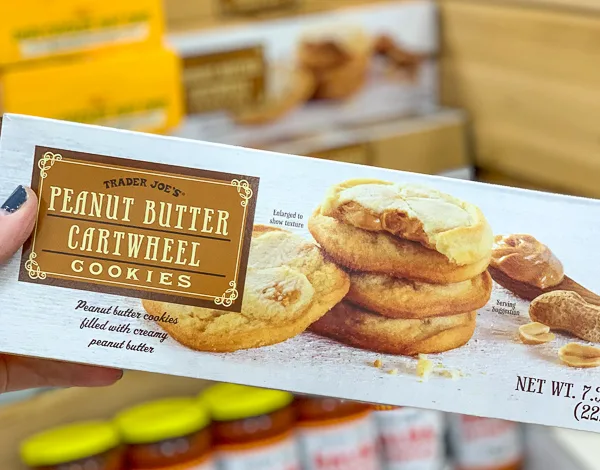 Another non-dairy dessert secret weapon? Peanut Butter Cookies. Many peanut butter cookie recipes are dairy-free! Of course, packaged items always seem to sneak dairy in for no apparent reason, so you've always gotta check the label, but these are a dairy-free winner.
Trader Joe's Non Dairy Mint & Chip Bon Bons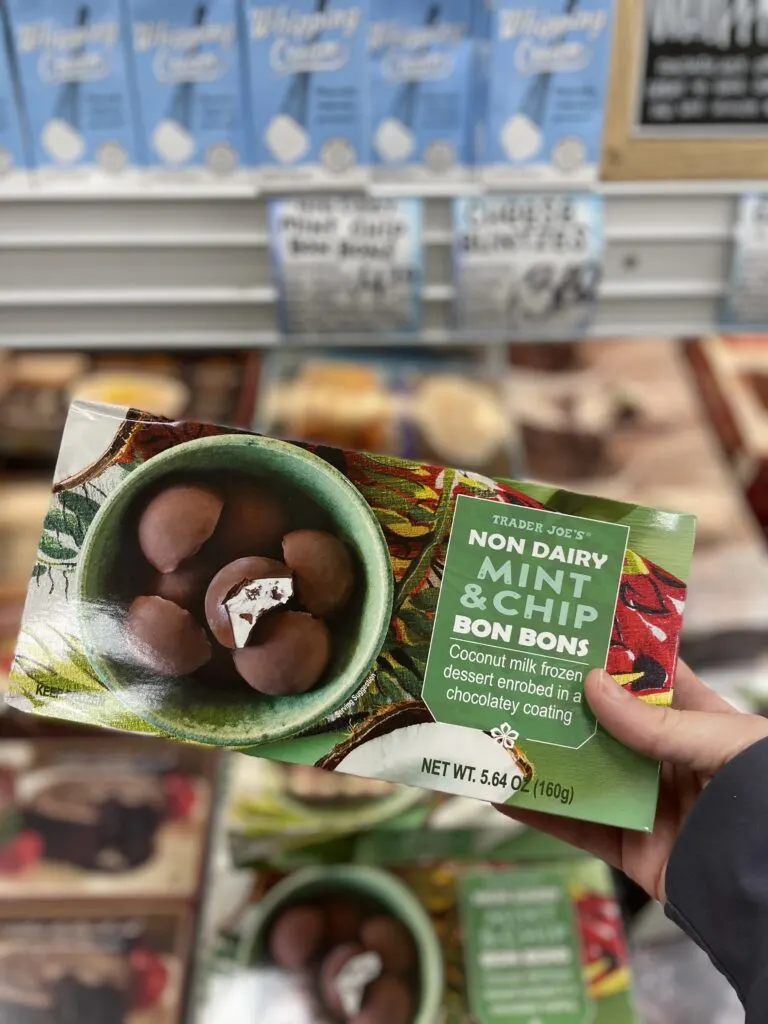 I usually steer clear of coconut milk-based dairy substitutes – the coconut flavor is just too overpowering for me – but not these.
The mint and chocolate flavors balance out the coconut, so all you get from the coconut milk is its delectable creaminess. All the heart eyes!
Trader Joe's Non-Dairy Strawberry Oat Ice Cream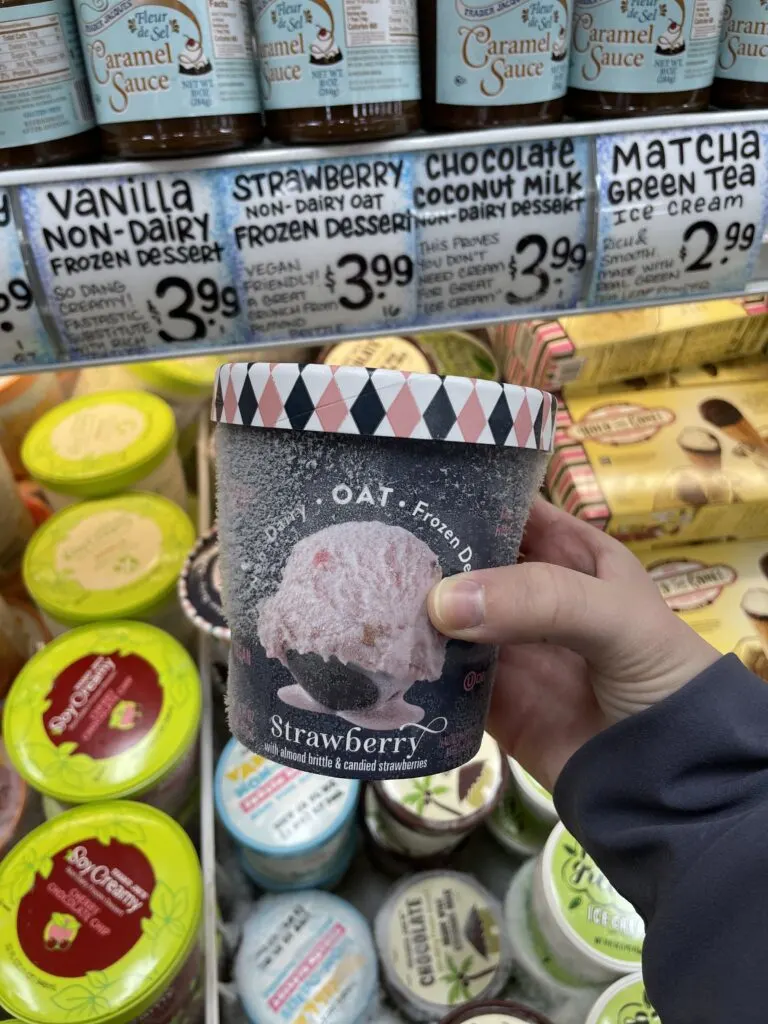 I'll be honest, when it comes to non-dairy ice cream, I'm not a fan of too many of them. I can nearly always taste the coconut or almond base, and the texture is never quite right.
But, oat-based ice creams tend to be the exception! Oat milk really maintains the creaminess and has minimal underlying flavor to it.
Plus, the candied strawberries in this particular ice cream push it over the top. Try this!
Your Trader Joe's Dairy-Free Favorites
Have you tried any of these dairy-free items at Trader Joe's? Do you have other favorites that I've missed? Let me know in the comments – I need all the help I can get to survive this second dairy-free breastfeeding journey!
And if you're just starting out with your dairy-free diet, check out some of my favorite dairy-free recipes: