This Instant Pot Crack Chicken Pasta recipe has been in the works for a long time now, y'all – and it's finally ready!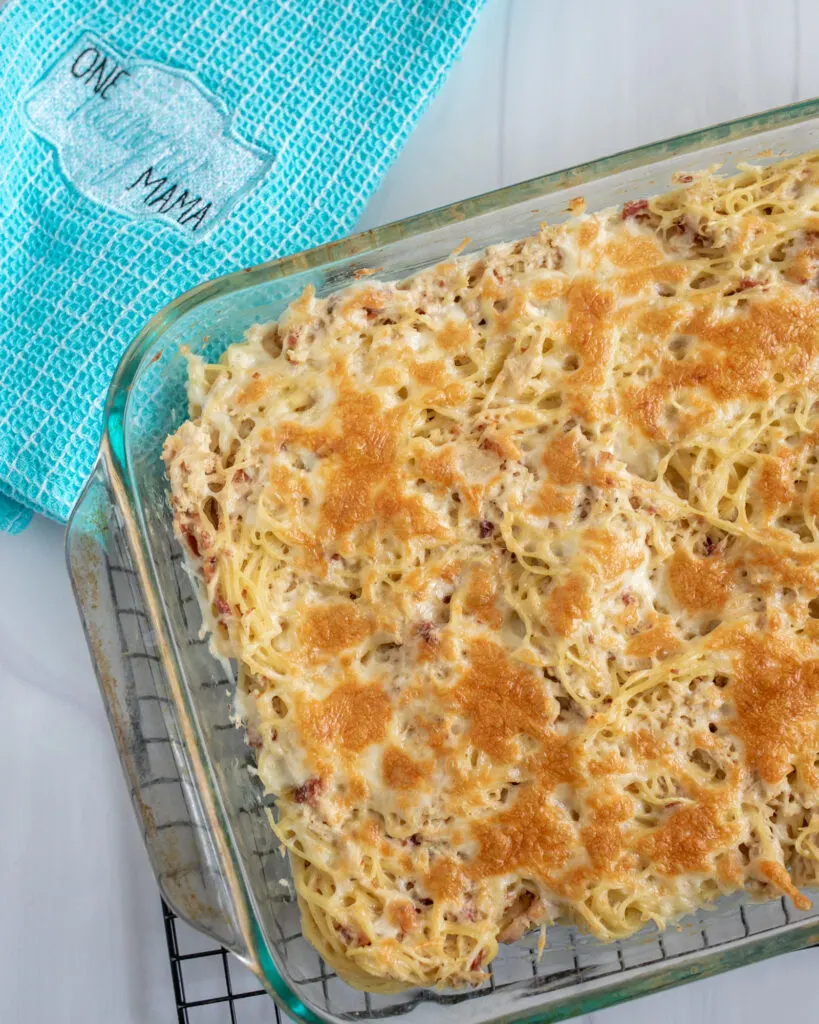 See, for years now, my Instant Pot Crack Chicken recipe has been the most popular recipe on this site. And I totally understand why – it's my family's favorite recipe, too.
So I've been trying to come up with other creamy bacon ranch deliciousness, to give my family some variety in our go-to meals. But, Crack Chicken on its own is pretty versatile, so every time I'd try to come up with something new, I would just end up making the same old recipe, with an ever-so slight variation that never lived up to the original.
UNTIL NOW.
Now, I've got a real competitor for which kind of Crack Chicken my family will want me to make – basic Crack Chicken, or this Pasta Casserole?
What exactly is Instant Pot Crack Chicken Pasta?
It's pretty much exactly what it sounds like – crack chicken, mixed up with angel hair pasta, topped with cheese, and broiled for a few minutes.
The cheese gets all melty and bubbly, and the creamy bacon ranch chicken mixes in with the angel hair pasta to make a delightfully gooey and flavorful casserole.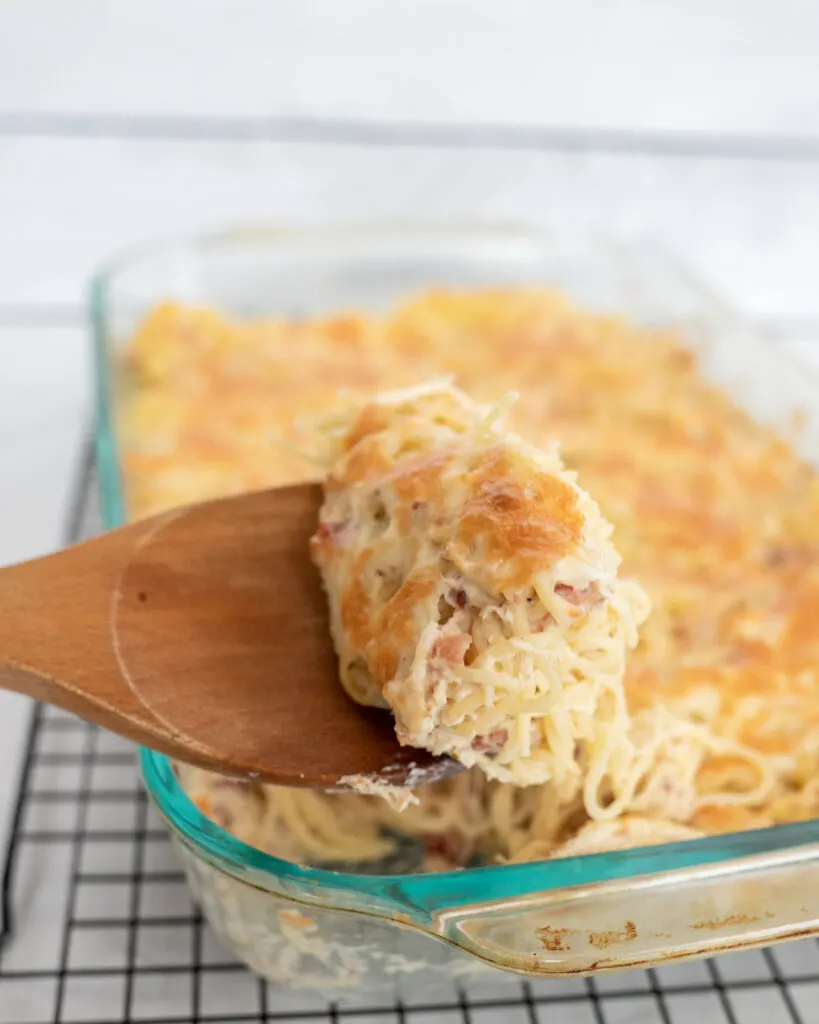 How Do You Make Crack Chicken Casserole?
Crack Chicken is already an incredibly easy meal, and best of all, it's made in one pot with the Instant Pot. Making it into a casserole does use one additional dish, but it's still pretty minimal in the mess department.
To make Crack Chicken Pasta using the Instant Pot, you simply follow the recipe for Crack Chicken, then mix in some cooked angel hair pasta, top with shredded cheese, and broil for a few minutes. Voila!
I'll break it down for you:
Make Crack Chicken:

Sautè bacon in the Instant Pot.
Deglaze pot thoroughly (this is how you avoid the dreaded Instant Pot "BURN" warning!)
Add chicken breasts, chicken broth, and ranch seasoning packet to Instant Pot, and cook at high pressure for 12 minutes.
Naturally release the pressure for 5 minutes, then quick release remaining pressure.
Shred cooked chicken breasts using forks or a stand mixer.
Turn Instant Pot back to sautè mode, and add cream cheese, using a whisk to thoroughly mix and melt in.
Add shredded chicken back to pot, and stir to coat with sauce.

Mix with Pasta:

Cook pasta according to package instructions.
Add pasta to Crack Chicken and mix together.
Spread pasta and Crack Chicken evenly into large casserole dish. Top with shredded cheese.
Broil for 5 minutes, and serve immediately. Enjoy!
It keeps great in the fridge, and reheats easily in the microwave. This would be a great meal to bring to a new mom, or post-surgery friend!
Serve it with a side salad, or garlic bread, or glazed carrots… it's honestly so versatile, you could put almost anything on the plate with it.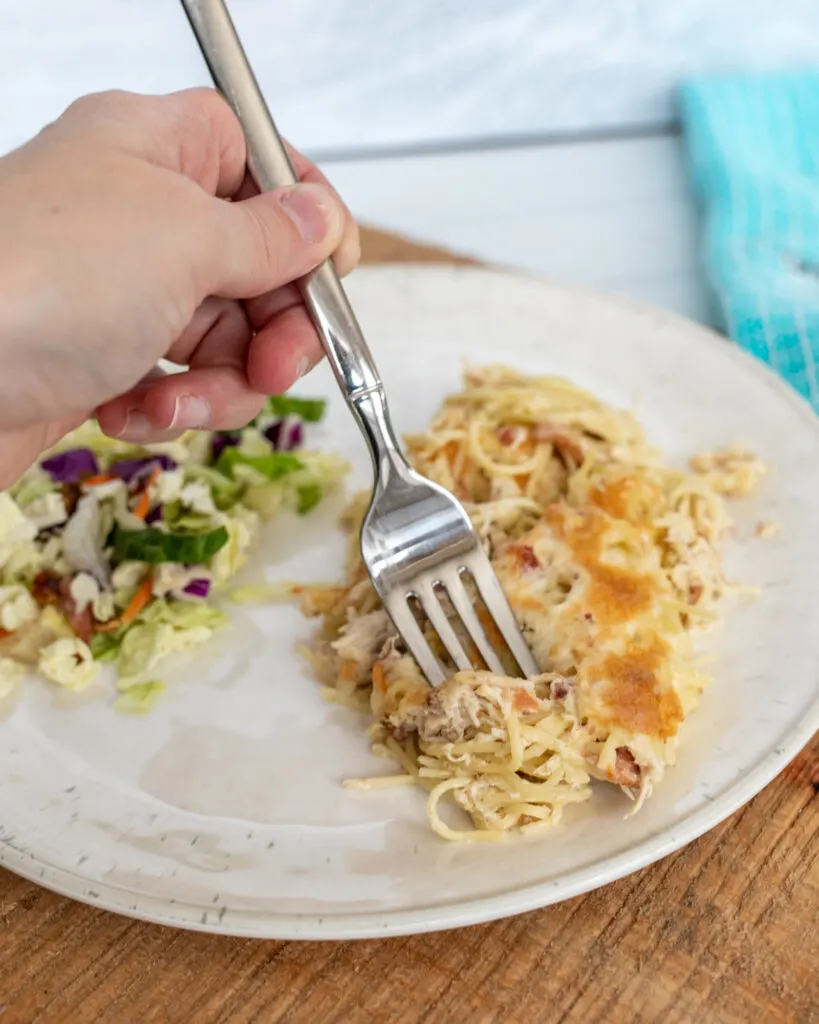 Let me know in the comments if you try this Instant Pot Crack Chicken Casserole! I love hearing y'alls variations and customizations to the recipe.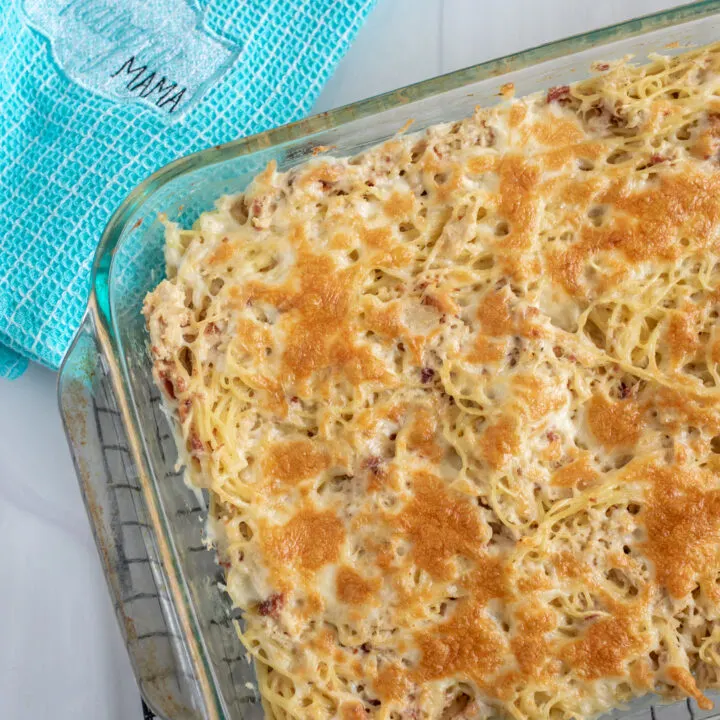 Instant Pot Crack Chicken Pasta
Additional Time:
5 minutes
This Instant Pot Crack Chicken Pasta is sure to be an instant family favorite! It's easy to make in about 30 minutes, and its creamy, bacon Ranch flavor will please even your pickiest eaters.
Ingredients
10 pieces of bacon, chopped
1 cup chopped onion
1.5 lbs boneless, skinless chicken breasts
1 cup chicken broth
1 packet Ranch seasoning
1 block cream cheese, softene
12 oz angel hair pasta
1 cup mozzarella cheese, shredded
Instructions
Make Crack Chicken:
Turn Instant Pot on to Sauté mode, and cook the chopped bacon for 5-7 minutes until crisped. Scoop out the bacon onto a paper towel, and drain the grease from the pan.
Add a splash of chicken broth to the pot, and scrape any bacon bits off the bottom of the pot.
Put bacon back in the pan, and add the rest of the chicken broth, ranch seasoning packet, and chicken breasts.
Seal the Instant Pot, press Manual, and set the timer for 12 minutes.
When the timer goes off, allow 5 minutes for natural pressure release, and then turn the valve to "vent" to quick release the remaining pressure.
Remove the chicken from the pot, and shred using two forks or a stand mixer.
Set the pot back to Sauté and add cream cheese, whisking for a few minutes until melted.
Put shredded chicken back in the pot, and stir to combine.
Make Pasta:
Preheat broiler.
While the chicken cooks, cook the pasta per package instructions.
Add pasta to Instant Pot and mix together with Crack Chicken. Top with shredded cheese.
Pour chicken and pasta into large baking dish, and place under broiler for 5 minutes, or until cheese is browned and bubbly.
Serve immediately, and enjoy!
Recommended Products
As an Amazon Associate and member of other affiliate programs, I earn from qualifying purchases.