Code red, y'all: Mother's Day is just 10 days away! But fear not, I've got you covered with these last-minute Mother's Day gift ideas.
Honestly, moms are pretty easy to please. All most of us want is a little recognition, and a little break.
So, for Mother's Day, gift mom with some self care, some glam, and some luxury that she probably wouldn't dream of doing for herself. You know she deserves it!
And thankfully, you still have time to get everything on this list delivered last-minute before Mother's Day next weekend. So, get to it!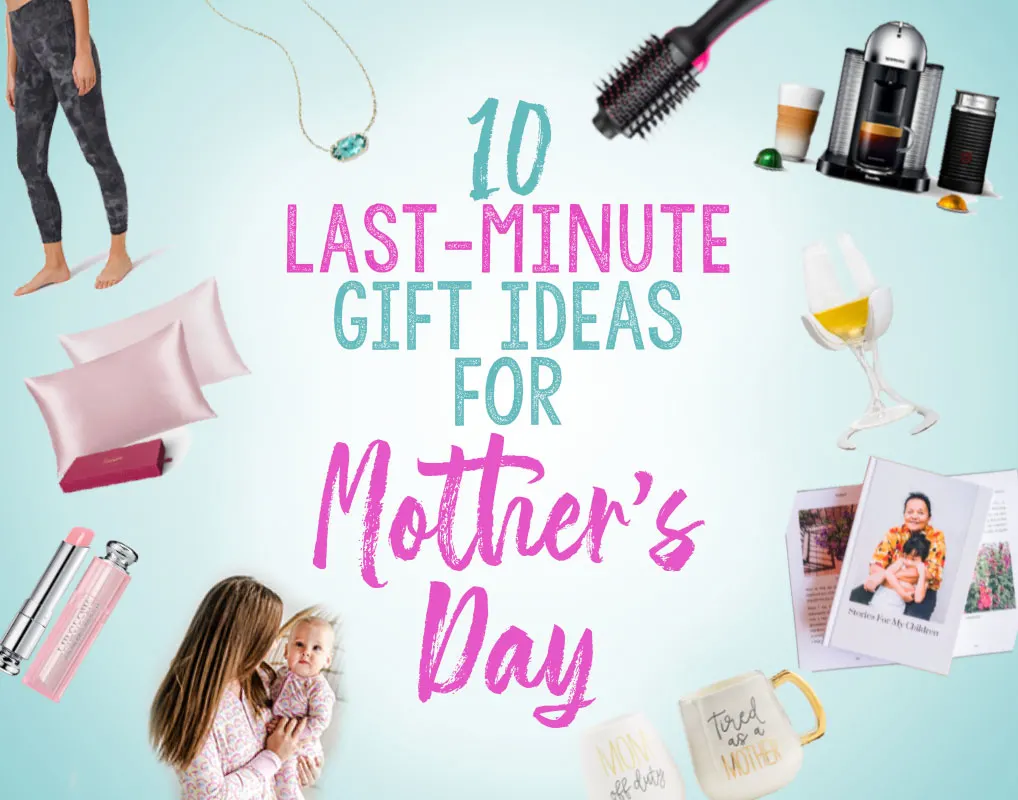 Last-Minute Mother's Day Gifts
As an Amazon Associate and member of other affiliate programs, I earn from some purchases, at no extra cost to you.
Photo Credit: LittleSleepies.com
Words can't even describe how much I love these pajamas. They're unbelievably soft and lightweight, and the snap-button top is perfect for breastfeeding moms. PLUS, they can match your littles!
Nice PJs are one of the many luxuries moms lust after, but won't splurge for on themselves, which makes them a perfect Mother's Day gift. Shipping is always super fast, in my experience, so you still have plenty of time to order before the big day!
This needs to be in every new mom's starter kit. Not only does it curl your hair without ANY heat, but it does it all while you sleep. Spend 5 minutes (at MOST) putting it in before bed, and wake up in the morning with gorgeous, perfect curls. It's amazing!
Photo Credit: Nordstrom.com
This lip balm is my absolute favorite. It's a really nourishing formula that provides a subtle color to complement any natural skin tone. It's my daily go-to lip wear, and can instantly make any mom feel more glammed up.
It's currently on sale and Nordstrom, and they always offer fast free shipping, so now's a great time to get it before Mother's Day!
It's like a rite of passage as a mother to never get to drink your coffee hot. Until you gift her THIS mug for Mother's Day, of course! It keeps drinks hot for up to 3 hours. Surely she can get her caffeine guzzled by then, right?
When in doubt: buy her jewelry. And when it comes to jewelry, Kendra Scott never fails!
For a Mother's Day gift, a little sentimentality goes a long way, and incorporating her child's birthstone is the perfect way to do that.
Photo Credit: Amazon.com
If there's any universal love language for moms, it's coffee... amiright? If you want to splurge for mom on Mother's Day, a Nespresso Vertuo machine is the ultimate gift! It's the best of the best, when it comes to at-home coffee.
(And, it's on Amazon Prime, so you've got more than enough time to have it delivered by Mother's Day.)
This weighted blanket would be an amazing Mother's Day gift! And now that Nordstrom sells it, you can take advantage of their fast shipping for a last-minute gift. The Bearaby is the best weighted blanket because it's super soft, it's woven and breathable, and it's evenly weighted – it's not filled with little beads that shift around all night long making noise. It's helped me sleep so much better!
Photo Credit: lululemon.com
If the mom in your life is one of the rare ones who doesn't drink coffee (such mythical creatures do exist, I hear...), then I'd be willing to bet splurge-worthy leggings would do the trick instead!
Lululemon Align pants are the cream of the crop when it comes to leggings – they're incredibly soft, and they just fit perfectly. And now they're offered with POCKETS, too, which makes them the actual perfect leggings.
Photo Credit: target.com
This multitasking hair styler is one of my go-to tools. It dries and smoothes my frizzy, wavy hair all at once, effectively cutting my hair styling time in half, and earning it all the heart eyes from me.
As moms, we never have enough time to spend on ourselves, but that doesn't mean we shouldn't get to do it at all! This gives her the best of both worlds.
Photo Credit: amazon.com
Ok, we've covered coffee and leggings... we still need to cover the last remaining item in the mom life trifecta: WINE!
For some reason, moms tend to love their wine super cold – I don't know why, we just do, okay?
You can help your mom enjoy her ice-cold wine, without having to dilute it with ice or ruin the flavor with metal or stone inserts with this wine chiller stand. It chills the wine from the outside, so it doesn't ruin her sweet, sweet nectar of the gods.
Photo Credit: mudpie.com
While you're at it, complete her Mother's Day gift with a super cute matching wine glass and coffee mug set to go with her new wine chiller or coffee maker!
One for the morning and one for the evening, and she'll be set to survive a full day of kid-wrangling.
Photo Credit: amazon.com
A nice silk pillowcase is another one of the luxuries that mom's typically won't splurge on for themselves. Silk pillowcases have proven to be so good for your skin and hair, not to mention that they just feel fancy and lavish!
Plus it's Amazon Prime-friendly with a $3 off clickable coupon right now, so it's got last-minute Mother's Day gift written alllll over it.
Photo Credit: welcome.storyworth.com
StoryWorth is THE ultimate last-minute gift for Mother's Day (or Father's Day, for that matter). It doesn't require any shipping or planning – just sign up, and schedule its delivery via email.
Each week, StoryWorth will email your mom (or whoever you choose) with a question or prompt. She can respond with stories, memories, and photos, and at the end of a year, it will all come together in a beautiful keepsake book for the entire family to cherish.
I wish we'd had this when my grandmother was still alive – I would love to have her stories captured and preserved in her own words.
And if you need some more gift ideas for mom this Mother's Day, check out my other gift guides: