Good news: these Oreo Truffle Brownies are about to change your life. Bad news: they're also about to change your pants size.
*Better news: I've updated this post with all new photos & some additional tips to make sure these are the BEST Oreo Brownies you'll ever make.
What exactly makes these the "BEST" Oreo Truffle Brownies?
There are three clear reasons why these brownies are the best dessert you'll ever have.
Reason #1: Oreos.
Reason #2: Cream Cheese.
Reason #3: Chocolate. So much chocolate.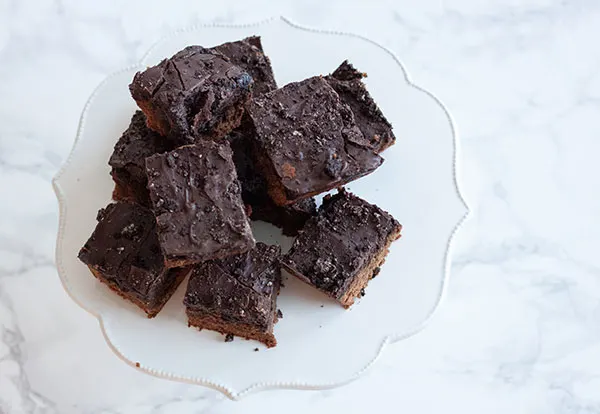 Need I say more? These are the perfect dessert to bring to your next potluck, or your new neighbor, or your friend with a new baby, or your dang SELF because you deserve it.
How Easy are These Oreo Truffle Brownies?
They're pretty fool proof. It's basically three steps: 1. Make brownies. 2. Add Oreo truffle. 3. MORE CHOCOLATE.
First, assemble your ingredients (sans baby).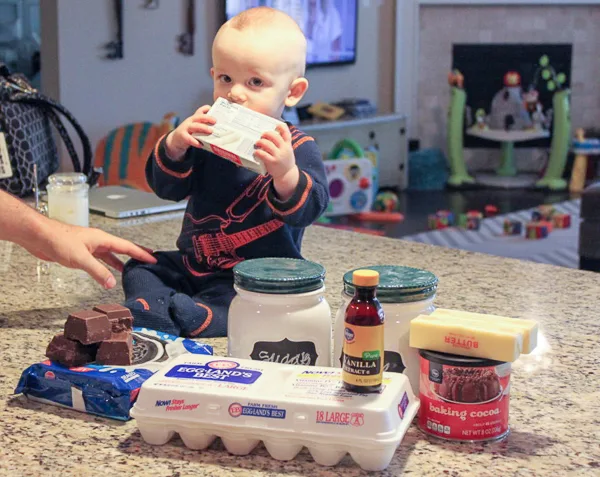 (That photo is from my original 2016 post – I couldn't bear to replace it! So forgive the terrible lighting and chaotic background – who has time for staging with a baby on the loose?! – and just admire this cute 10-month-old baby who is now a gigantic threenage monster.)
You will need a mixer of some sort (I prefer a stand mixer), but that's about as complicated as it gets.
First you make the brownie layer:
Just cream together the butter and sugar, until it's light and fluffy.
Sidenote: If you have a Kitchenaid stand mixer, and you're not using this flex-edge beater — YOU ARE DOING IT WRONG. It's honestly one of my favorite kitchen accessories. No more stopping the mixer to scrape the bowl ever 15 seconds! No more getting butter all over your hands after scraping the bowl, and then using your finger to scrape off the spatula! It's genius.
Anyway, next you add the eggs, one at a time. This always annoys me because, like, why can't I just drop them in all at once and get that egg goo off my hands once and for all? You just can't, okay? It really does mix more evenly if you do it one at a time, so just deal.
Then, add the vanilla, salt, cocoa, and flour. Mix it in slowly, but let's be real – the cocoa and flour will get everywhere. Just accept that now, and make your husband clean it up later. Mix until it's nice and smooth, and spread it evenly into the pan.
Bake for 25-30 minutes, until a toothpick comes out clean in the middle. Please do yourself a favor, and actually do the toothpick-check. Because it's ~possible~ that the brownie may look cooked, but in fact still be 100% raw batter in the middle. And when you spread the truffle layer on top of it, it mushes up in all it's salmonella-y glory, making the whole thing unsalvageable and causing you to have to start over.
I mean, so I've heard.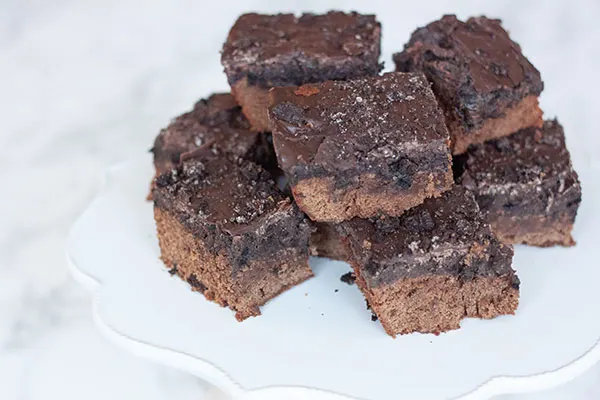 Next, you'll make the Oreo truffle layer.
Mix up the Oreo truffle layer. Whip up the cream cheese in the stand mixer until it's light and fluffy.
Then, start adding in Oreos. I typically break them up in halves or quarters as I drop them in, but then I just let the mixer do the hard work. Save 4-5 cookies for the topping (or to eat as you bake, because you can't just not eat the Oreos).
Once your brownie layer has fully cooled, spread the Oreo layer evenly on top.
I know, at this point, you're probably thinking, "daaaamn this is the perfect brownie," but you are wrong. It's not yet.
Top it off with chocolate:
Melt your chocolate in the microwave according to the package directions, and pour it on top of the Oreo truffle spread, spreading it out evenly with a spatula.
I like it better with a thinner layer of chocolate on top, for just a little crunch; but if you're a true chocoholic, then go all in with a little more melting chocolate.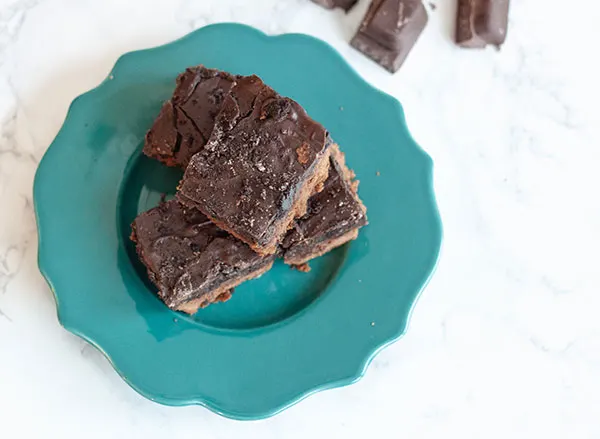 Finally, crush up the few Oreos you saved, and sprinkle them on top of the melted chocolate.
Stick it in the fridge for a few hours (or the freezer, if you're impatient) to harden up before you cut them. Then bribe your husband to clean up the massive mess you've left behind in the kitchen by holding the brownies hostage because trust me, he'll be begging for one by this point.
Enjoy!
Common Questions About Oreo Truffle Brownies
How do you know when the butter and sugar is creamed?
You'll know when you see it. It takes a few minutes of medium-high mixing to really get there. It will look less like creamy butter, and will be lighter in color, and fluffy. It should look like there's more mass to it, too.
Why won't my cream cheese get fluffy?
It's probably not softened enough. Make sure to take it out of the refrigerator at least 30-45 minutes before you need it. You can also try rubbing the block in your hands for a minute or so before unwrapping it to really soften it up.
Why is my Oreo truffle layer so crunchy? Is it supposed to be smooth?
It can be as crunchy or smooth as you want it to be! I like it to be 85% smooth, with a few crispy Oreo chunks here and there. If you want it really smooth, you can either use a food processor to grind up the Oreo crumbs before you mix in with the cream cheese, or if you're using a high-powered stand mixer, run it on high speed for an extra couple of minutes to really blend it all in.
My top layer cracks and crumbles as soon as I try to cut the brownies. How do you get straight lines?
A thinner layer of chocolate on top will make it easier to cut these without cracking, but even with a thicker layer, I have a trick that can help. Use a SHARP kitchen knife, run it under hot water for a few seconds, and wipe it quickly with a paper towel, just before cutting your brownies. I usually make a few cuts at a time before running it under the water again.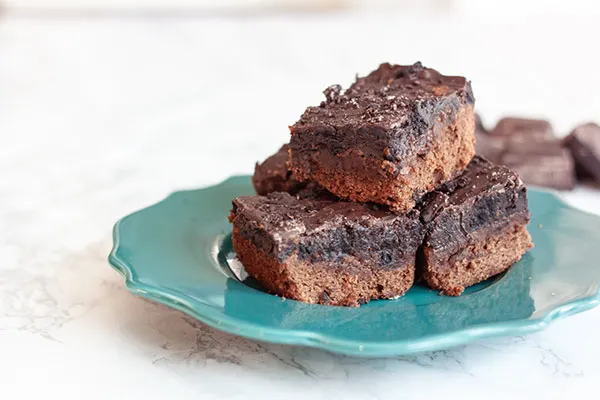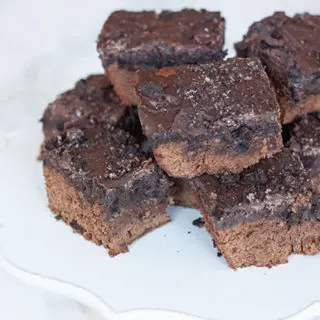 Oreo Truffle Brownies
These Oreo Truffle Brownies are life-changing. They're rich and decadent and crowd-pleasing.
Ingredients
1 cup (2 sticks) butter, softened
2 cups sugar
4 eggs
1 tsp. vanilla
1/2 tsp. salt
1/2 cup unsweetened cocoa
1 1/3 cups flour
1 pkg. Oreos
8 oz. cream cheese, softened
8 oz. chocolate candy coating
Instructions
Preheat oven to 350 degrees, and grease a 9×13 pan.
Cream together butter and sugar, until it's light & fluffy.
Add eggs one at a time, until fully combined.
Add vanilla, salt, cocoa, and flour. Mix on low until combined, and then kick it up to medium for a few seconds to fully mix in.
Spread evenly into pan, and bake for 25 – 30 minutes, or until a toothpick in the center comes out clean. Allow to cool completely.
While the brownie layer is cooling, mix together the Oreo truffle: whip the cream cheese up in the mixer, and add in Oreos, breaking into halves or quarters as you drop them in. Save 4-5 for topping at the end.
Mix on medium speed until Oreos are mostly crushed and blended into the cream cheese.
When the brownie layer has cooled completely, gently spread the Oreo mixture on top.
Melt the dipping chocolate in the microwave, per the package instructions.
Pour immediately over the Oreo truffle layer, and spread evenly with a spatula.
Crush remaining Oreos, and sprinkle over melted chocolate.
Place in the refrigerator for 2-3 hours (or the freezer for 1 hour) to harden up before cutting and serving.
Recommended Products
As an Amazon Associate and member of other affiliate programs, I earn from qualifying purchases.
Nutrition Information:
Yield:

20
Serving Size:

1
Amount Per Serving:
Calories:

234
Total Fat:

9g
Saturated Fat:

5g
Trans Fat:

0g
Unsaturated Fat:

3g
Cholesterol:

51mg
Sodium:

120mg
Carbohydrates:

35g
Fiber:

1g
Sugar:

27g
Protein:

4g