Every good Friends fans knows the importance of a good chocolate chip cookie recipe.
A recipe that's been passed down through your family's generations. Maybe even of French origins.
Maybe even from your great-great-grandmother, Neselé Toulouse.
Or maybe just the chocolate chip cookie recipe from the back of the Nestle Toll House chocolate chip package.
But maybe that recipe burned up in a fire, SO WE'LL NEVER KNOW, WILL WE?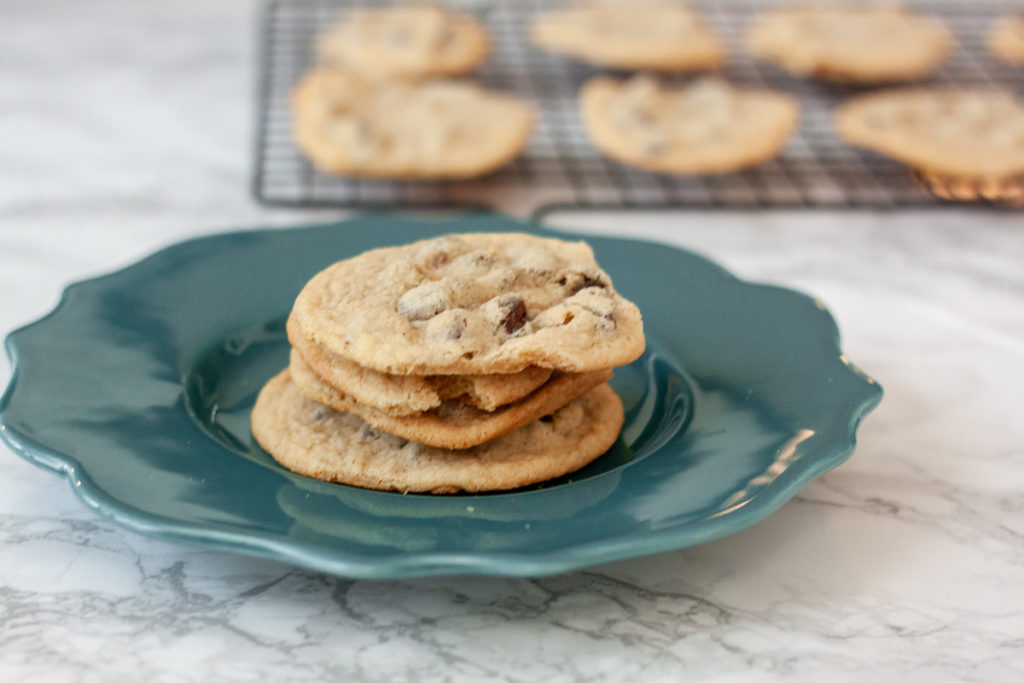 The One with Phoebe's Cookies
If you're confused right now, I'll explain: In Season 7, Episode 3 of Friends, "The One with Phoebe's Cookies," Monica declares that she wants Phoebe's grandma's cookie recipe as an engagement gift. She wants to be known as the mom who makes the BEST cookies for her future kids.
But the recipe burned up in a fire at Phoebe's apartment, so all she has left is one single cookie, for Monica to use to develop a recipe.
So naturally, Monica makes 22 batches of cookies, trying to find the perfect match – only to find at the end of the episode that Phoebe's grandma had been lying about it being an old family recipe all along, and it was actually just the Nestle Toll House chocolate chip cookie recipe from the back of their chocolate chip packaging.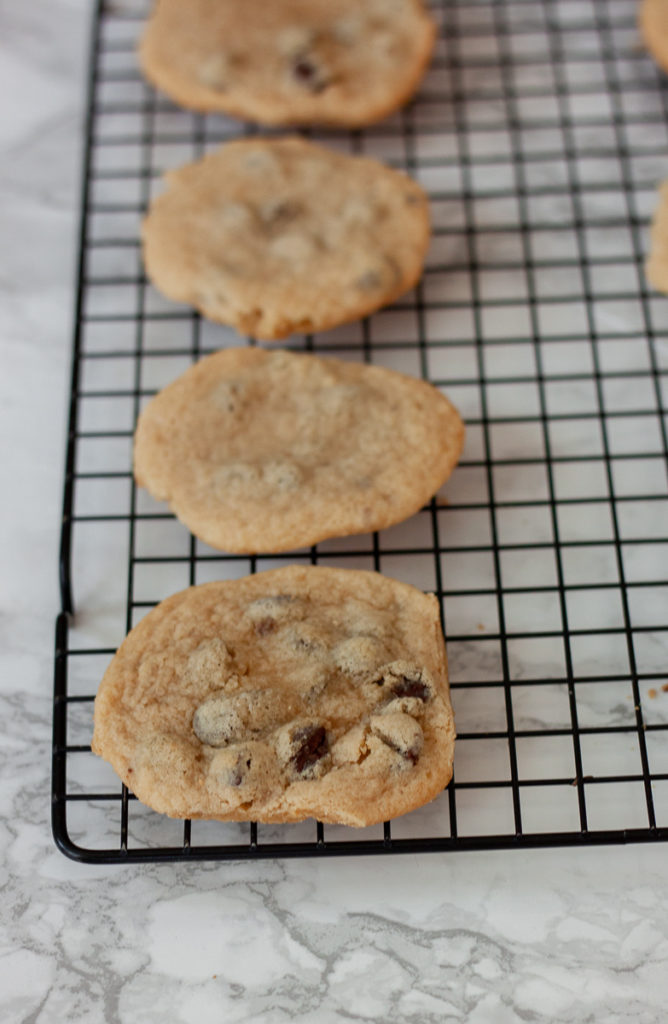 My Own Monica Geller Cookie-Craze
A few years ago, I channeled my inner-Monica Geller and baked up 6 different cookie recipes – including the infamous Nestle Toll House recipe. I invited over 20 of our closest friends, and had a little cookie showdown to find the best chocolate chip cookie recipe of my own.
And I found it. I really did find the BEST chocolate chip cookie recipe. But, as we all know, it wasn't truly Phoebe's Grandma's Chocolate Chip Cookie recipe.
Because, just as Monica frustratingly found out at the end of the aforementioned Nestle Toll House episode, the recipe was right there on the back of the chocolate chips package all along.
So, while I'd – of course – recommend you use my Ultimate Chocolate Chip cookies recipe for your all your cookie-making needs, I also understand that not every occasion calls for a cookie of that caliber.
Maybe you don't have time to let the dough rest in the fridge for an hour. Or maybe you don't want to fool around with separating an egg yolk.
I get it – when you've promised a toddler cookies, and he wants cookies like, now, ain't nobody got time for that nonsense.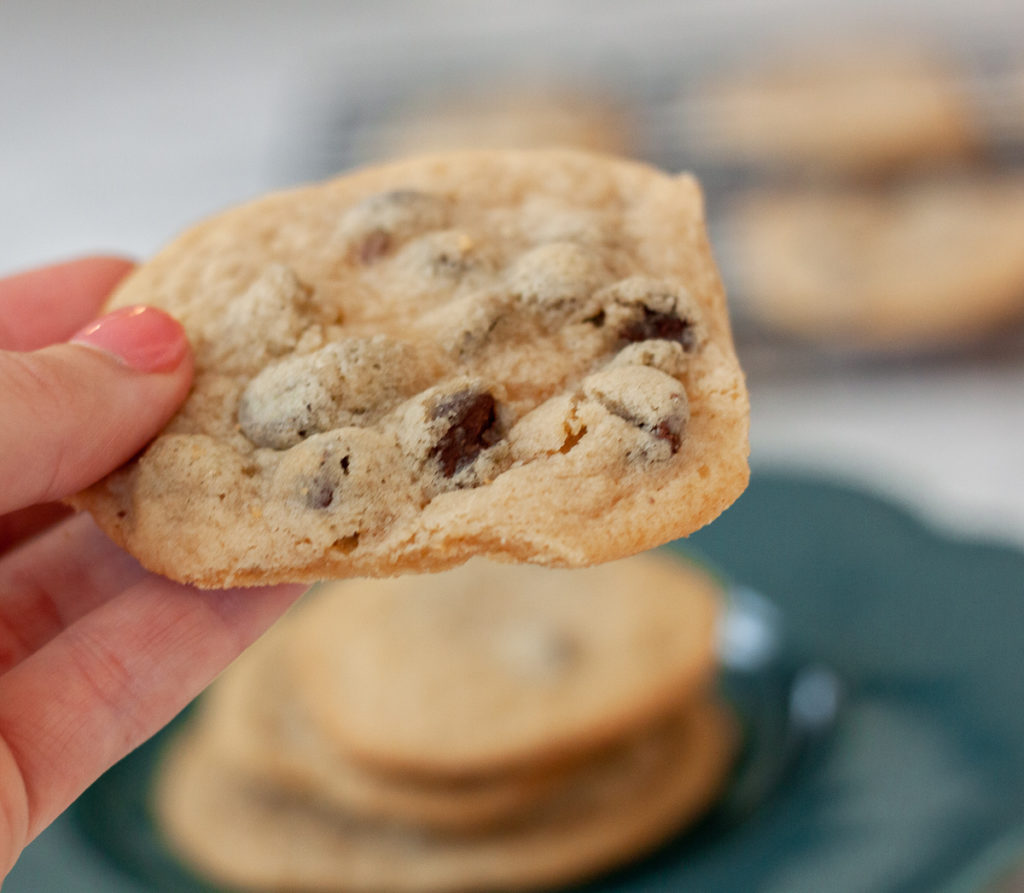 Or maybe you're throwing an epic Friends-themed party, so you HAVE to have Phoebe's grandma's actual recipe – in which case, I sure hope you're sending an invite my way, too.
Regardless of your reason for using this classic recipe, you won't be disappointed. It's foolproof. There's a reason it's possibly the most ubiquitous chocolate chip cookie recipe on earth, being strewn about grocery stores and pantries all across the globe.
They're sweet, but not overly so, they have just the right amount of chocolate chips, and they can be as soft or crispy as you'd like, depending on how long you bake them.
The recipe calls for baking 9 to 11 minutes. I like my cookies soft and chewy, so I typically start checking them one or two minutes before the minimum cook time.
Check out the difference in just a couple minutes below. The cookies on the left were taken out right at 9 minutes. The cookies on the right baked for 11 minutes.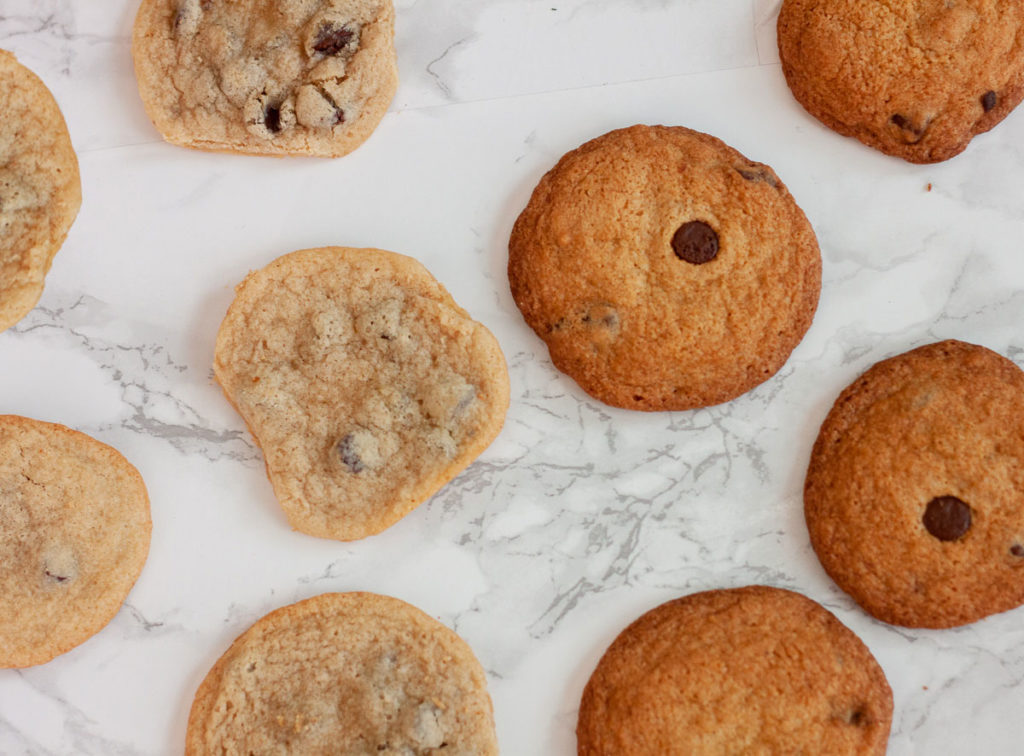 Always make sure to check your cookies every minute or so as they near the end of their baking time.
Another important thing to note about these two batches of cookies:
the batch on the left went into the oven right after mixing the dough, as the recipe states
the batch on the right sat and rested for about 30 minutes (while the first batch baked)
Look at how much thicker and fluffier the second batch is! Even though the recipe doesn't specifically call for letting the dough rest, I'd highly recommend giving it at least 30 minutes, if you can spare it.
(But if you have a toddler raging at you for cookies, then fear not, the first batch was still perfectly delicious. They just spread a bit more than I generally like.)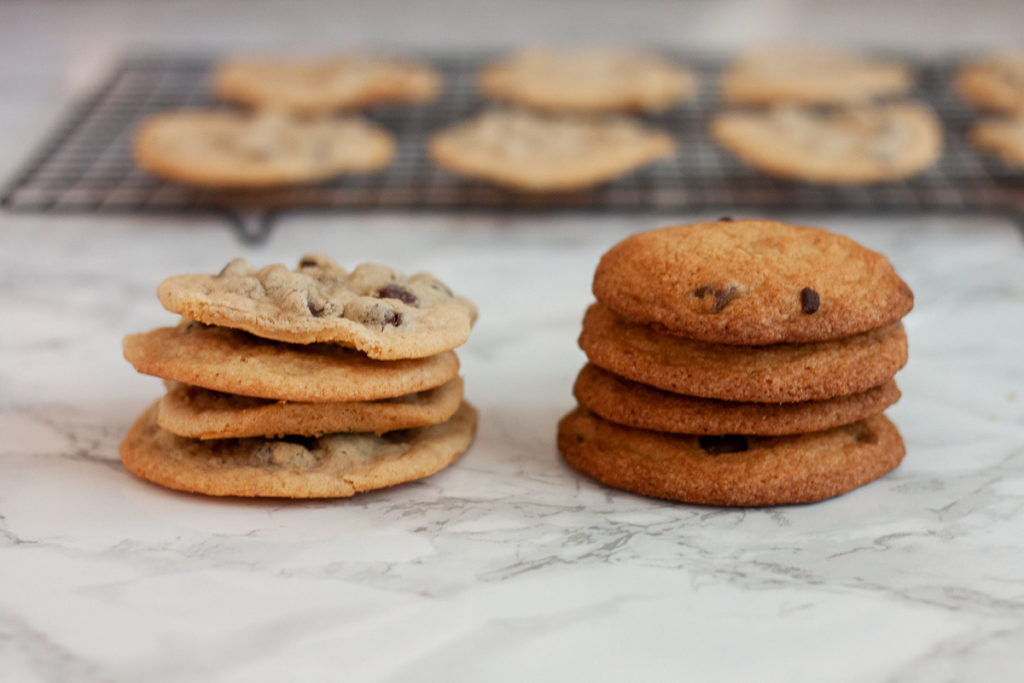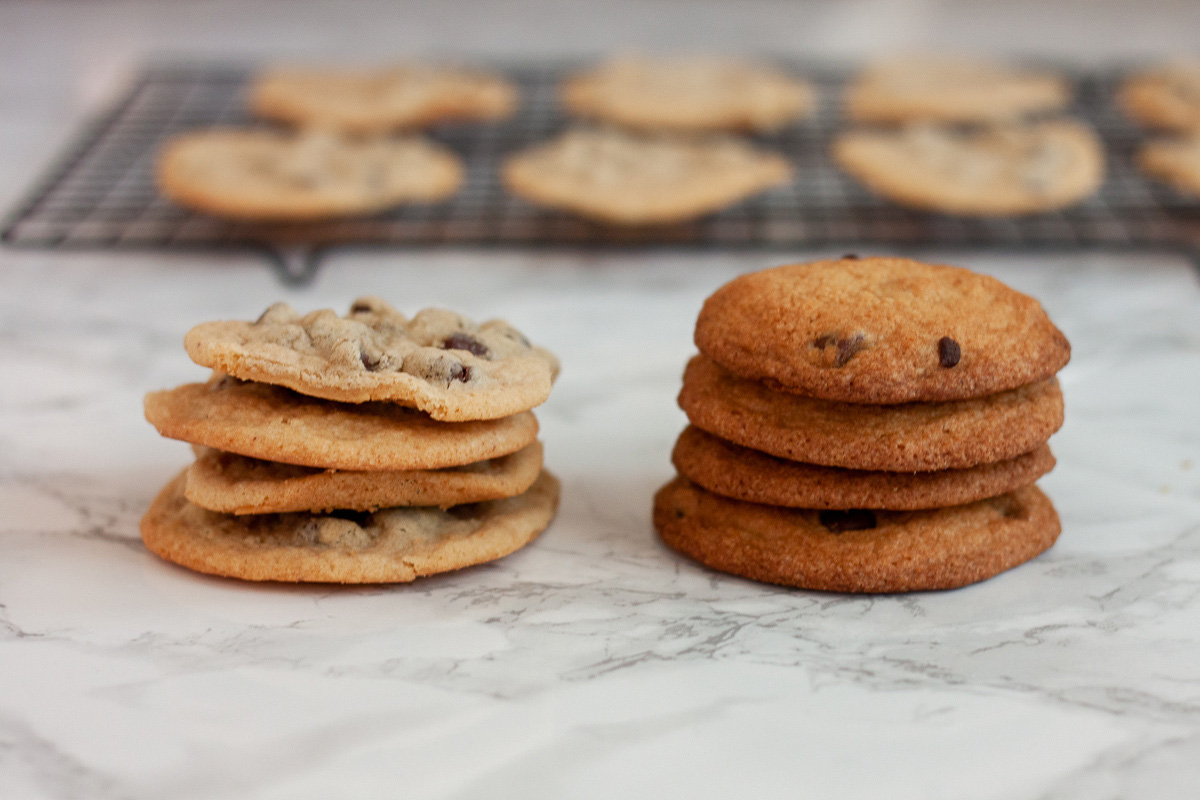 Phoebe Buffay's Grandma's Chocolate Chip Cookie Recipe
Yield: 4-5 dozen cookies
Phoebe Buffay's Grandma's Chocolate Chip Cookies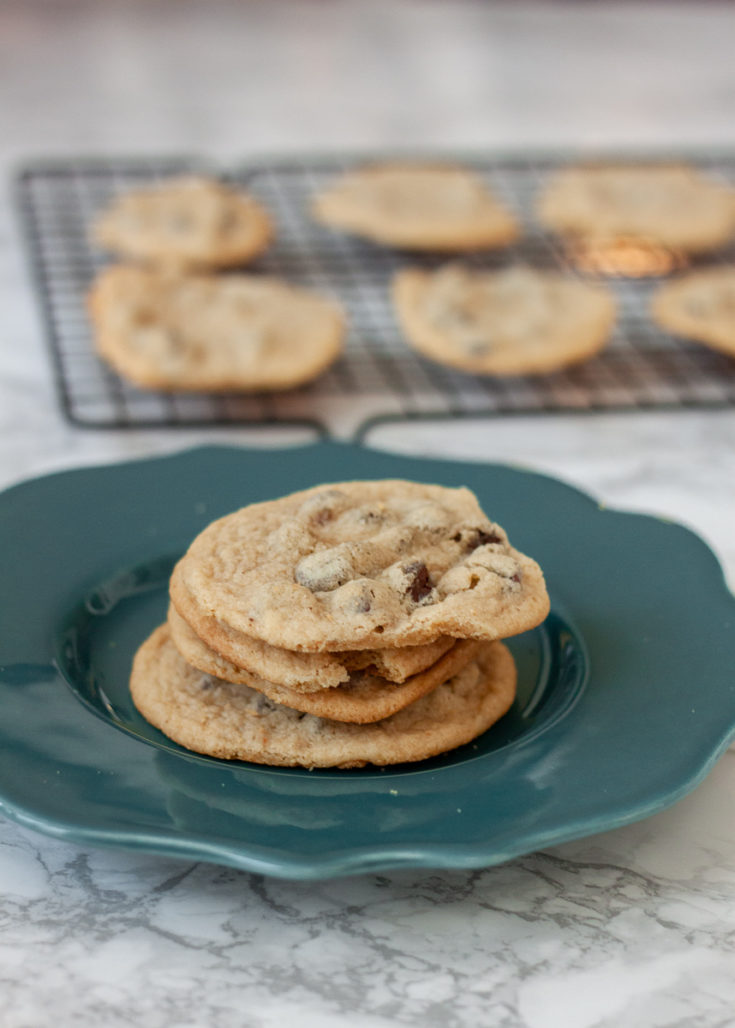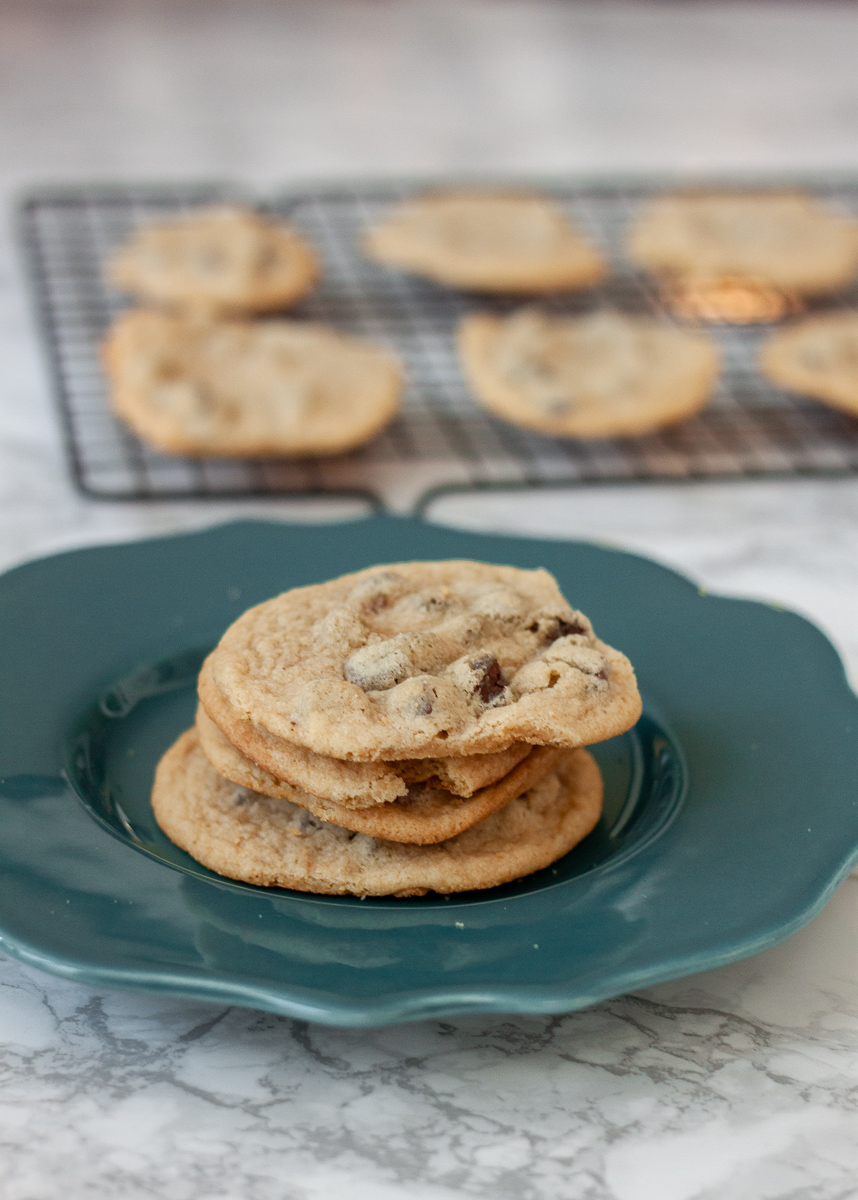 Phoebe's Grandma's Cookies (from Friends) are a foolproof, classic chocolate chip cookie recipe – the original Nestle Toll House recipe, to be exact.
Additional Time
5 minutes
Ingredients
2 1/4 cups all-purpose flour
1 teaspoon baking soda
1 teaspoon salt
1 cup (2 sticks) butter, softened
3/4 cup granulated sugar
3/4 cup packed brown sugar
1 teaspoon vanilla extract
2 large eggs
2 cups (1 12-oz. pkg.) Nestle Toll House Semi-Sweet Chocolate Morsels
1 cup chopped nuts (*if omitting, add 1-2 extra tbsp flour)
Instructions
Preheat oven to 375 F.
In a small bowl, combine flour, baking soda, and salt. Set aside.
In a large mixing bowl or stand mixer, beat butter, both sugars, and vanilla extract until smooth and fluffy.
Add eggs, one at a time, mixing completely after each one.
Gradually add the flour mixture, mixing until fully combined.
Slowly stir in the chocolate chips and nuts (if using).
Drop by rounded tablespoons onto ungreased baking sheets, about 2" apart.
Bake for 9-11 minutes, or until golden brown. Cool on baking sheets for 2 minutes, then move to wire cooling racks to cool completely.
Notes
For thicker, richer cookies, allow the dough to rest for at least 30 minutes before scooping onto baking sheets and baking.
Recommended Products
As an Amazon Associate and member of other affiliate programs, I earn from qualifying purchases.
Pin it for later: