Picking out stocking stuffers for babies and toddlers is surprisingly hard. Usually, stocking fillers are my favorite thing to shop for – everything is fun and cheap and they tend to get the biggest giggles on Christmas morning.
But for babies, it's more of a challenge. All the fun, cheap stuff is dangerous for them – since basically everything is a choking hazard. Plus, babies don't really need much, so it can be hard to find things that are even worth getting.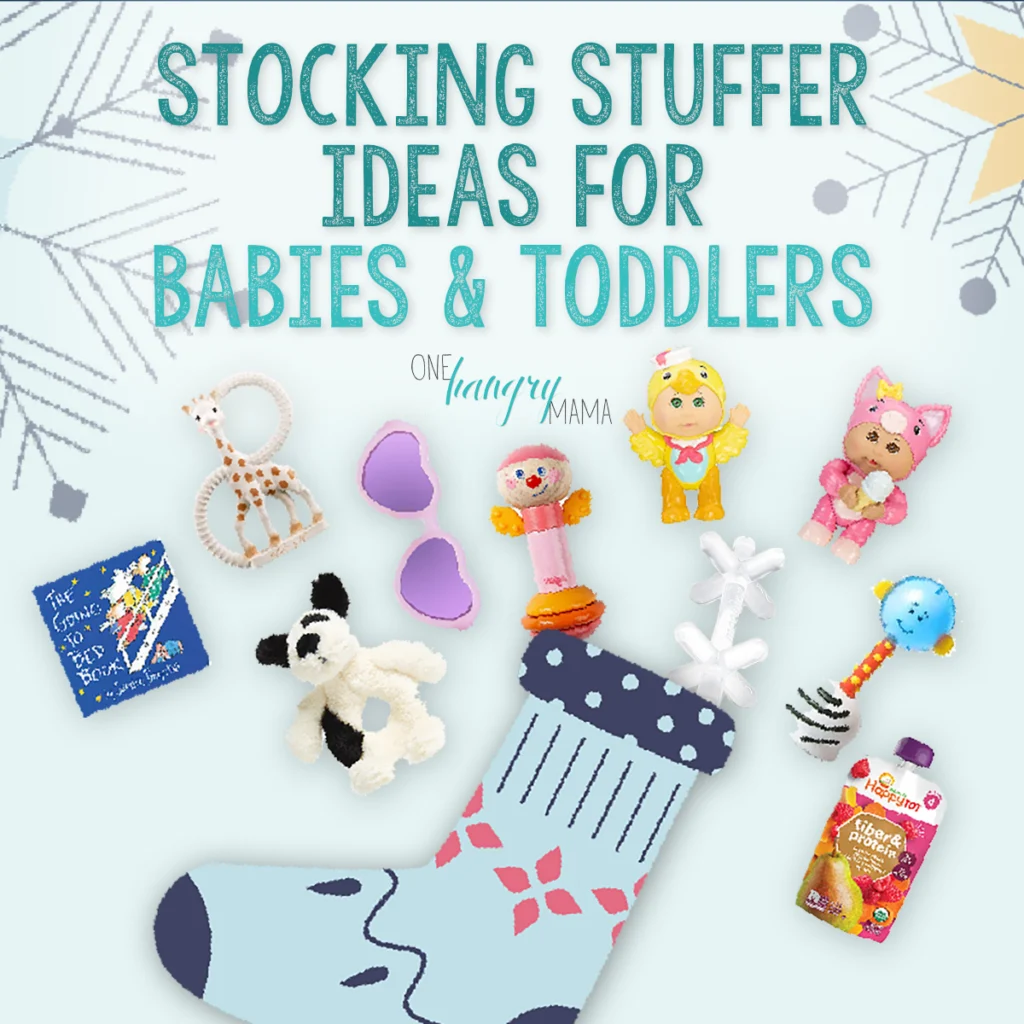 Why even buy stocking stuffers for babies?
I know, I know… you might be thinking, "why even bother filling a stocking for a baby? They don't know the difference anyways!"
And if you are, you're not wrong! If you need permission to NOT fill your baby or toddler's stocking – THIS IS IT. I promise your baby won't be sad if they don't have a bulging stocking awaiting them on Christmas morning. They'll have no idea it was ever supposed to be anything different.
But, if you have an older child who knows about the joys of stockings, and expects a whole truck load of fun to fall out of that big fireplace sock, then you do kind of have to play along for all your other kids, too.
I mean, how rude would it be for Santa to fill stockings for the big kids but not the baby? It'd be a little hard to explain.
So, I don't go overboard with my baby and toddler's stockings, but I do like to put a few fun things in there… for everyone's benefit.
What to Put in a Baby's Stocking
I'm always a big proponent of not just filling stockings with candy and junk, even for big kids – they get enough of that throughout the season as it is. I always try to choose items that are fun AND practical. Things we maybe would have had to buy anyways (think: a fun character-themed toothbrush), or things that are kind of silly, but will actually get used and played with.
The same rules apply for my baby and toddler stocking stuffer search! For my 15 month old's stocking, I'll be picking 3-4 items from this list, and calling it a day. They're all things he needs – teethers, sunglasses, rattles, books – but also that are unique and fun, as well as cost-efficient.
Everything you need for a stocking filled with baby giggles and glee, right here, at your service!
Stocking Stuffers for Babies and Toddlers
If there's one thing universal amongst babies, it's TEETHING. They all do it. They all hate it. Their parents all suffer. This silicone teether is all the rage in the mom groups these days – it soothes baby's sore gums, without harmful dyes and materials. And it's the perfect size for a stocking!
These clips are another great idea for a baby's stocking. Even if the baby doesn't take a pacifier, they work great for clipping toys to a car seat, stroller, or high chair. Plus, the silicone beads are great for chewing on.
For older babies or young toddlers, little toys and rattles are a perfect addition to a stocking. My 14-month-old loves any kind of stick or toy he can bobble around the house with, banging away on everything he passes. This clutching stick definitely fits the bill!
Bath toys are always a fun gift for babies! These little bobblers are affordable and small enough to fit inside a stocking.
Have you noticed your baby is ALWAYS after your keys, phone, and remote? I won't pretend these toy keys will replace that mission (spoiler alert: they won't), but they will likely make your baby giggle with glee that they have their very own keys too.
Confession: I'm not a big fan of the original Sophie La Girafe. I know – gasp! I had an irrational fear of Sophie's long legs getting wedged in my baby's throat and choking him or ripping his windpipe (You're welcome for now passing that fear onto you), and then all the reports of mold inside the toy came out, and it was just a big nope for me.
BUT, this Sophie Teething Ring is a different story. We've had them for each of our three kids, and they've always been a big hit! Same soft rubber as the OG Sophie, but with textured rings, no loose legs, and no holes for slobbery drool to creep inside and mold up.
If there's one toy I'd pretty much universally recommend for all babies of all ages, it's this one. My kids have all three loved this thing from day 1. It rattles, it changes colors, it has a mirror and a silly face... what more could a baby want?
And it's the perfect size for a stocking stuffer surprise!
Every one needs some cute sunnies, right – even baby! Babiators are my favorite sunglasses for babies for toddlers. They're a softer plastic, so they don't hurt their ears, and they're basically indestructible – even my psychotic kids haven't managed to break theirs!
When in doubt , get the banana toothbrush. This one is a CLASSIC go-to baby teether – I've never met a baby who didn't love it.
How cute is this little Jellycat rattle?! Every kid needs a Jellycat stuffed animal or two, and this rattle is a perfect little first Jellycat. It's an excellent addition to a baby's stocking!
We've always called this toy our "baby iPod" (does anyone even know what an iPod is anymore?! I feel old.) It's lasted through all three of my kids, and they've ALL loved it, so that's some impressive longevity!
I just came across these little guys on Amazon the other day, and I think they're just about the cutest things I've ever seen. They're the perfect size for my 14-month-old to grab and clutch onto for dear life, but not small enough for him to choke on.
These are going in his stocking this year for sure!
I know, I know, socks for Christmas... womp. But socks in the stockings are a classic tradition! Plus, it's always nice to toss in a few things they actually need, and somehow babies ALWAYS need more socks. I mean, where do the socks even go?!
Trumpette socks have always been my favorite for babies – they seem to be the only ones that actually stay on their feet!
Board books are always a can't-go-wrong gift idea for kids, so they'd be a great stocking stuffer. All of the Sandra Boynton books, like The Going to Bed Book, are fan favorites in my house, and they're the perfect size to slide into a little one's stocking.
Honestly, nothing brings a smile to ANY of my kids' faces like the sight of their favorite snack. For my baby and toddler, that's currently pouches. Stuff a few fruit & veggie pouches into their stocking and watch as they think they've struck gold when they pull it out!
Let me know what you're putting in stockings for your toddlers and babies – I'd love some new ideas!