I swear, y'all, I've been filled with Harry Potter party ideas since I was 13 years old. And finally – FINALLY – I got to put them all to good use, with a Harry Potter themed first birthday party for my last baby: The Chosen ONE!
Granted, literally no one at the party understood any of the Harry Potter references – very clever references, if I do say so myself. This party was 100% for me. But aren't all first birthdays really a celebration for the parents?
Regardless, whether your child is the Chosen ONE, or the Boy Who Turned 5, or the 7th Year Head Girl at Hogwarts… hopefully someone here will appreciate these ideas (since none of my friends and family did, ha!).
And if you need some more ideas for decorations, favors, etc., check out my list of quick & easy Harry Potter party ideas!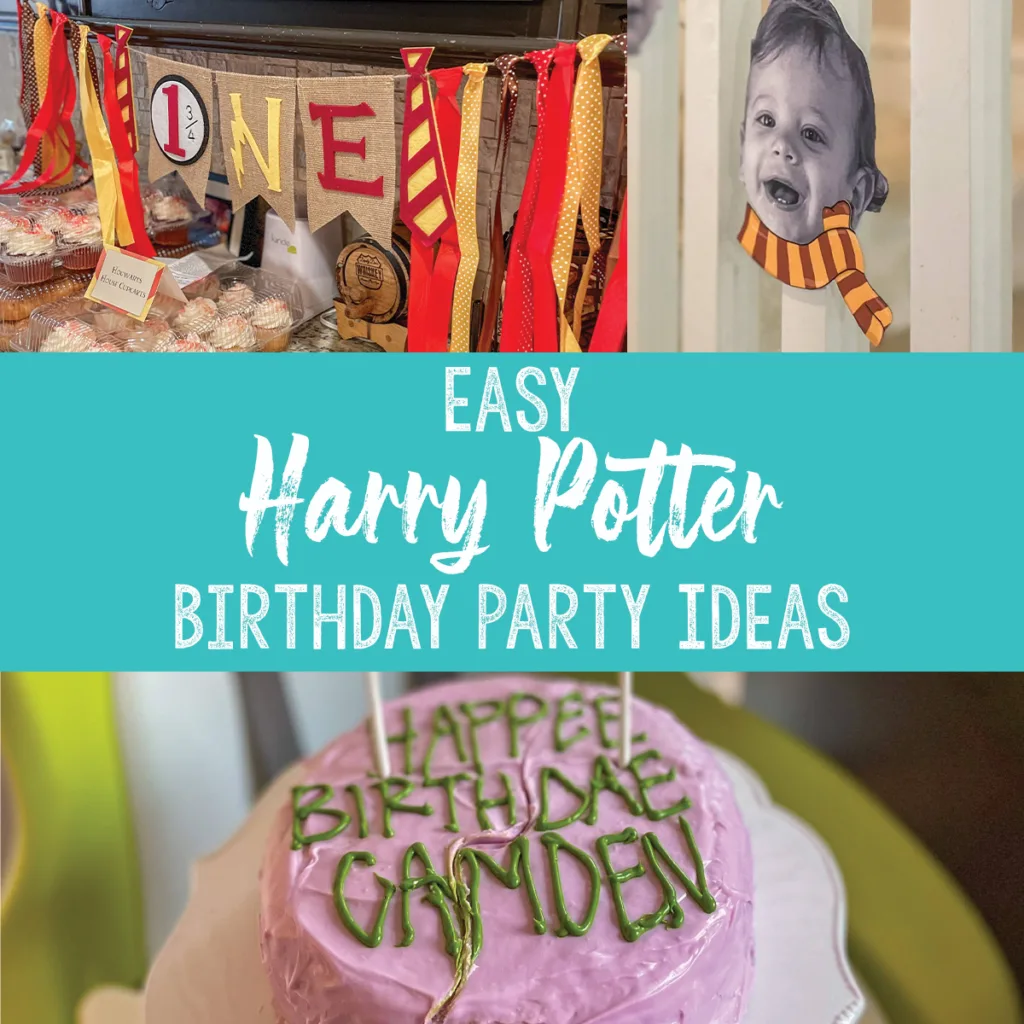 Elements for a Spellbinding Harry Potter Party
Every good potion has its core elements, right? These are the key ingredients for a Harry Potter party worthy of the Hogwarts House Cup:
Harry Potter invitation
Magical decorations
Hogwarts themed food
Harry Potter games and activities
Harry's Birthday Cake
Party favors
Consider this your ticket for the Hogwarts Express – head on over to Hogsmeade to gather all your supplies! (Rest assured I am filled to the brim with Harry Potter references, and they will not end here, so saddle up on your Nimbus 2000, we've got a long journey ahead.)
Harry Potter "The Chosen ONE" Birthday Party Invitation
When I'm planning a birthday party, it all starts with the invitation. That's where the theme idea I have rattling around in my head comes spilling out of me and starts to take shape.
Once I get that finalized, it becomes my basis for the decorations, color scheme, cake design… you name it. So it's a pretty important step in my party-planning process!
I own a party printables shop on Etsy, so I typically design my own party invitations. But I always recommend searching for your party ideas on Etsy – there is a design for every style and party theme imaginable, and purchasing a design and then having it printed at a photo center like Walmart or Costco is way, way more affordable than using a professional printer, or even a service like Shutterfly.
So, here's where it all began with our son's Harry Potter party – The Chosen One Birthday Party Invitation: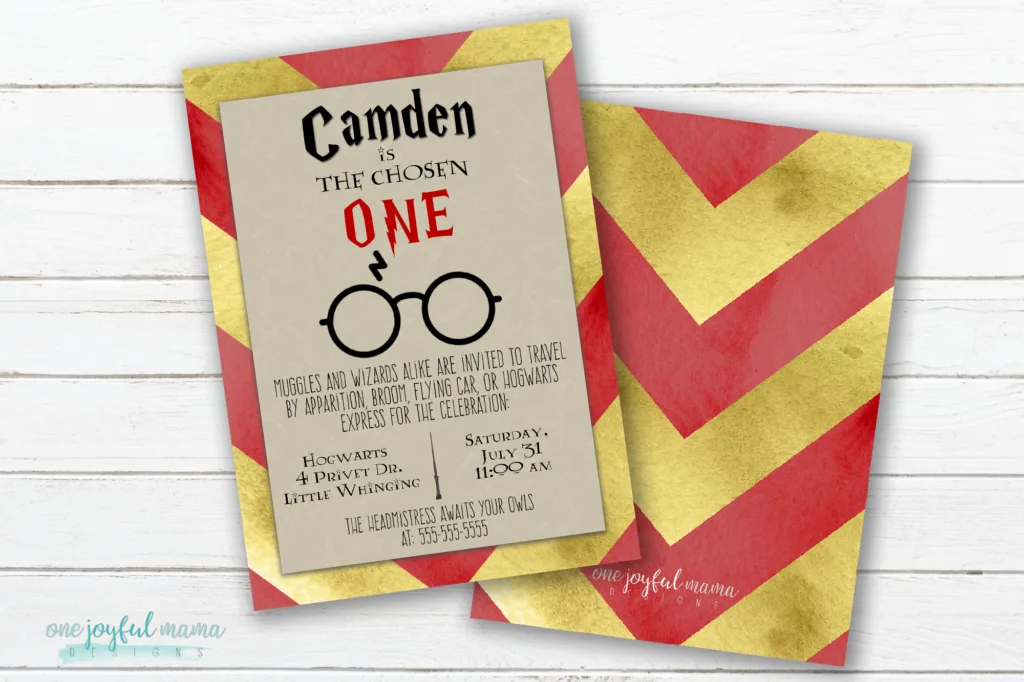 The glasses, the lightning bolt, the wand, the Harry Potter references… all the makings of a Harry Potter theme party, right there on the invite!
The text on this invitation is all completely editable, so even if your Harry Potter party is not "The Chosen One" themed, you could easily edit it to say something else. Or, just search on Etsy for a different style – there are tons of great ones available!
Magical Hogwarts Party Decorations
Once you've gotten your invitations out, it's time to really bring Hogwarts to life. Whether you're hosting your party at home or at a venue, Harry's wizarding world has endless possibilities for birthday party decor.
I'm always a big fan of DIY party decorations, whenever possible, but I'm also not the most crafty person. Not to mention, I have three kids 5 and under, and a job, and well, free time is at a premium around here. So I used a good mix of purchased decorations along with DIY party decorations I made myself.
Here are a few ideas to get you started:
Turn Your House into Hogwarts with Printable Party Signs
I made signs for all the various stations in the house, to bring the whole Wizarding World vibe home. I also sell a set of 14 Harry Potter signs and banners in my Etsy shop, so you can easily download and use them too!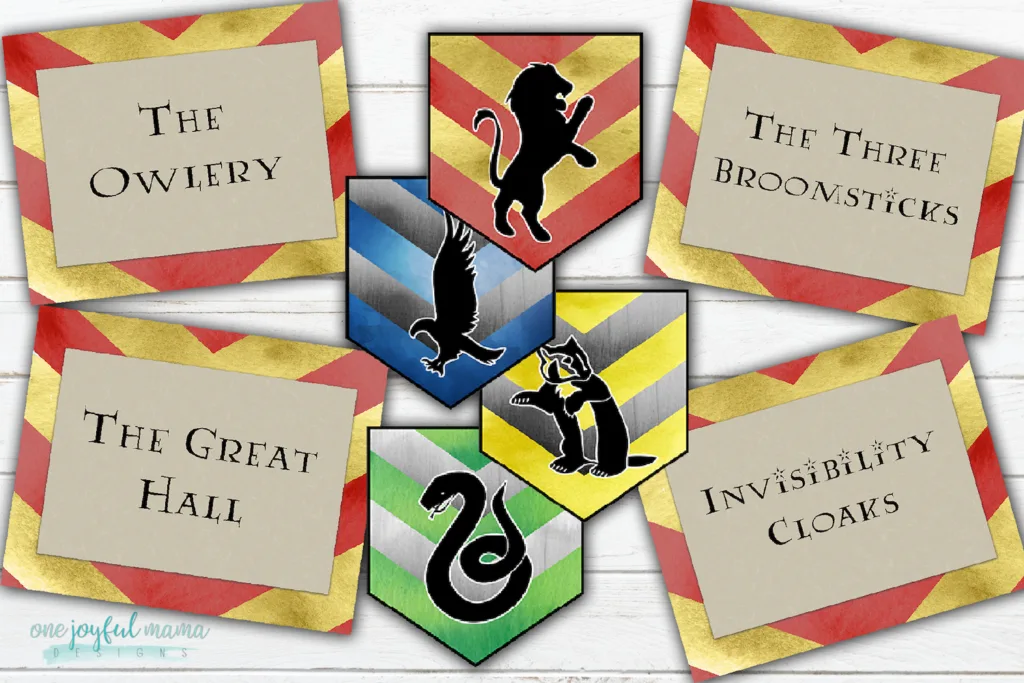 As with everything Harry Potter-related, the possibilities for how to use these references are endless, but here are a few ways:
The Great Hall: In the kitchen, by the food.
Invisibility Cloaks: Hang with an empty rack or hooks.
The Three Broomsticks: By the alcohol.
The Owlery: With stuffed owls – as party favors, or decor.
The Forbidden Forest: By the back yard, or to mark any off-limits rooms/areas of your home.
Ollivander's Wand Shop: With a wand-making activity (more on that below).
Hogwarts Express: Near the entrance / exit of the party.
Ministry of Magic: To mark the bathrooms.
The Quidditch Pitch: Set up a quidditch game (more on that below), or mark the backyard.
Make Your Own Platform 9 3/4
I bought a brick paper backdrop, similar to this one from Amazon, hung it from our front door frame, taped a 9 3/4 sign on the seam, and let the kids run through it as they arrived and left. They LOVED it!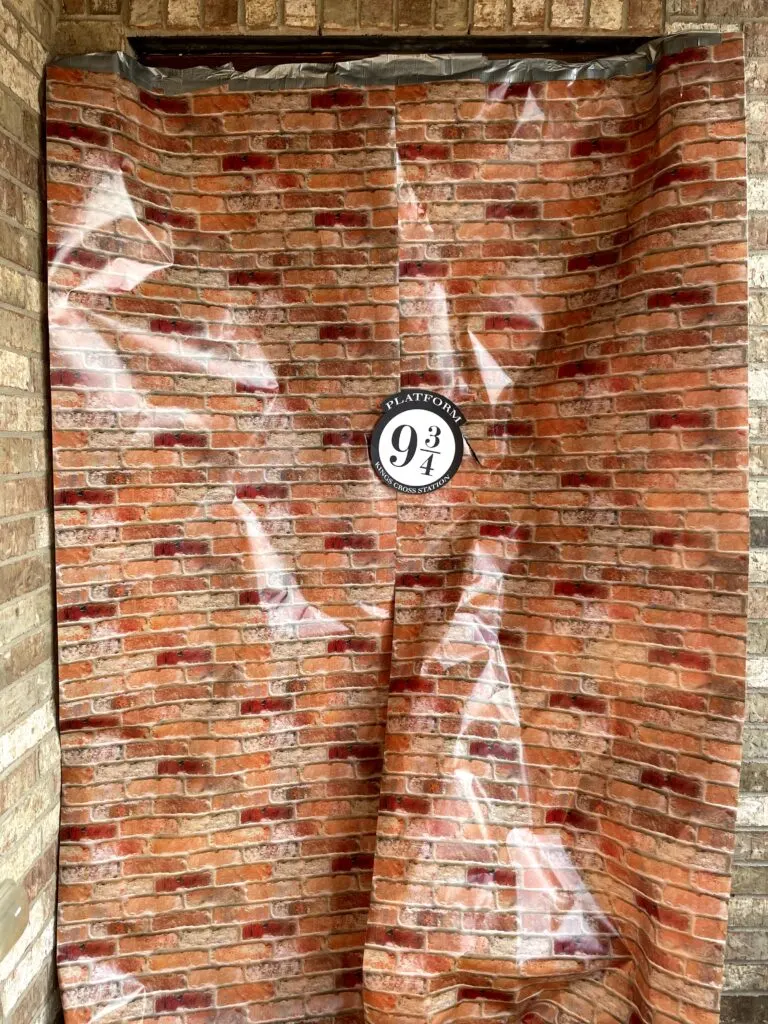 Hang Floating Candles in Your "Great Hall"
I didn't get a great photo of this at my party, unfortunately, but it was super easy to mimic the Great Hall's floating lights. I ordered these candles from Amazon, and taped them to my kitchen light fixtures using the clear fishing wire they came with. And just like that – leviosa!
Make a Gryffindor Balloon Arch
Balloon arches are such a fun addition to any party, and most people don't know that they're actually super easy to make yourself!
Just order a kit, like this Gryffindor-colored one from Amazon, blow up the balloons, and stick the ends into the included arch strip. Voila! Pro-tip: spring for the balloon pump too – it's WELL worth saving your lung capacity!
(Full-disclosure… I may have stretched myself too thin on party day and didn't actually get to finish making the arch… so ours just turned into random balloons strewn all about the house. Which, to be honest, the kids loved.)
Hang a Harry Potter-Themed Banner
Every party needs a good banner to tie it all together! This one was perfect for our Harry Potter first birthday party.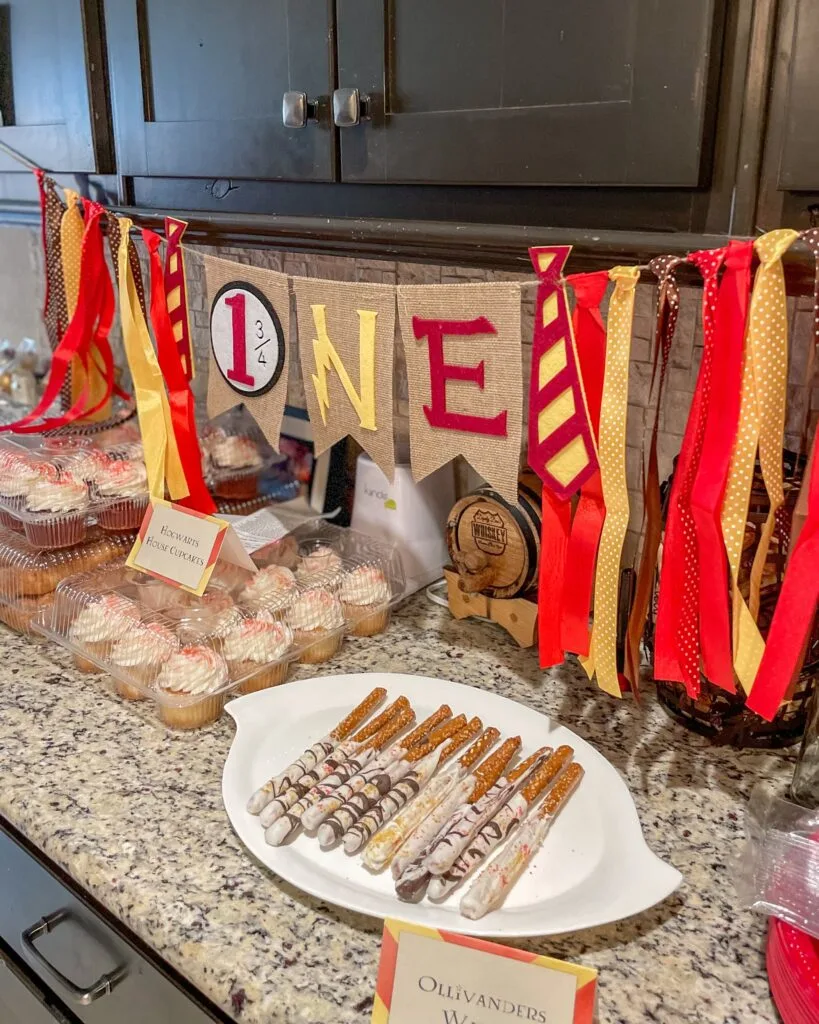 Make Harry Potter Baby Heads
Ok, maybe this decoration idea is a little weird and unique to me. For each of my kids' first birthday parties, I've made baby-heads. Tons of cut-outs of their little faces making different expressions all throughout their first year, and accessorized with party theme.
In this case, he was a little Harry Potter, of course – we added Harry's signature Gryffindor-striped scarf, and wizard hats in varying colored paper. The baby-heads are ALWAYS a big hit, and so, so easy to DIY on-the-cheap. I used my Cricut Explore Air 2, but you could cut them by hand, too, if you don't have one.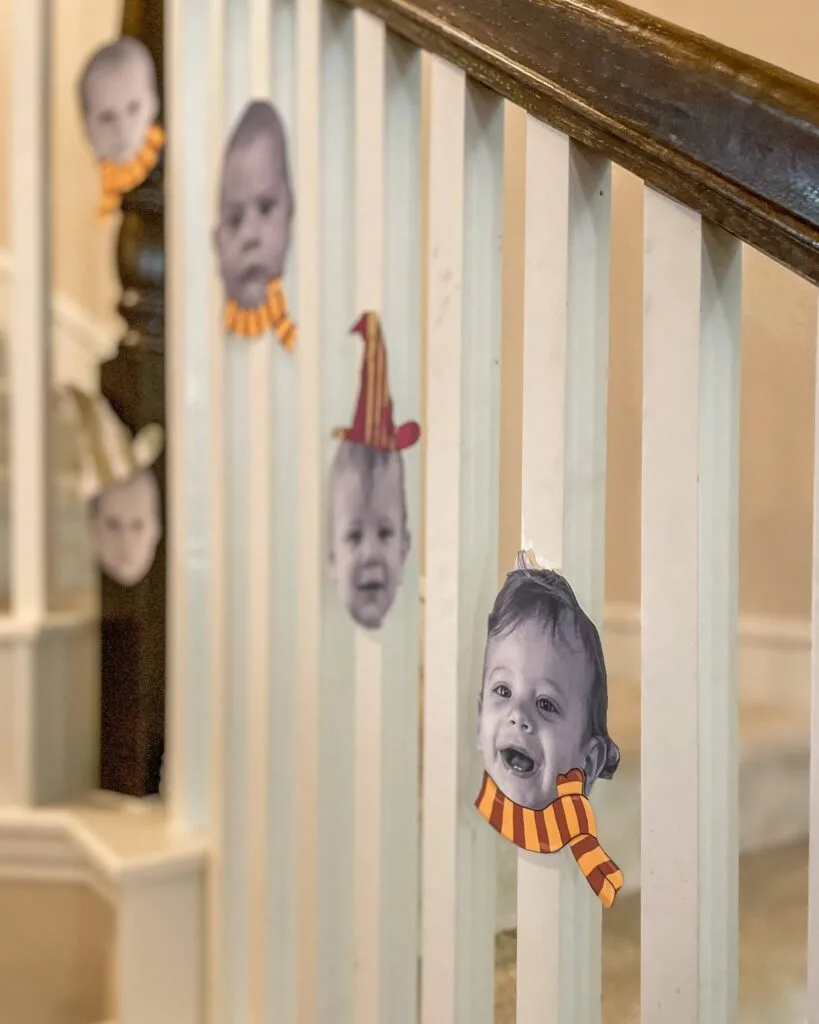 Make an Entrance to the Ministry of Magic in the Bathroom
This was one of my prouder Harry Potter references at the party, and no a single party guest understood it (sigh…). Hopefully your party guests will be less muggle-like. At least I got a chuckle out of it when I went to the bathroom!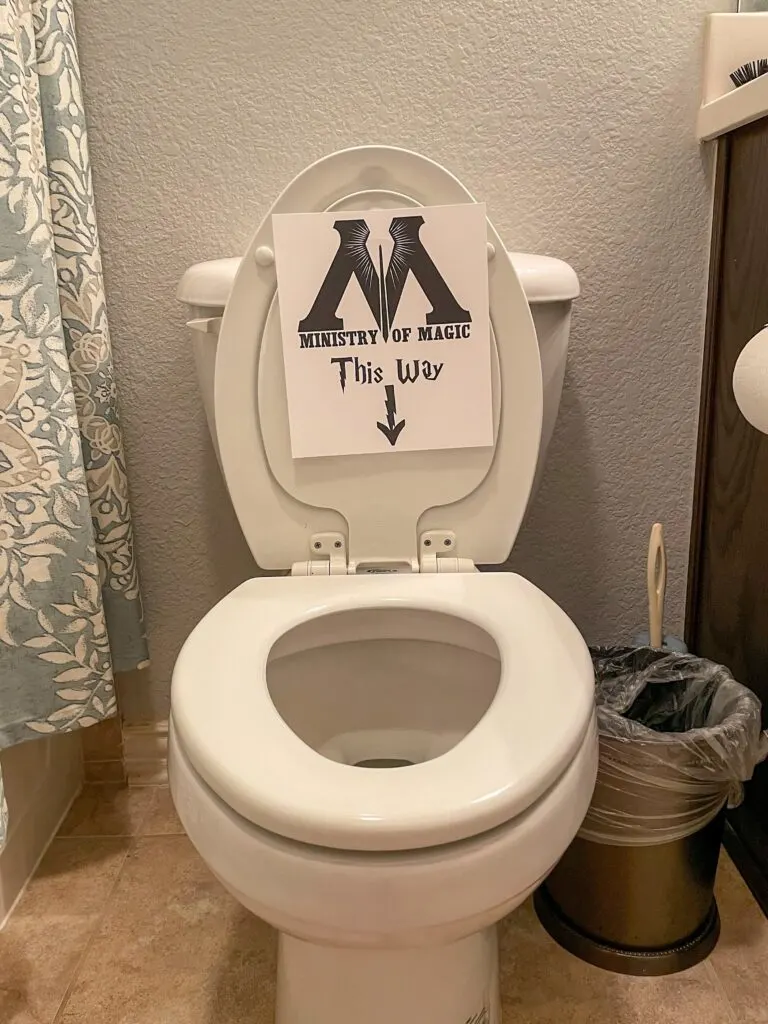 Harry Potter Themed Food and Drink Ideas
The exorbitant food was always a fun part of the Harry Potter books and movies, so naturally, it should be a fun part of your party, too!
The best part about coming up with Harry Potter party ideas is that just about anything can be Potterized. Here are some of the fun foods we served at our party:
Mrs. Weasley's Chicken Salad
Avocado Kedavra (Guacamole)
Privet Drive PBJs (cut into lightning bolts using this cookie cutter)
Forbidden Forest Fruit
Deviled Dragon Eggs
Amortentia Love Potion Pouches
Ollivander's Wands (Chocolate Dipped Pretzel Wands)
MimOsas, Not MimosAs (channeling Hermione, obviously)
Polyjuice Juice boxes
Gillywater Water Bottles
I had way too much fun coming up with some of these – my personal favorite being the Avocado Kedavra.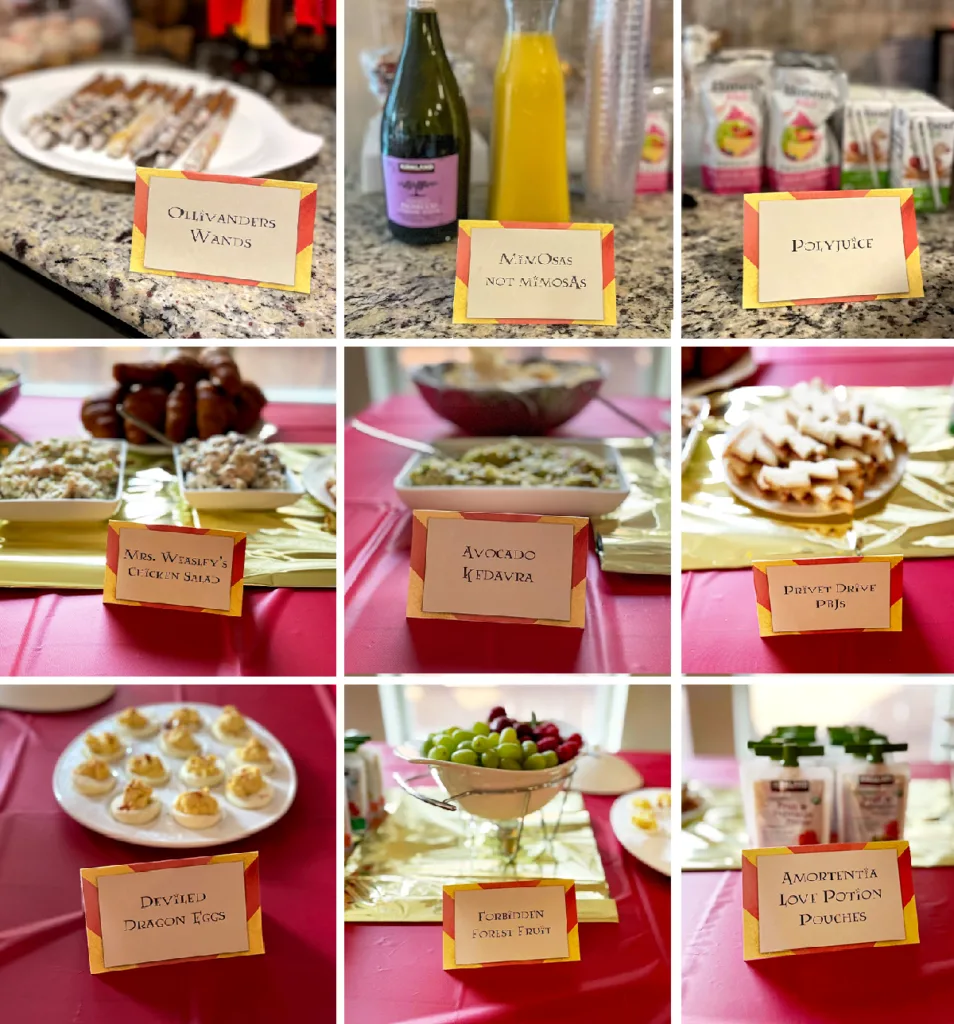 Wizard Games and Activities
Hogwarts would be nothing without a little witchcraft, wizardry and mischief! The Harry Potter series is rife with activities that even us mere muggles can have fun with.
Harry Potter Coloring Sheets
Wand-Making Station: set out chopsticks with glitter glue, paint, stickers, markers – whatever you've got!
Backyard Quidditch Tournament: attach three hula hoops to yard sticks at different heights to create Quidditch goals. Toss a few rubber balls out there and let the kids go wild!
Mirror of Erised Photo Booth: Make a big "Mirror of Erised" frame and set up a camera or smart phone in front of it for photos. Set out props for guests to create their perfect vision in the "mirror".
Triwizard Tournament Scavenger Hunt: Hide miscellaneous Harry Potter themed items around the party (a golden snitch, Hedwig, a wand, a sock for a house elf, gold coins from Gringotts, Mad-Eye Moody's fake eyeball…). Hand out a list at the beginning of the party for guests to find and check-off for a prize!
The possibilities are endless… there's SO much Hogwarts fun to be had!
The Best (and Easiest) Harry Potter Birthday Cake
These days, the cake is the centerpiece of many kids' birthday parties. They tend to be elaborate, beautiful, and extravagant.
That's all well and good (when your budget allows for it), but in this case, I think the best Harry Potter birthday cake is the DIY option.
Because the Harry Potter series happens to include a very distinct, very memorable birthday cake, early in the very first book / movie. If you recall, when Hagrid first arrives to deliver Harry's Hogwarts letter in person, he brings with him a cracked, smashed up, homemade cake, with the misspelled words, "Happee Birthdae Harry" on it.
Trust me when I tell you, anyone can imitate this cake. I have absolutely zero cake-decorating skills. Less than zero. I'm so bad at it, I've actually thrown out a cake I tried to custom make before – it was that awful.
But this one was so easy! It's supposed to be ugly – that's the beauty of it!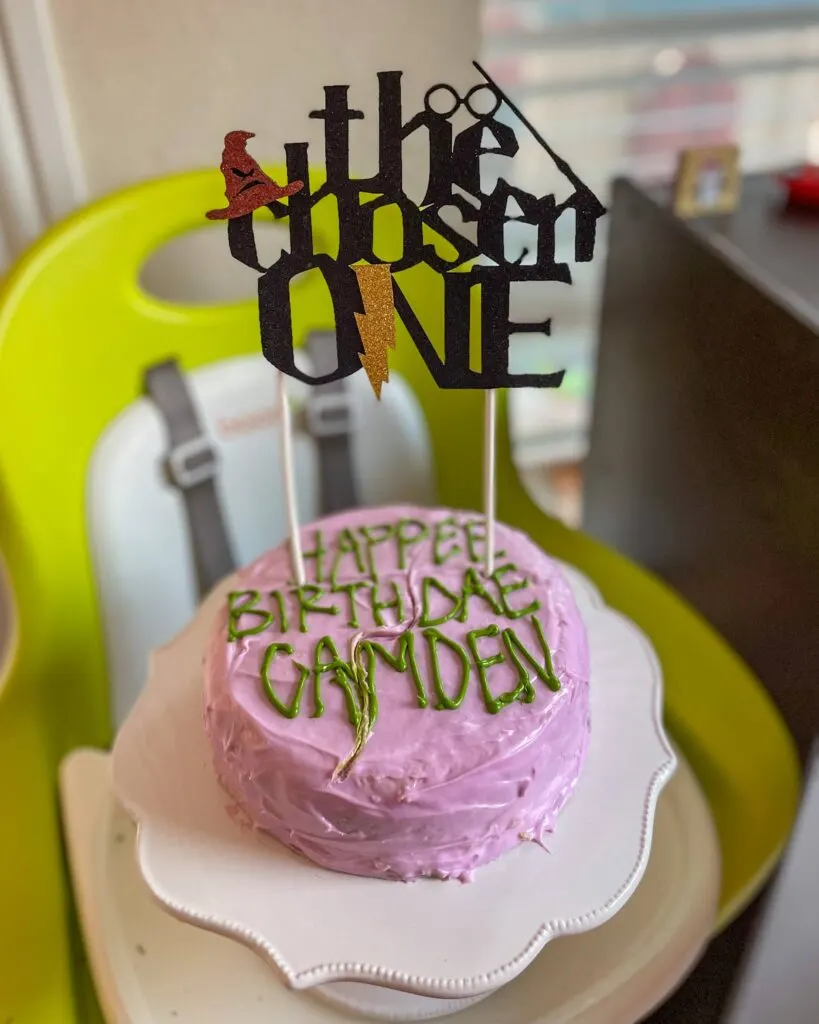 I added a "The Chosen ONE" cake topper from Amazon, and called it a day. Smash cake – done!
For the rest of the party, you can make (or order) "Sorting Hat Cupcakes": Plain white frosting on top, but in the middle, inject a dollop of colored frosting – Red, Green, Blue, or Yellow. When guests bite into their cupcake, the color inside reveals their house:
Red: Gryffindor
Green: Slytherin
Blue: Ravenclaw
Yellow: Hufflepuff
Harry Potter Birthday Party Favors
Party favors can be the best part of a birthday party, if you do them right. Sure, anyone can throw a bunch of pencils, stickers, and candy into a bag… but a special party gives out favors that the kids will actually use and play with for longer than an afternoon.
For a Harry Potter party, you could give out wands (store-bought or homemade), magic color-changing play-dough, Ferrero Rocher Golden Snitches, or – like we did – Hedwigs: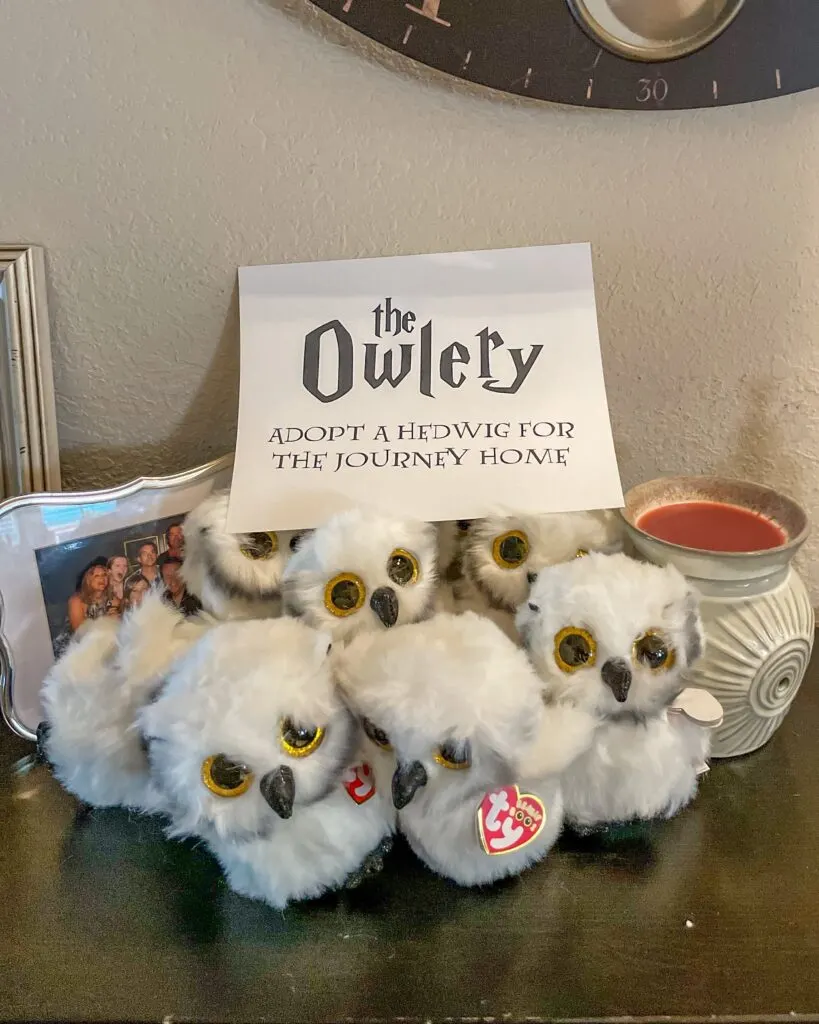 We picked up some small white owl stuffies and printed an "Owlery" sign instructing guests to adopt their own Hedwigs to protect them, like Hedwig heroically did for Harry.
The Easiest Harry Potter Birthday Party
And there ya have it! Your easy, mostly-DIYed Harry Potter birthday party is in the books. As proven by my party filled with Harry Potter newbies, even the muggliest of muggles will have a blast at this party. 🙂
Have you thrown a Harry Potter party? Let me know what fun ideas you did in the comments!
(And PS – if you're looking for gift ideas for the one-year-old to-be, look no further!)