Here's a secret about me: I never eat vegetables. Not never never, but definitely not as much as I should. And that means neither does the rest of my family, since I prepare most of their meals. But now that a tiny human is dependent on my cooking for his nutrients (NO PRESSURE), I guess I need to get in gear and level-up in adulting. Level 5: Vegetables.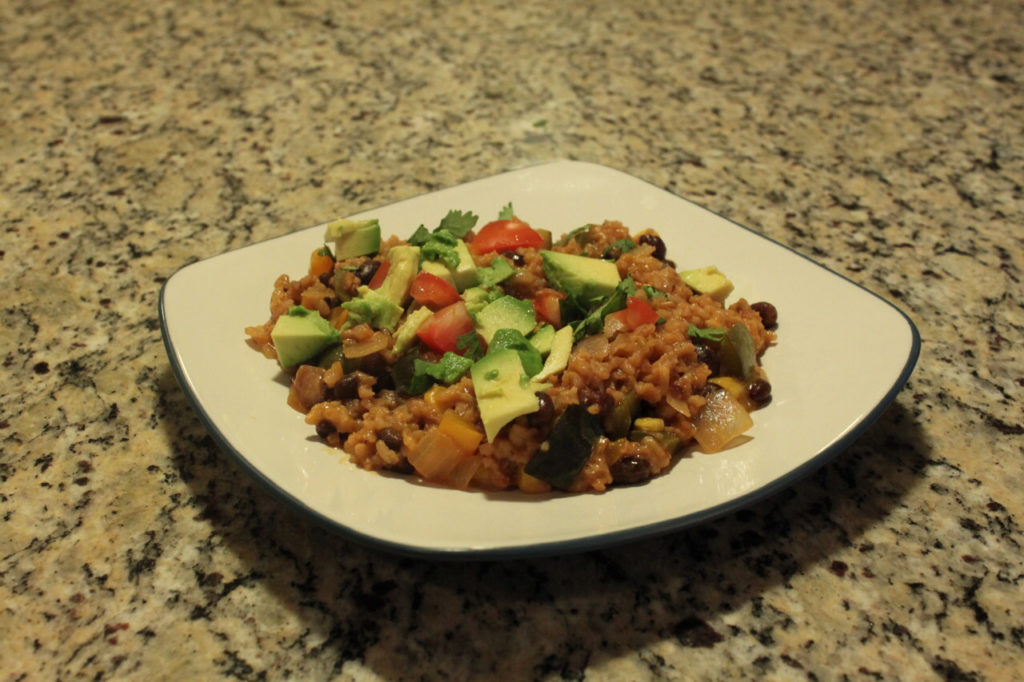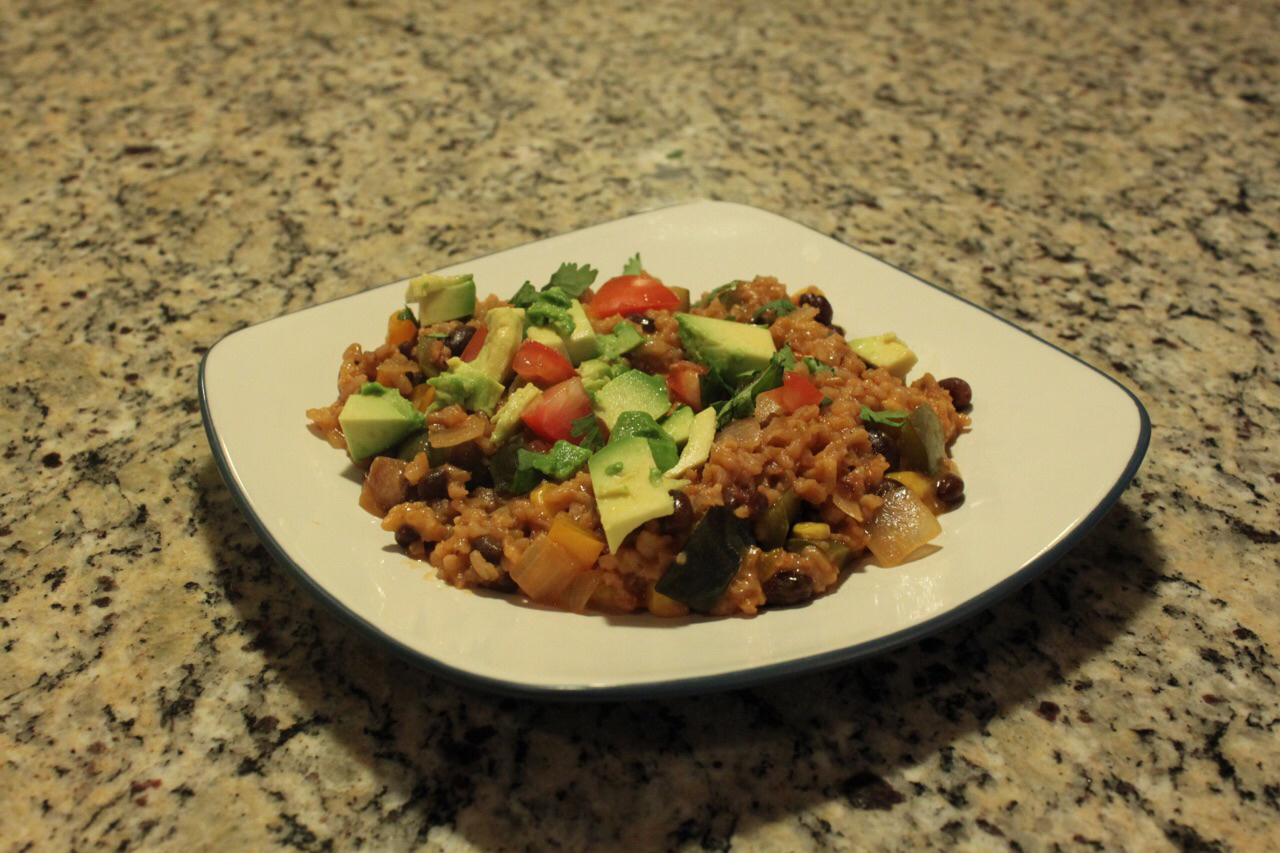 So when this recipe caught my eye on Pinterest (ya know, because it had the word "burrito" in it), I figured I should give it a try. I've tweaked it to make it a little simpler, because I don't know anyone who has time to get fancy with things like "rinsing rice in a fine mesh sieve" (um, what?), and it's since become one of our family favorites—husband even requests it sometimes, which is unheard of for something without any meat in it.
And best of all: this is a one-pan meal, AKA THE BEST KIND OF MEAL THERE IS.
Here's what you'll need. Really, you can throw in any veggies you want; these are just our favorites (my husband is rolling his eyes so hard right now at the accusation of zucchini being one of his favorite veggies, but hey if you don't want zucchini in it then HOW 'BOUT YOU MAKE DINNER).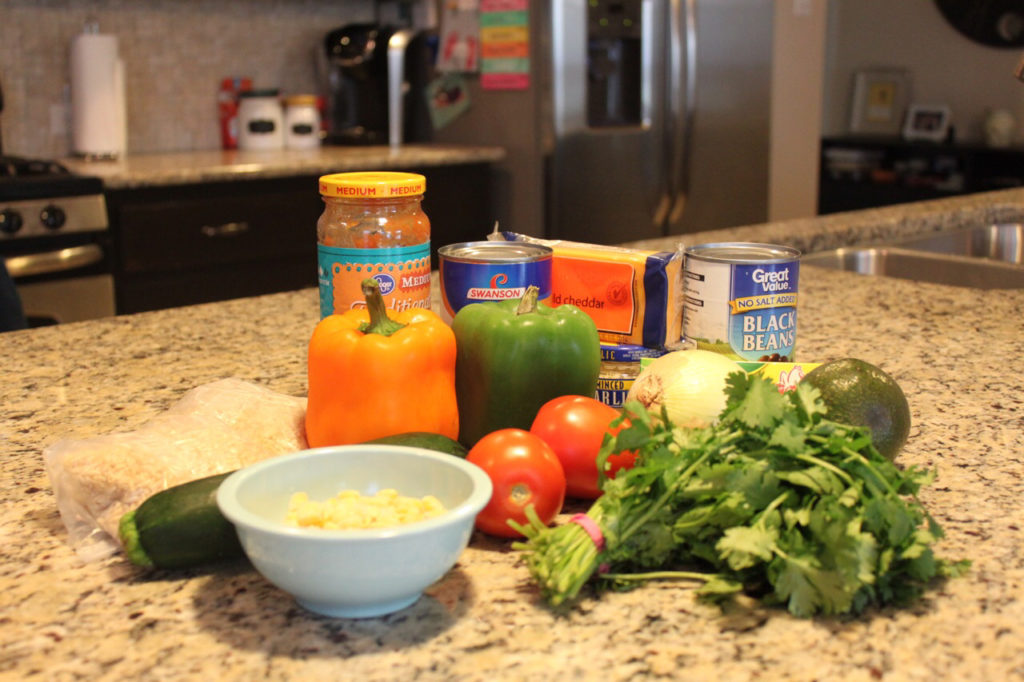 I know, you're probably looking at that little yellow box of tomato bouillon cubes hiding behind the cilantro and thinking, "that looks obscure… I'll just leave that out when I make it." Don't you dare! Those little cubes are not as hard to find as you think, and they add SO much flavor. They're worth the extra 5 minutes you'll spend looking for them. I've found them in the Mexican food section in one store, and by the regular chicken & beef bouillon cubes in another store, but they ARE in your regular grocery store (unless your store sucks, in which case I say hit up Chipotle).
Next, chop up all those colorful veggies. Get out all that pent up aggression because there's a lot of knifing involved here.
Then, heat up some oil in a pan with tall edges and a lid, and add the rice. Toast the rice in the oil for 5ish minutes, making sure to stir it occasionally so it doesn't burn. Weird, right? I thought so, too, and I don't even know what it does, but it tastes good, so just trust the process, okay?
Then, add in all those veggies, saving half the tomatoes, along with the beans, garlic, and tomato bouillon cubes. Stir it all together and saute for a couple minutes, then add the liquids—salsa, chicken broth, and water. Mix it up real good, and bring it to a boil.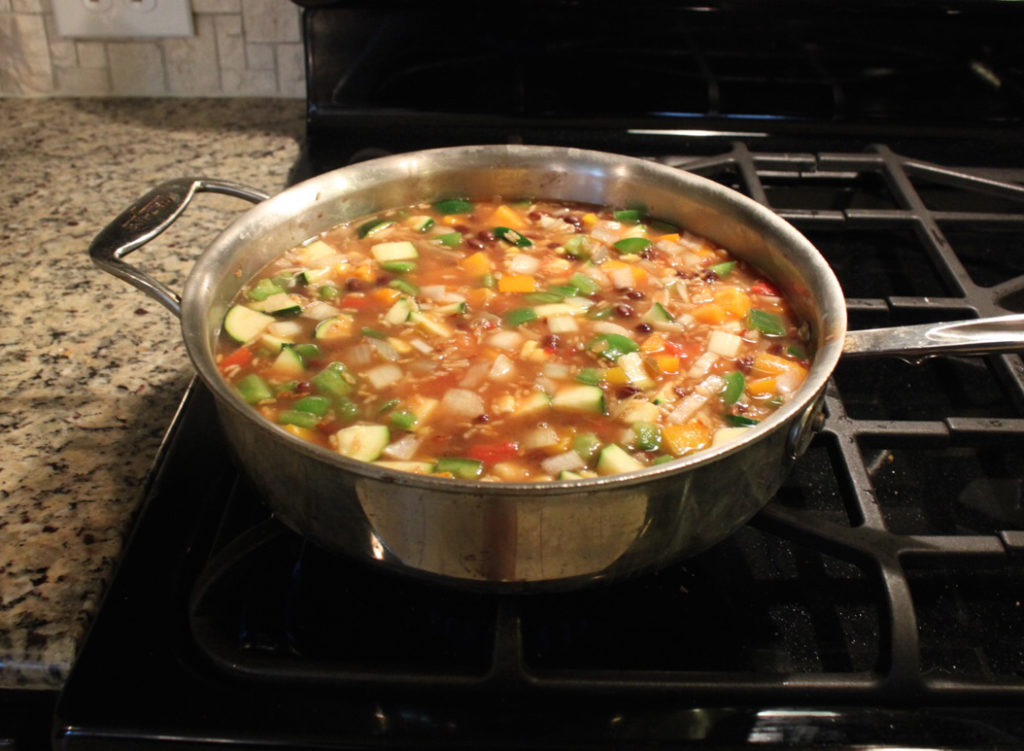 Once it's boiling, cover it, turn down the heat, and let it simmer for about 20 minutes, until the liquid is mostly absorbed and the rice is all cooked and fluffy. Stir to incorporate the remaining liquid, and mix in some shredded cheese.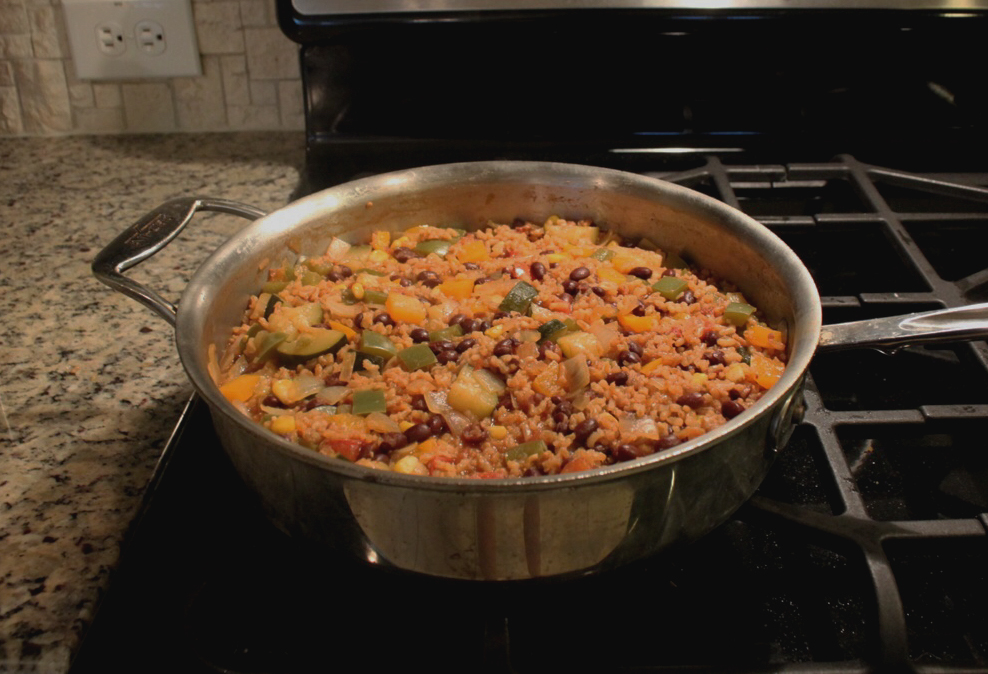 Serve it topped with cilantro, avocado, and the remaining tomatoes (…and Fritos, if you're like my husband and can't stand the idea of a healthy meal).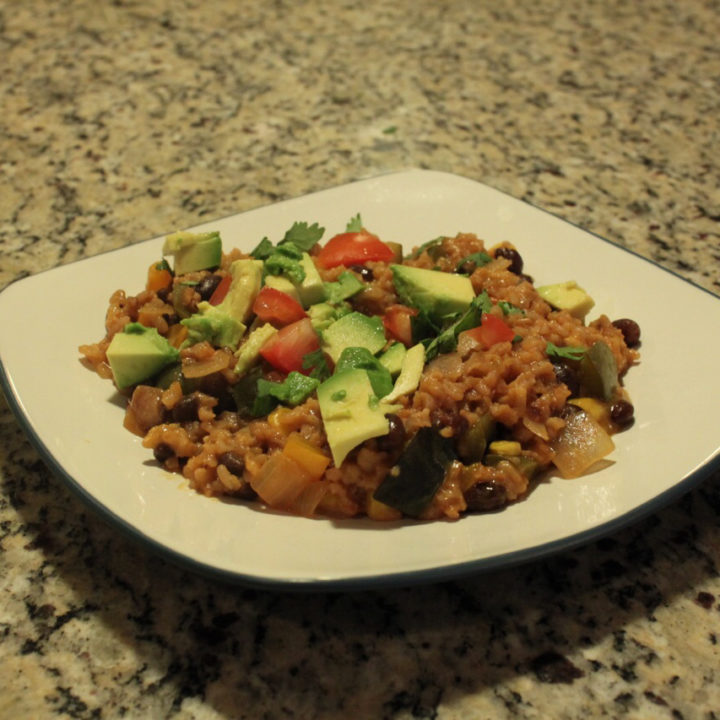 Veggie Burrito Bowl
This meatless meal will satisfy even the most meat-loving members of your family. Packed with protein and flavor, it's a crowd-pleaser AND it's healthy.
Ingredients
3 tbsp canola oil
1.5 cups brown rice
1 small onion, chopped
1 zucchini, chopped
1 green bell pepper, chopped
1 orange or red bell pepper, chopped
2 roma tomatoes, chopped, divided
1 cup corn, fresh or frozen
1 can black beans, drained and rinsed
2 cloves garlic, minced
2 cubes tomato bullion, chopped into smaller squares
1/4 cup salsa
1 (14 oz) can chicken broth
1.5 cups water
1/2 cup cheddar cheese, shredded
1 avocado
1/3 cup cilantro leaves, chopped
Instructions
Heat oil in a pan with high sides and a lid over medium-high heat. Add rice and toast, stirring occasionally, for about 5 minutes, until rice is lightly browned.
Add chopped veggies (onion, zucchini, bell peppers, corn, and 1 tomato), black beans, garlic, and bouillon cubes, and stir and saute for 2-3 minutes.
Add salsa, chicken broth, and water, and bring to a boil. Cover, reduce heat to low, and simmer for 20 minutes, until most of the liquid is absorbed and rice is cooked.
Mix in shredded cheese, and top with cilantro, avocado, and remaining tomato.
Recommended Products
As an Amazon Associate and member of other affiliate programs, I earn from qualifying purchases.