Veggie lovers (and veggie haters, actually) – rejoice! This Veggie Burrito Bowl is about to make it way easier to increase your vegetable intake.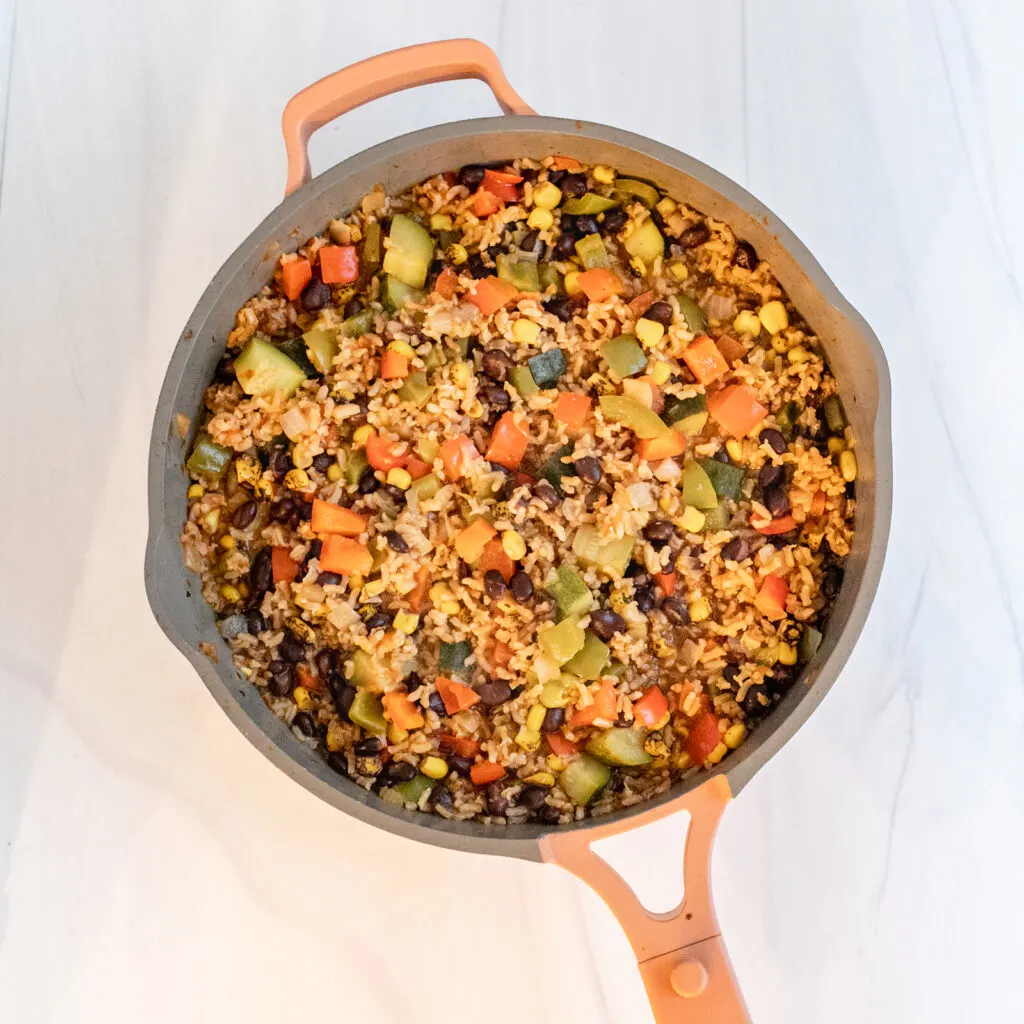 I say veggie lovers and haters, because honestly, this burrito bowl is so flavorful, even the most stingy eaters will enjoy it. And they probably won't even notice that it's – gasp! – meatless.
Seriously – my husband is about as "steak-and-potatoes" as they come. And even he loves, and requests, this meal!
How to Make a Veggie Burrito Bowl
The best thing about this meal isn't that it's healthy, or tasty, or easy to make (although it IS all of those things). The BEST thing is that it's a one-pot meal – AKA, THE BEST KIND OF MEAL THERE IS.
At this stage of my life (ya know… that "three kids under 5, constantly overwhelmed, under water, buried in children, toys, and mom-guilt" stage), simplicity is everything. And the less mess something makes, the more I love it.
So this recipe fits right into my overwhelmed mom life, especially when I make it with my new Always Pan. Nope, they're not paying me to say that (although that is an affiliate link, full disclosure), I just truly, genuinely love this pan. I've had it for about 5 months now, and it's now my go-to pan, even over my beloved All Clads!
It flawlessly cooks everything, and nothing sticks to it, so cleaning it is a total breeze – one swipe with a sponge cleans everything off it. So if you've been getting blasted with ads and posts about the Always Pan (like I was)… believe the hype, and get yourself one.
Vegetable Burrito Bowl Ingredients
Here's what you'll need. I personally think this vegetable combo is perfection – the peppers give a nice balance to the zucchini, texturally, and the tomatoes and onion add the perfect amount of flavor. That said – you can use whatever veggies you and your family like!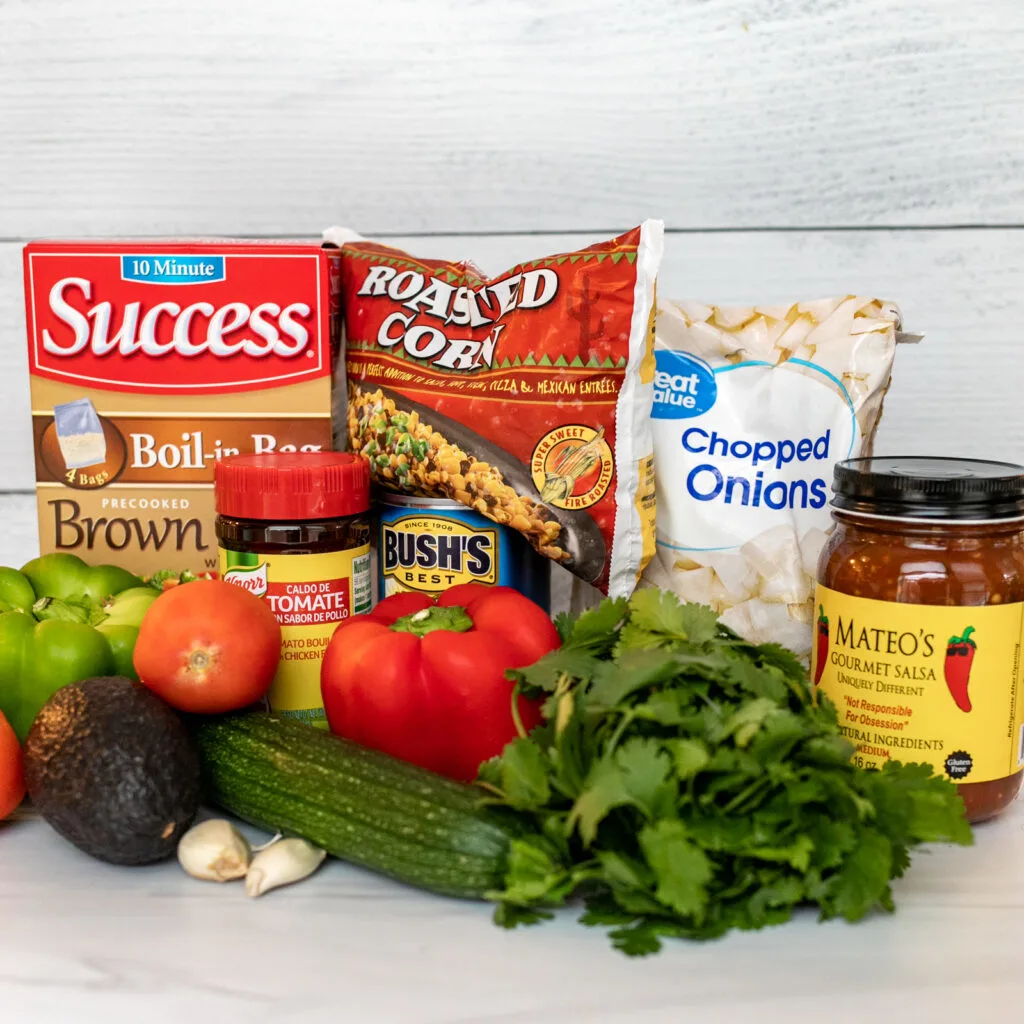 Brown Rice
Frozen Corn
Frozen Chopped Onions
Red & Green Bell Peppers
Roma Tomatoes
Zucchini
Fresh Garlic
Black Beans
Salsa
Cilantro
You can use any frozen corn, of course, but this Trader Joe's Roasted Corn is the best frozen corn to use, especially in this meal! It's one of my many Trader Joe's favorites.
Now, I know you might be looking at that little jar of "Caldo de Tomate" (aka, Tomato Boullion), and thinking, I don't have that in my pantry… I'll just leave it out, or replace it with chicken broth.
Don't. You. Dare.
Even though you may have never noticed them before, I promise you can find it in your regular grocery store. I've found it in the Mexican food section in one store, and by the regular chicken & beef bouillon cubes in another store, but they ARE in your regular grocery store (unless your store is terrible, in which case I say hit up Chipotle). But it adds so much flavor to the dish, that you just have to include it!
Also, don't brush off your salsa choice. Make sure it's one you and your family like, because it's going to soak into the rice as it cooks, and set the undertones of the veggie bowl flavor.
You know what you can leave out? Cheese. An earlier version I had of this recipe included 1 cup of shredded cheddar cheese, but since I'm currently dairy-free while breastfeeding my dairy-intolerant baby, I've been leaving it out. And ya know what? I don't even miss it. (And I don't think my husband or kids even noticed it wasn't in there.)
So, if you're a cheese lover, then feel free to mix in some cheese at the end, but if you're trying to cut back on dairy, then don't bother – this burrito bowl really doesn't need it!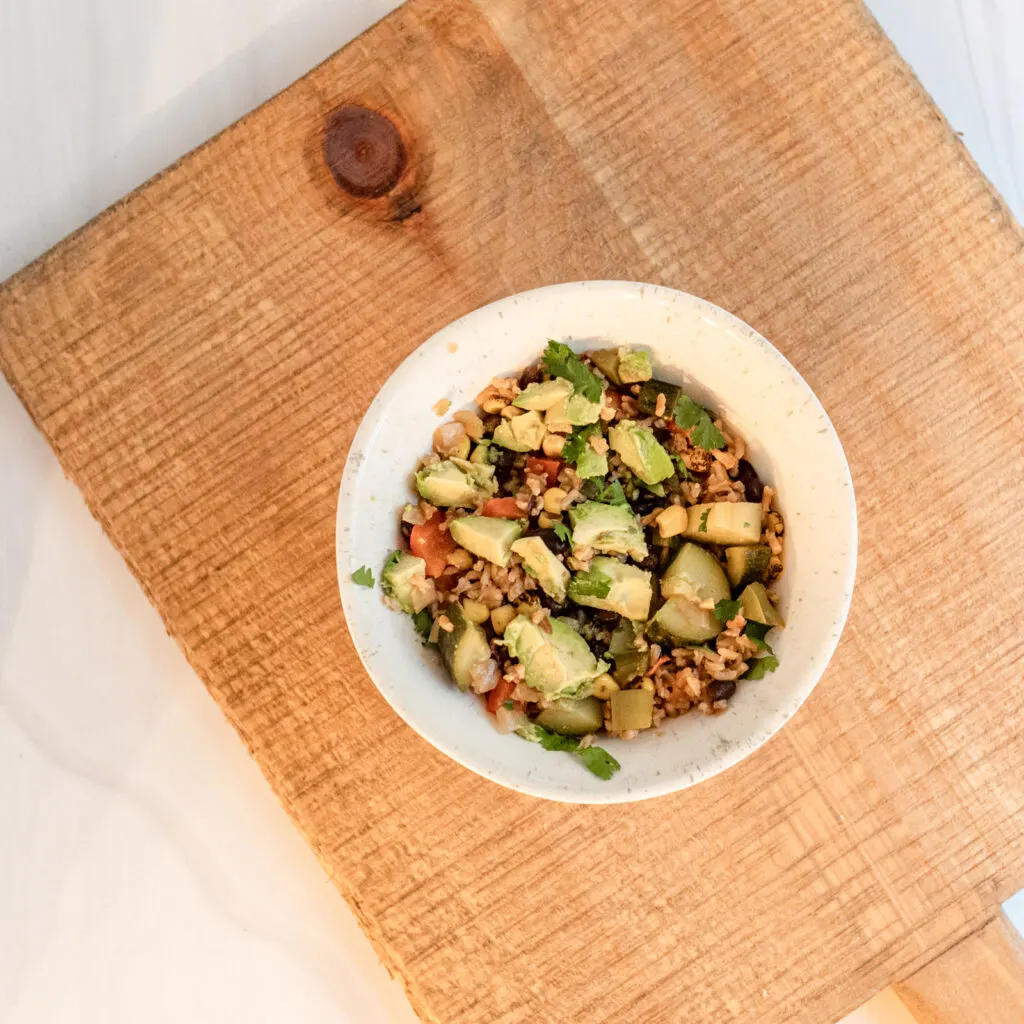 Veggie Burrito Bowl Recipe Steps
First, chop up all those colorful veggies. Get out all that pent up aggression because there's a lot of knifing involved here.
Then, heat up some oil in a pan with tall edges and a lid, and add the rice. Toast the rice in the oil for 5ish minutes, making sure to stir it occasionally so it doesn't burn. (Weird, right? I thought so at first, too, but it tastes good, so just trust the process, okay?)
Then, add in all your chopped veggies, saving half the tomatoes, along with the beans, garlic, and tomato bouillon powder. Stir it all together and saute for a couple minutes, then add the liquids – salsa, chicken broth, and water. Mix it up real good, and bring it to a boil.
Once it's boiling, cover it, turn down the heat, and let it simmer for about 20 minutes, until the liquid is mostly absorbed and the rice is all cooked and fluffy. Stir to incorporate the remaining liquid.
Serve it topped with cilantro, avocado, and the remaining tomatoes.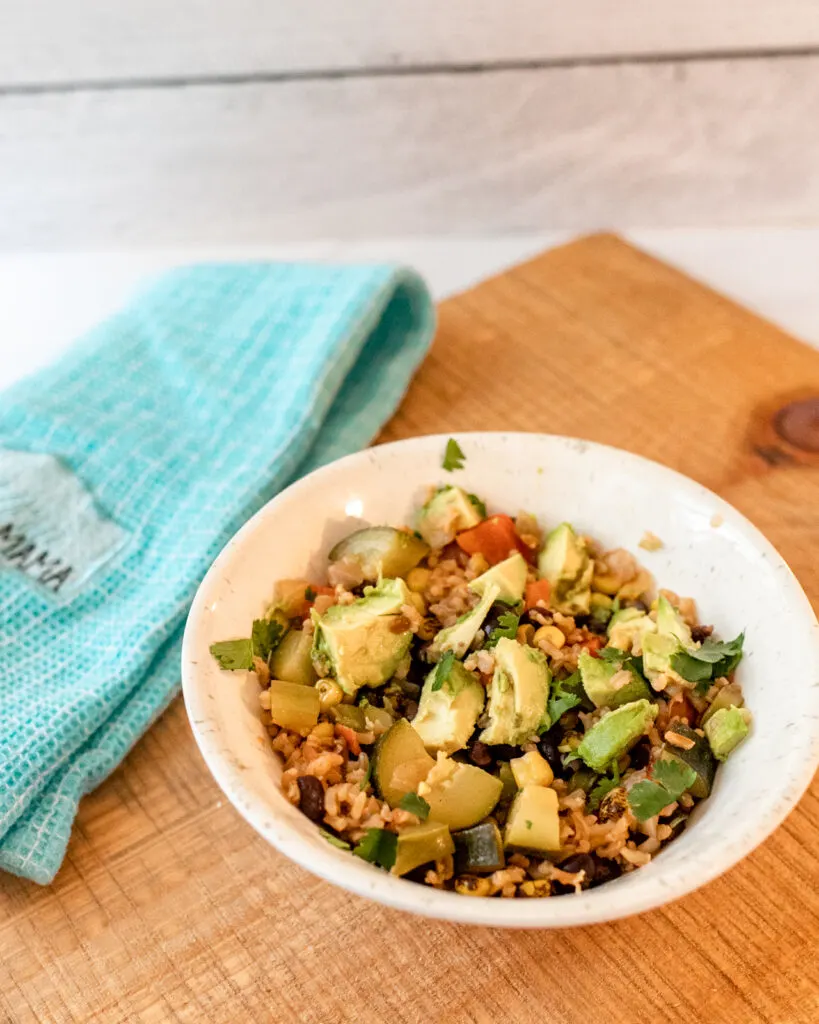 Check out the full recipe below, and let me know in the comments if you try it! I'd love to hear about your family's variations!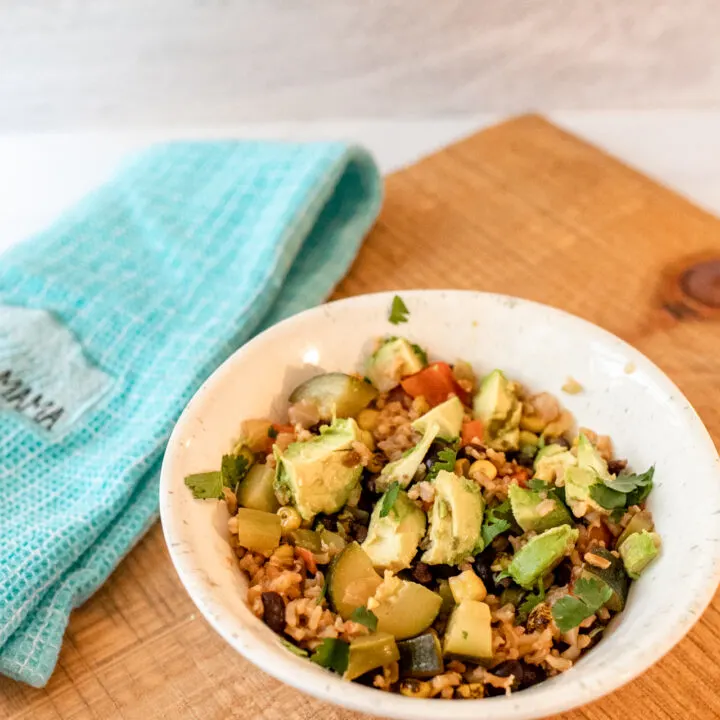 Veggie Burrito Bowl
This meatless Veggie Burrito Bowl will satisfy even the most meat-loving members of your family. Packed with protein and flavor, it's a crowd-pleaser AND it's healthy.
Ingredients
3 tbsp canola oil
1.5 cups brown rice
1 cup frozen chopped onion
1 zucchini, chopped
1 green bell pepper, chopped
1 orange or red bell pepper, chopped
2 roma tomatoes, chopped, divided
1 cup corn, fresh or frozen
1 can black beans, drained and rinsed
2 cloves garlic, minced
2 teaspoons tomato bullion
1/4 cup salsa
1 (14 oz) can chicken broth
1.5 cups water
1 avocado
1/3 cup cilantro leaves, chopped
Instructions
Heat oil in a pan with high sides and a lid over medium-high heat. Add rice and toast, stirring occasionally, for about 5 minutes, until rice is lightly browned.
Add chopped veggies (onion, zucchini, bell peppers, corn, and 1 tomato), black beans, garlic, and bouillon powder, and stir and saute for 2-3 minutes.
Add salsa, chicken broth, and water, and bring to a boil. Cover, reduce heat to low, and simmer for 20 minutes, until most of the liquid is absorbed and rice is cooked.
Stir and serve topped with cilantro, avocado, and remaining tomato.
Notes
To make fully vegetarian or vegan, replace chicken broth with vegetable broth.
If desired, stir in 1 cup of shredded cheddar cheese after removing from heat.
Recommended Products
As an Amazon Associate and member of other affiliate programs, I earn from qualifying purchases.
Nutrition Information:
Yield:

4
Serving Size:

1
Amount Per Serving:
Calories:

468
Total Fat:

20g
Saturated Fat:

2g
Trans Fat:

0g
Unsaturated Fat:

17g
Cholesterol:

1mg
Sodium:

605mg
Carbohydrates:

65g
Fiber:

15g
Sugar:

13g
Protein:

14g