Picking out gifts for young toddlers can be challenging – it's hard to know what's really age-appropriate, and they're all so different in terms of development. But this post has, without a doubt, the best toys for 18-month-olds – as approved by my own three kids (and ME)!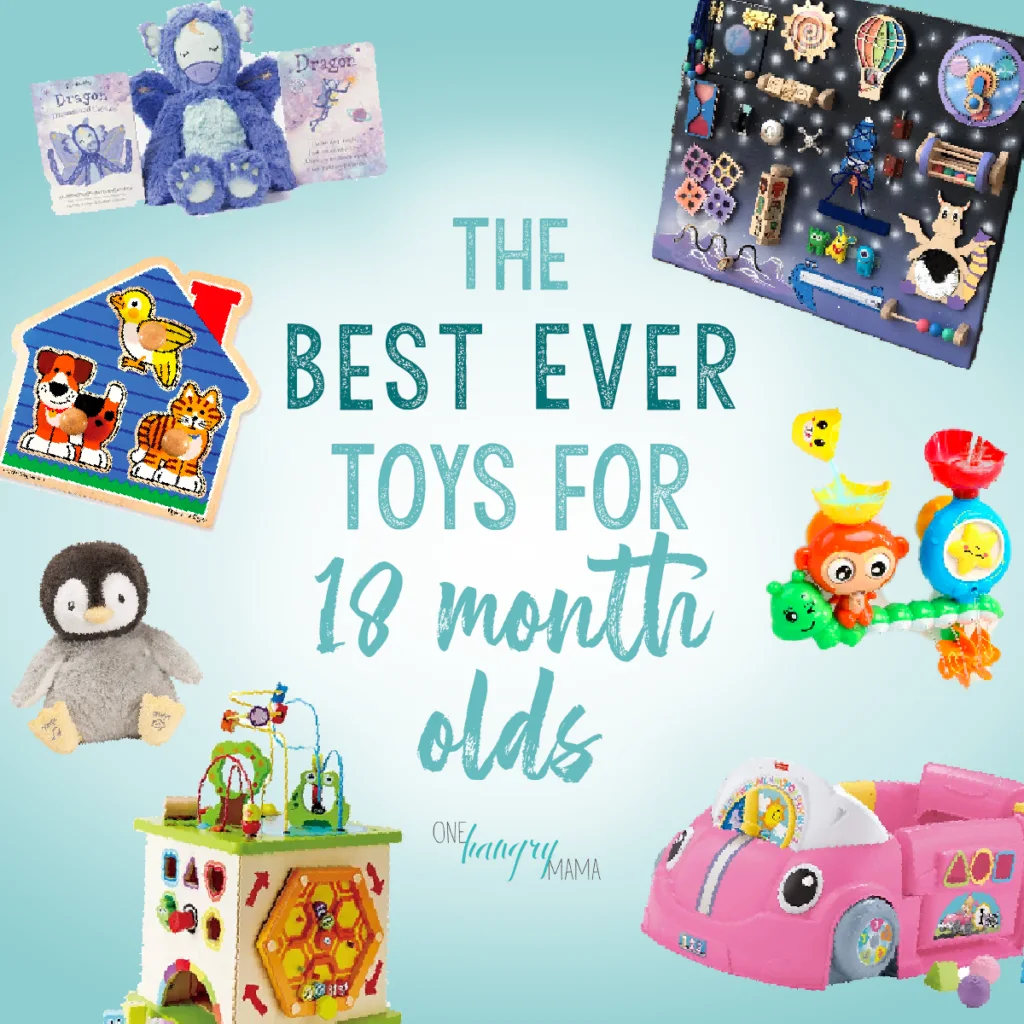 The Key to Finding the Best Toys for 18-Month-Olds
The holidays are right around the corner, and one-year-olds can be some of the hardest family members to buy gifts for. But they're also some of the most fun to buy gifts for! When you hit the jackpot and find the toy that really captures their attention and interest, and that they truly love to use over and over again, it's so rewarding!
And, even better, if you can find a gift that their parents also love – then you've really struck gold.
The trick with shopping for a one and a half year old is that sometimes the really expensive, over-the-top toy really is their favorite thing ever – but sometimes the box it was shipped in becomes their favorite thing ever, and the toy sits in a corner building dust.
In my experience with choosing toys for 18-month-olds – and I've had a lot of it at this point, with three kids of my own, plus nieces & nephews – the key is to not try too hard. Oftentimes, the items they love the most are the simplest!
The best toys for 18-month-olds aren't always the flashy, loud, or fancy ones. Usually, they're the classics – wooden busy boards, books, stuffed animals. Those are the ones with staying power, which in my house, is always priority number 1.
With an almost-6-year-old, a 3-year-old, and a 1-year-old, our house is overflowing with toys. So when I come across a toy that captures the attention of all three of my littles, I make note of it – and share it with all of you, of course!
Best Toys for 18-Month-Olds
As an Amazon and RewardStyle affiliate program member, I earn a small amount from each purchase made, at no additional cost to you.
What were your favorite toys for your 18-month-old babies? Let me know what I've missed in the comments!
More Gift Ideas for Kids and Moms:
Pin it for later!