*November 2021 update: I now have a NEW version of this gift guide available! Check out the best toys for 18 month olds gift guide here for updated ideas and links to toys that ALL THREE of my kids have loved!
We still recommend all the items in this guide, too, but the new list has more current (and more likely in stock) ideas. Happy gifting!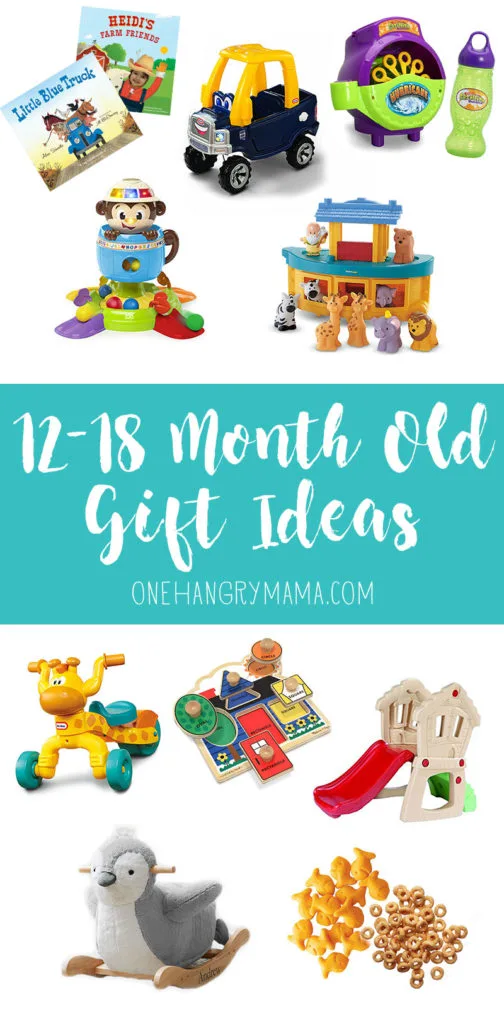 Getting gifts for babies has always been a challenge for me. They don't really have interests yet like older kids, and it's hard to know what toys are developmentally right for what age, unless you're living and breathing it.
That's why I created my Gift Guide for Babies last year, and I got a great response to it. So, I thought I'd create more of them as my son continues to grow into new toys. Some of the toys on that list are still big favorites in our house, so make sure to visit that one too, if you haven't already.
So with that, here are his current favorites: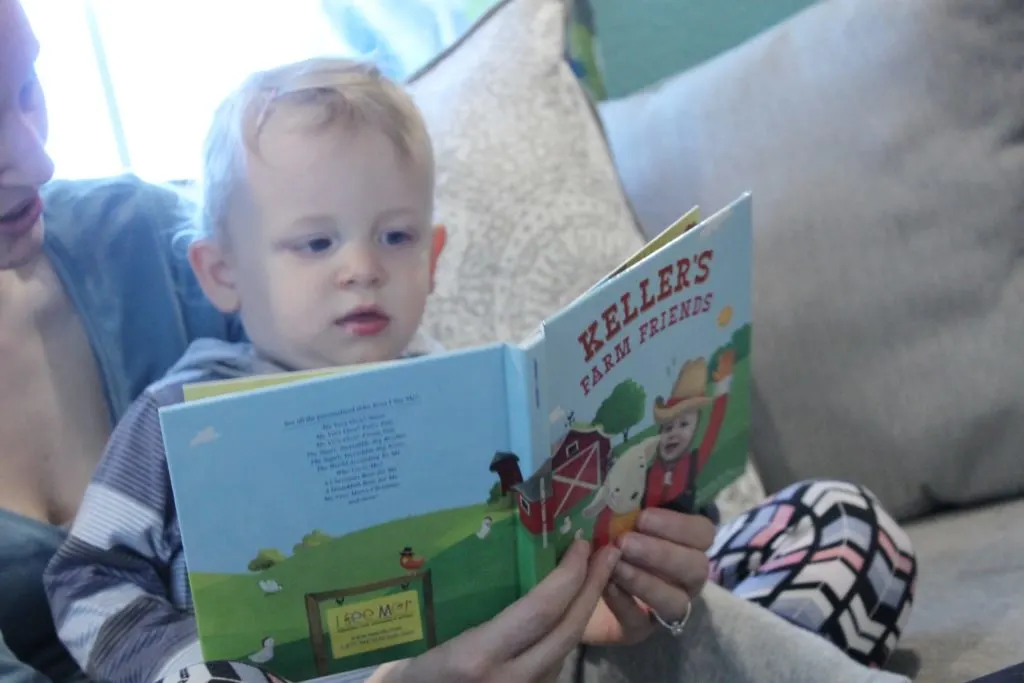 1. Books
This is the first suggestion for a reason: My 17 month old is currently obsessed with books. We have at least 50 board books in our house, and yet, somehow, it's not enough. His favorites are "Little Blue Truck" (I can literally recite this entire book beginning to end, because we read it 45 times a day. Thankfully, it's an adorable book, so it doesn't drive me too crazy.), "We're Going on a Bear Hunt," and any lift-the-flap book (or more accurately, rip-the-flap).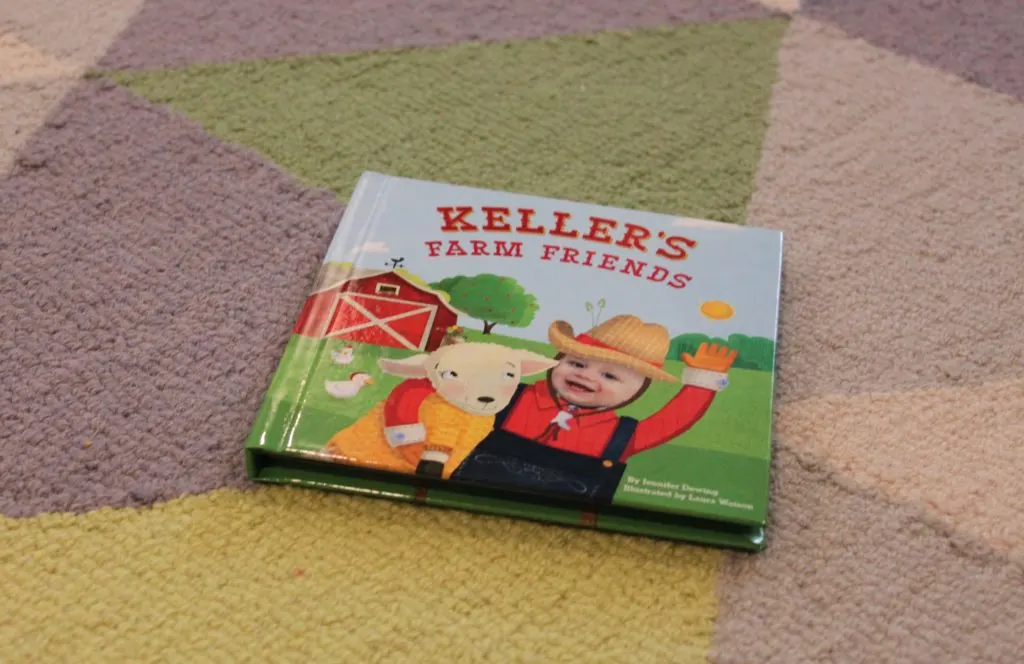 His newest book is this personalized "Keller's Farm Friends" book that I See Me was kind enough to send to us. My son loves to make animal noises, but he loves looking at pictures of himself even more. This book combines both! He's been having so much fun pointing to the "bay-bee" on each page. We've already read it 427 times in the past week, so I think it's a hit.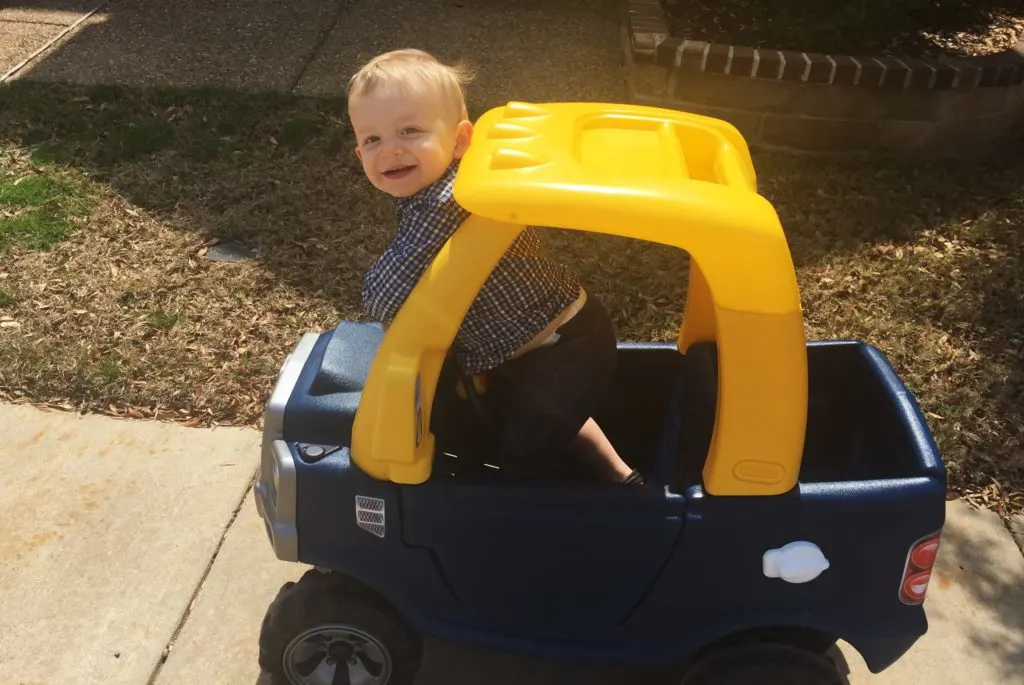 My baby got this as a first birthday gift and loved it right off the bat, but now that he's a little bigger, he's really growing into it. We keep it in the garage, and literally every time we go out to the car, I have to pry him away from his truck. We just took the bottom out (because he was using it as a launch pad to jump out the windshield… ya know, as one does), so he's learning now how "drive" it himself.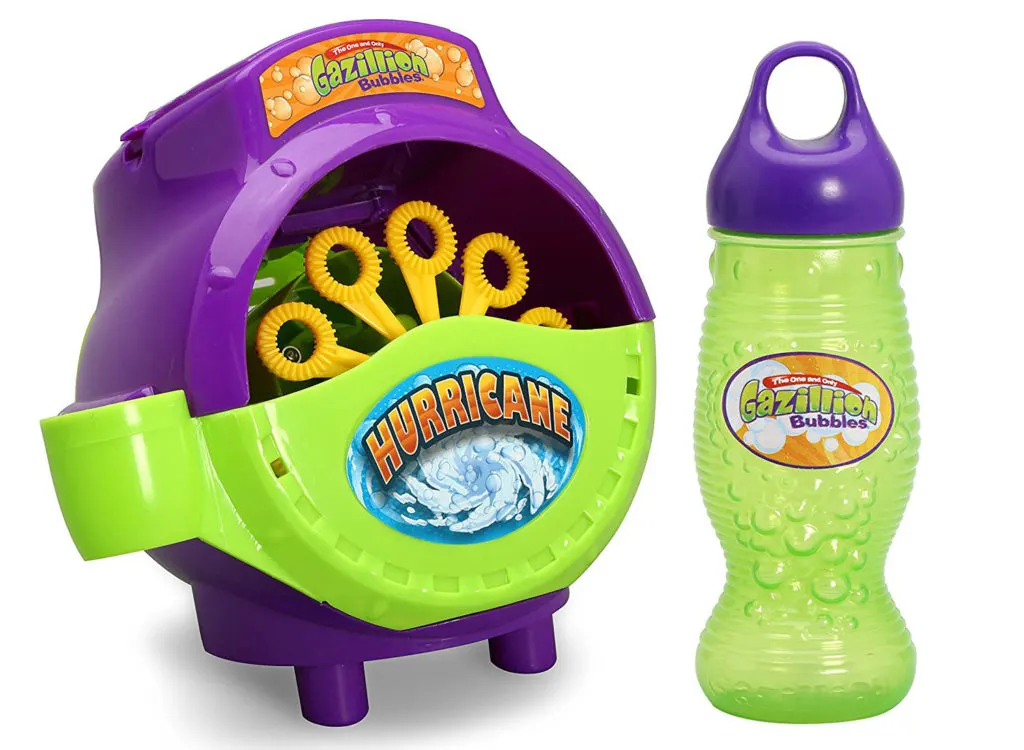 I'm pretty sure "buh-bos" is going to be the last word I ever hear. If not out of sheer probability (because he begs for them all day, every day), then because he straight up murdered me for not obliging his request for "BUH-BOS NOW" quickly enough.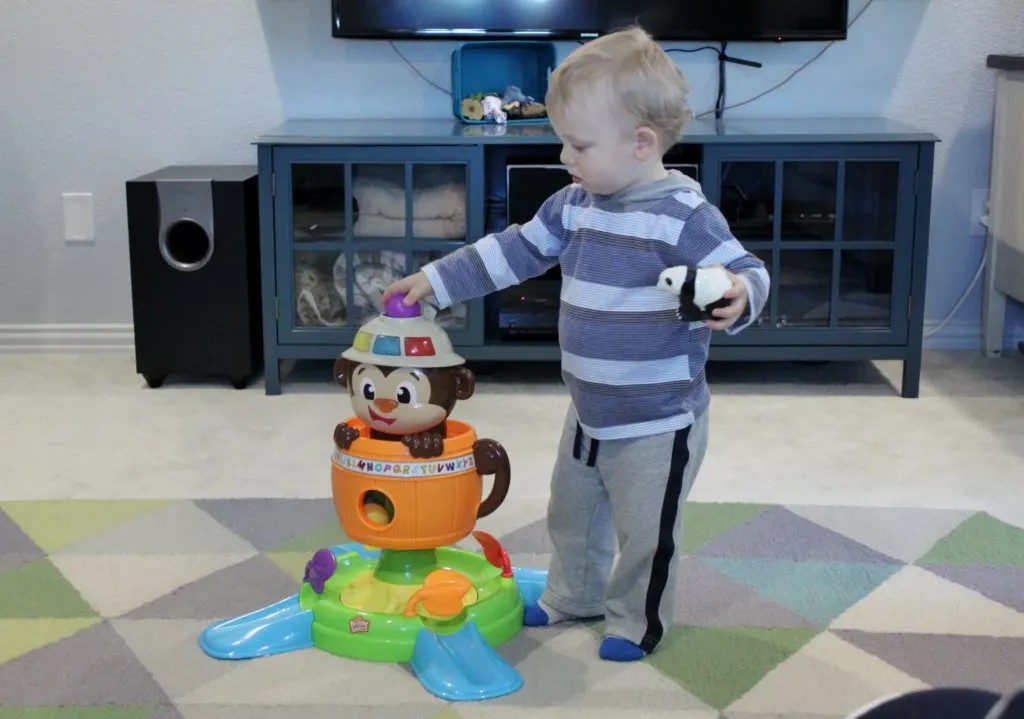 At some point around 12-15 months, babies hit a milestone where they A) master enough hand-eye coordination to line up balls with holes, and B) love to put stuff away. This is a great time to trick your kid into thinking cleaning is fun. This toy is perfect for it.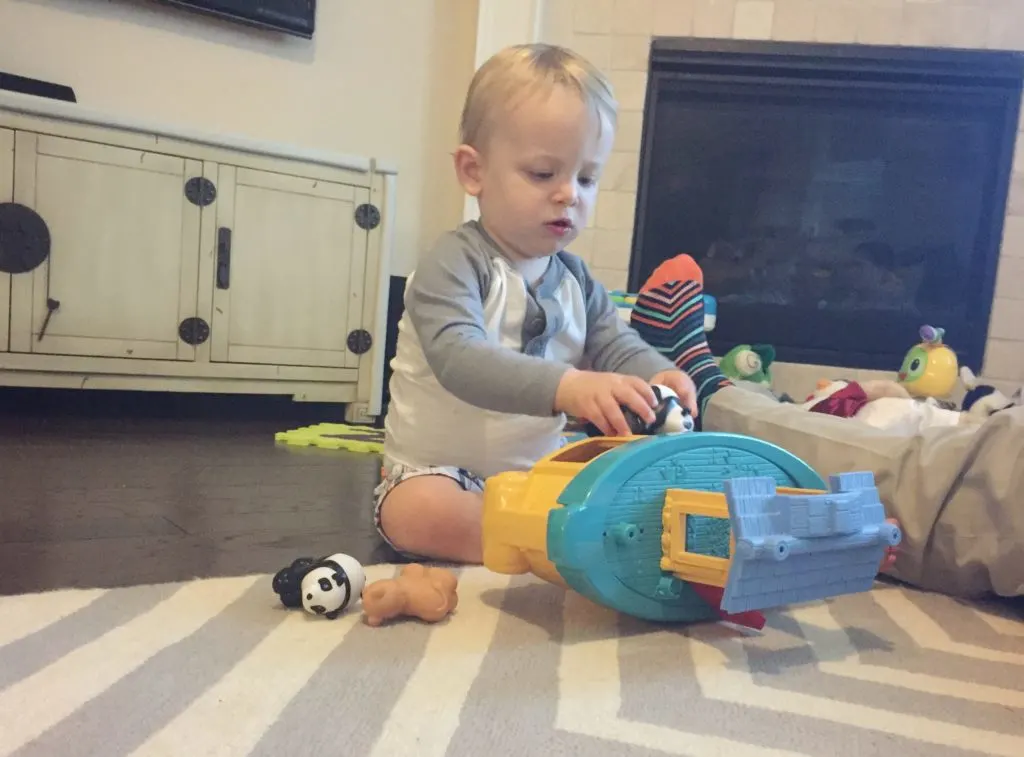 This toy might not look like much, but it goes along with the same idea as the one above. My son loves taking the animals out one by one, and putting them back in one by one. I mean, just look at that concentration on his face! This is literally the only toy he sits still for. Granted, sometimes he decides none of the animals get to survive the flood, rips the top off the ark, dumps them all out, and stomps on them. Ya win some, ya lose some.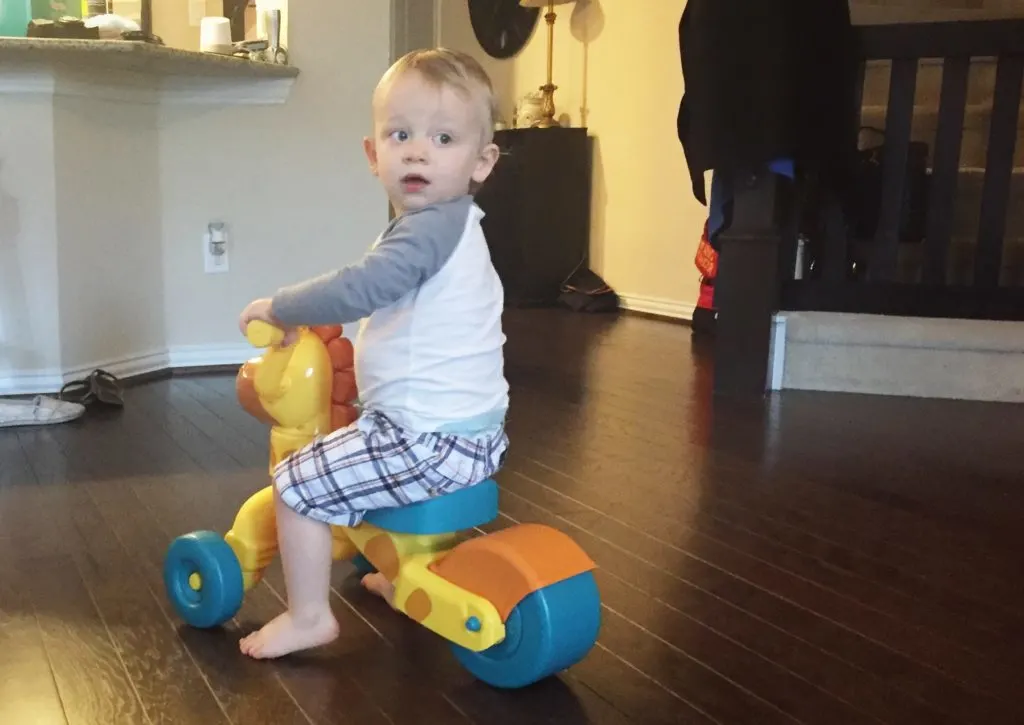 Warning: your child might use this as a battering ram around your house. But your house is probably already wrecked anyways, so whatever.

Apparently, some babies in this age group actually enjoy learning to place shapes in their correct cutouts and feel a sense of accomplishment. Others like to clap the pieces together to make lots of noise, and slam the pieces on top of the puzzle, whether they fit into the holes or not, then dump it all out in false triumph. You do you, toddlers.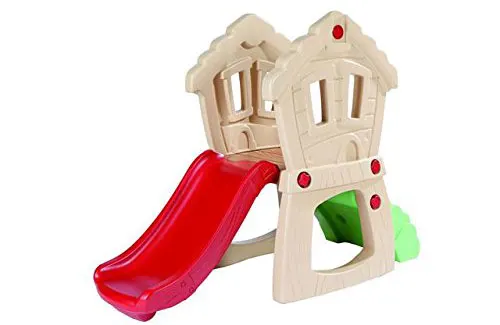 The day my son learned to climb up the back of this thing and slide down it all by himself was quite possibly the best day of my life. So much independent playtime, AKA mommy-Instagram-time!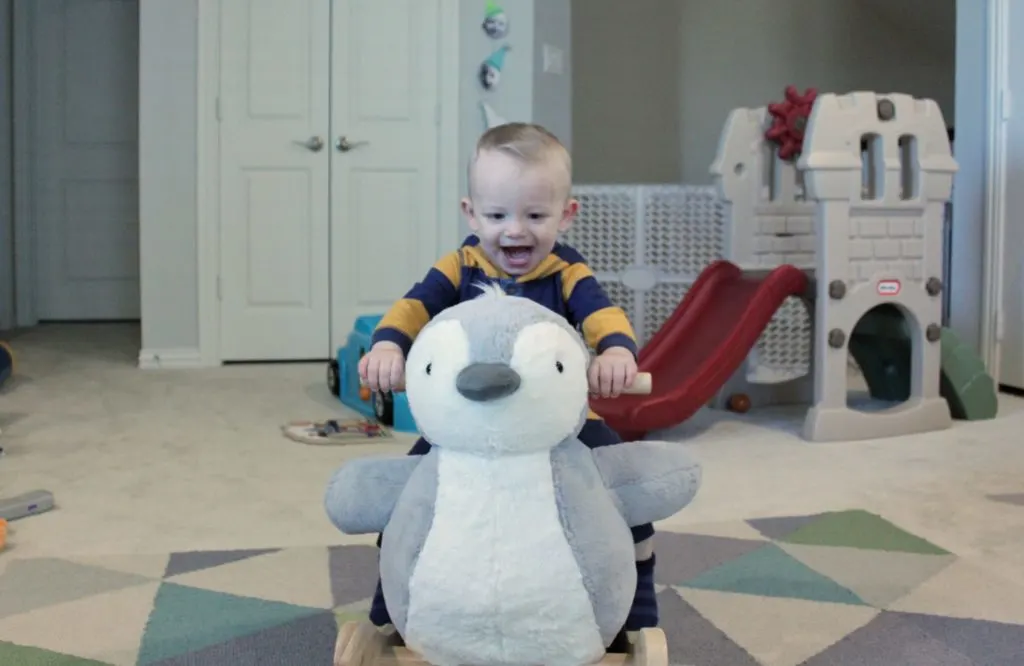 Another big win: when he learned to hoist himself up on this bad boy all on his own. Pottery Barn Kids sells this in basically every animal imaginable (even a LLAMA, for Pete's sake!), so whatever animal fetish you're forcing on your child (you know you're doing it; we all do), there's a rocker for you.

10. "Naks" (aka Snacks)
When it doubt, if you're trying to bribe a 12-18 month old to like you (that's the only reason we really give babies gifts right?), just give him food. But not any of that healthy, green crap. Give 'em the "naks," as my son calls them. Goldfish, pretzels, Ritz crackers, Cheerios, pouches… the options are endless!
What are your toddlers' favorite toys at this age?
*Please note: Some of the links above are affiliate links, which means I get a teeny, tiny sliver of the profits, at no extra cost to you.