The Instant Pot electric pressure cooker can do. no. wrong. I've genuinely never made anything in it that turned out badly.
I won't pretend my toddler's eaten everything I've ever made out of it because… well, let's be real here. A toddler eating everything you cook for them is nothing but a pipe dream.
Anyway, even from the very first thing I ever made in the Instant Pot, this thing has been a winner.
My Very First Instant Pot Recipe: Italian Sausage Pasta
I wanted to start with something fairly basic the first time I used it, since I pretty much had no idea what I was doing. This was back in 2017, long before the Instant Pot had taken over the internet the way it has now. (What can I say, I'm always ~totally~ on the cutting edge…)
In fact, that was the main reason I started sharing Instant Pot recipes on this blog – I'd been having such a hard time finding easy, straight-forward recipes that actually explained all the crazy acronyms and terminology in them, so I started experimenting, and writing it all down myself.
When I first took my Instant Pot out of the box and started asking around for where to start, a friend recommended sautéing Italian sausage in the pot and then cooking pasta directly in the same pot for an easy weeknight meal.
I thought that sounded easy enough, so I went for it.
What she didn't tell me was how to actually do any of that, how long it would take for the Instant Pot to reach pressure, and how and why to let it natural pressure release after it was done cooking.
Classic Instant Pot Mistakes
So the first time I made it was… a disaster. I had no idea the pot would take time to reach pressure, so I started cooking about 15 minutes before my then 1-year-old would be ready for dinner (always a rookie mistake).
It took way longer than expected (partially because I turned it off and removed the lid halfway through pressure building, because I was sure it was broken), I way overcooked the pasta, and didn't use any seasonings.
It still tasted fine, in the end, but I knew it could be so much better.
So I made it about 10 more times over the next few weeks (it really is a SUPER easy weeknight meal), each time changing it, little by little.
Finally, I found the perfect combination and documented it. It's been over two years since I posted that original recipe, so I thought it was well overdue for an update.
First, I thought I'd include some of the common questions I've gotten, and tips I've picked up over the past two years of pressure cooking – hope it helps another Instant Pot newbie!
Instant Pot Recipe FAQs
When I set the timer on the Instant Pot, why doesn't it start counting down?
Once you set the timer, the Instant Pot starts to heat up and build pressure. As the liquid inside the pot heats up and releases steam, that pressure gets trapped inside the pot. Once it's pressurized enough to push that little pin in the lid up and seal it, then the timer will start counting down.
Why is there steam shooting out of the valve?
This scared the heck out of me the first time I used my Instant Pot. It is totally normal for steam to spew out the valve of your pot – in fact, it's usually a good sign that it has almost reached pressure. Typically, the steam will start to spew out for about a minute, and then it abruptly stops, which means the valve has sealed. The timer starts usually counting down about 30 seconds later.
If the steam shoots out for more than a minute or so, double-check that the valve is sealed – I've definitely been known to leave the valve pointed to "Vent" a time or two. If you do leave it on Vent, just carefully flip it back over to the sealing position and it should still cook as normal, unless it's been left on vent for a particularly long time, then you may want to check the food and liquid levels in the pot, and adjust your cook time to make sure it doesn't overcook.
Why is there steam spewing out the sides of my lid?
If it's steaming out from the sides of the lid (vs. just a straight pillar coming out of your pressure valve), that probably means the sealing ring inside the lid came loose.
What does NPR / QR mean?
NPR = Natural Pressure Release. That means when the timer goes off, you simply leave it alone, and let the pot release pressure on its own. Some recipes require the pot to completely naturally release pressure (which can take 15-20 minutes, depending on how much is in the pot), while others give a specific amount of time for NPR before manually releasing the rest of the pressure.
QR = Quick Release. That means when the timer goes off, you will (very carefully) flip the pressure valve to "Vent" and let all the pressure out. I usually do this with a wooden spoon, so my hand doesn't get blasted with hot steam. I typically do a few short bursts at first, to let the initial blast out, then flip the valve all the way over to finish releasing the rest of the pressure.
What if I want to use a different type of pasta for this recipe? Does the cook time change?
A good general rule for pasta in the Instant Pot is to cook it at high pressure for 1/2 the time listed on the box for traditional cooking. So if the box says to boil for 10 minutes, you'd do 5 in the IP.
How do I double this Italian Sausage Pasta recipe?
With most Instant Pot recipes, you don't have to worry about changing the cook time when you double a recipe. The only thing to make sure of is:
The pot won't be too full with double the ingredients
You still have enough liquid to fully cook all the ingredients
For this particular recipe, I think you'd be fine to double it (though I haven't tried it myself). You may not need to double the water, however; just judge for yourself based on how full the pot is.
Can I freeze Instant Pot Italian Sausage Pasta?
Yes! I've found this to be a great freezer meal to bring to families with new babies. I just leave out the cheese at the end, and would that in once it's thawed and reheated.
The best thing about this meal is that it requires less than 10 ingredients, most of which you probably already have on hand.
It comes together in about 35 minutes total, and only 10 minutes of that is actually active cooking and prep time.
I don't think it can get any easier than that.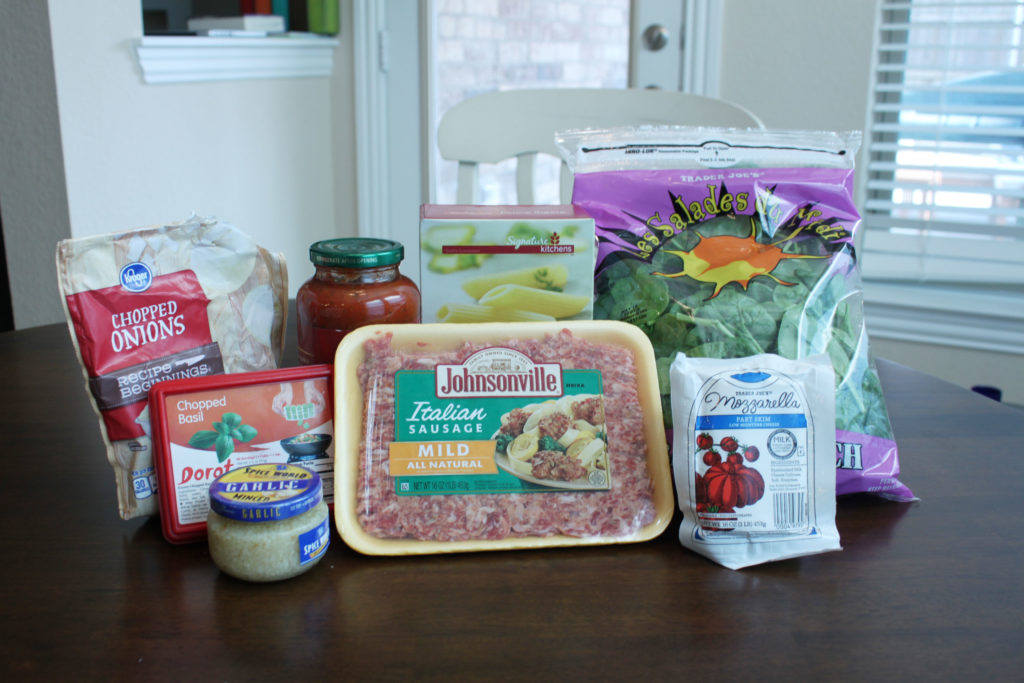 It came together so quickly, I didn't even get step-by-step photos, so you'll have to use your imagination.
It's simple: first, put the Instant Pot (or other electric pressure cooker) on sauté mode and brown the sausage with a bit of garlic and some chopped onions and peppers, breaking up the meat as it cooks.
Then, add one jar of pasta sauce (I usually like tomato-basil, but use whatever sauce your family likes) and one jar of water. Stir in some chopped basil, and some Italian seasoning. Add in a box of penne pasta, and top with a few handfuls of baby spinach.
Close the lid, turn the vent to "sealing," and set the Instant Pot to Manual for 5 minutes. It will probably take 10-15 minutes to reach pressure. Once the timer goes off, allow a 9 minute natural pressure release (AKA, don't touch it for 9 minutes), then quick release the rest.
Stir in half of the shredded mozzarella, top with the rest, and enjoy!
Yield: 6 servings
Instant Pot Italian Sausage Penne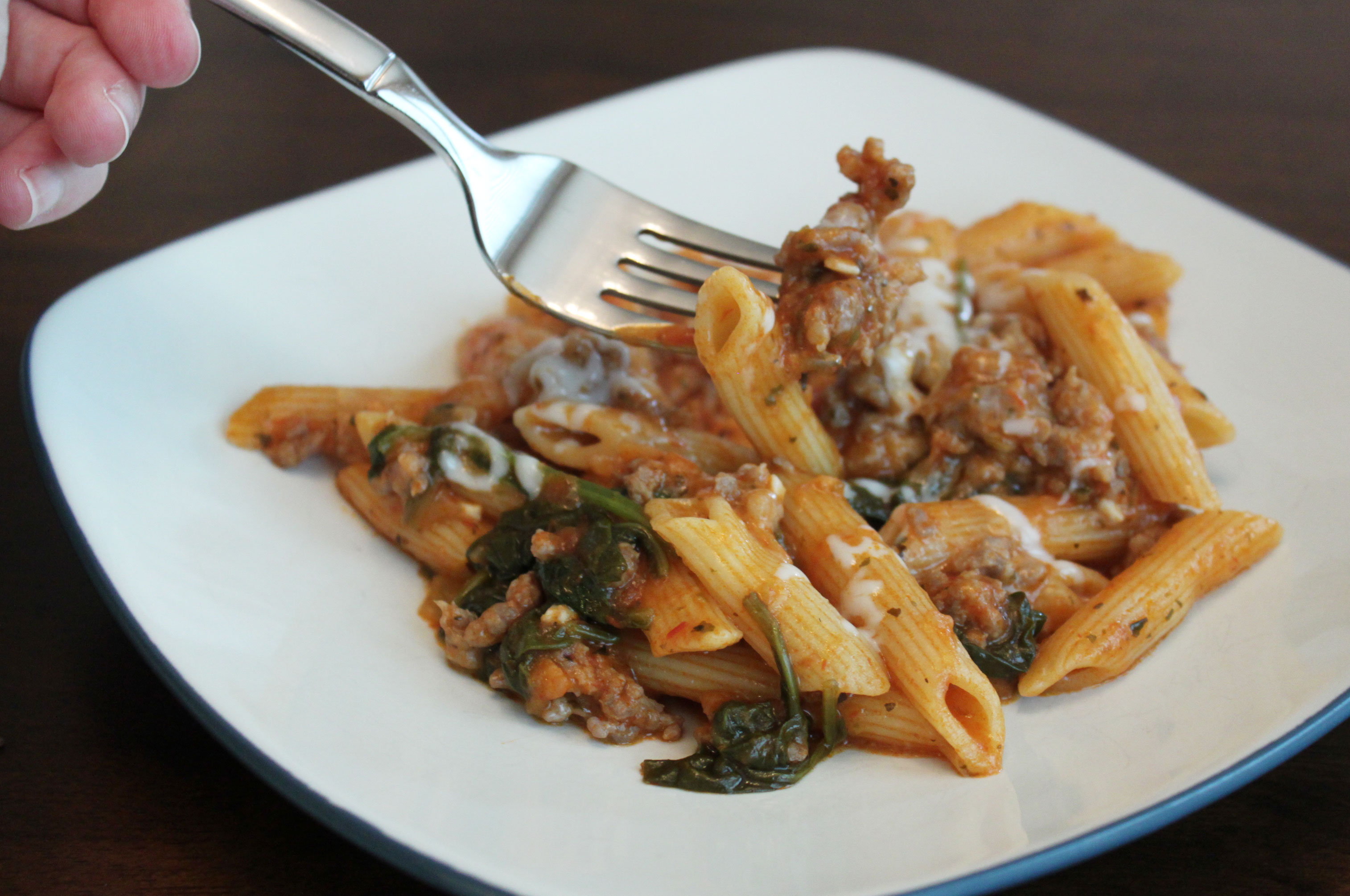 This Italian Sausage Penne is a perfect one-pot weeknight meal. Fast, easy, with ingredients you probably already have on hand!

Cook Time 10 minutes

Additional Time 25 minutes

Total Time 35 minutes
Ingredients
1 lb mild Italian sausage
1.5 cups frozen chopped onions and pepper
2 tsp garlic
1 (28-32 oz) jar pasta sauce
1 jar water
chopped basil, to taste
1 tbsp Italian seasoning
1 (16 oz) box penne pasta
3-4 handfuls baby spinach
1 cup mozzarella, shredded
Instructions
Set Instant Pot to Sauté mode and brown sausage with garlic, onions and peppers, breaking it up as it cooks.
Once cooked, add jar of pasta sauce, one jar-full of water, basil, Italian seasoning, penne pasta, and a few handfuls of baby spinach to the pot.
Close the lid, set the vent to "sealing," and set the Instant Pot to Manual for 5 minutes. It will likely take around 10 minutes to reach pressure.
Once the timer goes off, allow a 9-minute natural pressure release. Once the pot reads L0:09, quick release the rest of the pressure.
Stir the contents of the pot, mix in half of the shredded mozzarella.
Top with the remaining mozzarella, and enjoy!
Recommended Products
As an Amazon Associate and member of other affiliate programs, I earn from qualifying purchases.